How Google supports news in Canada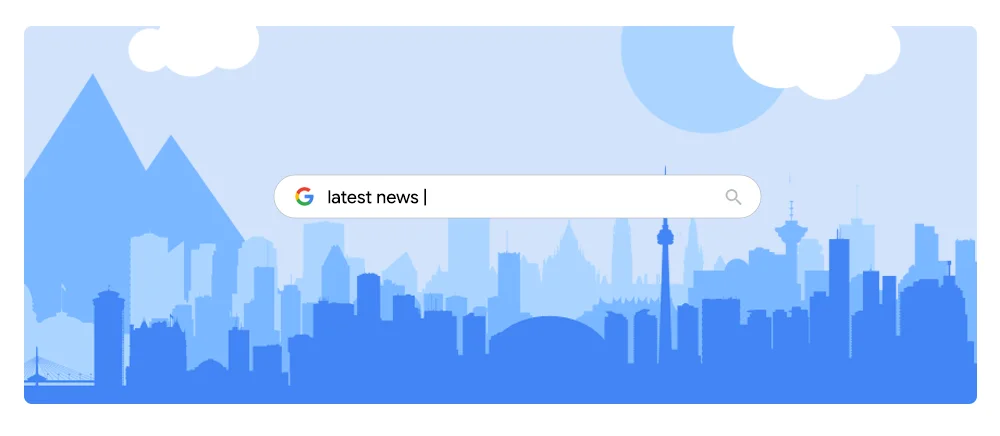 Access to trustworthy information is vital to democracy, and inextricably linked to Google's mission of ensuring Canadians have access to quality information. Our products give people choice and help them find more trusted journalism — from news in your local community to international stories — than ever before.
Over the past 20 years, we've collaborated closely with the news industry in Canada and provided billions of dollars globally to support the creation of quality journalism in the digital age. Through our services, partnerships and programs, Google is one of the world's biggest financial supporters of journalism. These efforts help people get the quality news and information that matters to them and their community. Here's a look at how we support the news industry and journalists.
We deliver significant value and funding to news organizations
Every news organization can choose whether they want to be in Google Search and Google News. Most do because it results in valuable free traffic.
Every month, we send Google users to news sites more than 24 billion times globally. The traffic we send to news sites helps publishers increase their readership, build trust with readers and earn money.
Our advertising technology helps news organizations make money by showing ads on their websites, apps and videos. Every year we pay out billions of dollars directly to the publishing partners in our ad network.
Support for Canadian journalism through News Showcase
We also pay to license content through Google News Showcase, a product and licensing program that provides a space for newsrooms to curate their content for readers across Google News and Discover. Google News Showcase is powered by a $1 billion investment in news organizations globally.
In Canada, we have signed agreements with more than 150 publications across the country, in both official languages, from coast-to-coast-to-coast. These agreements help support Canadian newsrooms that provide comprehensive general-interest news to the communities they serve. The Canadian partners for News Showcase include Le Devoir, Torstar, The Globe and Mail, Black Press Media, Métro Média, Postmedia and more. Globally, we've signed News Showcase agreements with 1,500 news publications around the world. More than 90% of these publications represent local or community news.
Supporting the future of news through the Google News Initiative
News Showcase is just one part of our longstanding, overall commitment to the news industry. Through the Google News Initiative, we provide tools, training and funding to help news organizations thrive in the digital age. The Google News Initiative includes a more than $300 million funding commitment to the future of the news industry globally, and we continue to make investments in the Canadian news ecosystem to help journalism thrive in the digital age.
Training journalists in digital skills:
In June 2021, we made a three year commitment to train 5,000 Canadian journalists and journalism students on strengthening digital skills in newsrooms. In the last year, we've trained over 1,300 journalists, including students, independent journalists, journalists from newsrooms big and small, from across the country, and journalists that serve underrepresented communities. Programming has been delivered in both English and French.
Supporting business sustainability:
We expanded our business-oriented workshops for small and mid-sized news organizations on topics including audience development, reader revenue and advertising revenue. Our Digital Growth Program Canada workshop series has reached over 130 news organizations since launching in January and was delivered in both English and French.
We introduced our first custom designed GNI Startups Boot Camp dedicated exclusively to aspiring Canadian news entrepreneurs starting a business or non-profit journalism project in Canada. The program wrapped earlier this year, and after eight weeks of intensive work, you can learn more about the 13 Canadian news businesses ready to launch or grow their businesses.
During the COVID-19 pandemic, we launched a Journalism Emergency Relief Fund to directly support more than 200 different newsrooms across Canada to keep journalists working and Canadians informed.
Promoting news innovation:
We launched our third North American Google News Initiative Innovation Challenge in 2021 to fund selected projects focused on helping local publishers think about new ways to understand, enhance and serve the needs of their communities. The North American Innovation Challenge selected 25 projects from the U.S. and Canada to receive a share of more than $3.2 million USD to help build their ideas that address the need for research in local news. In Canada, Golden West, Metro Media, Metroland Media, Moose FM, Association de la presse francophone (Réseau.Presse), La Converse and Le Devoir were recipients.
Building diversity in the news ecosystem
One of the GNI's goals is to elevate the work of diverse publications around the world. As part of that effort, we officially opened the applications for our Global News Equity Fund, our multi-million dollar commitment to help bring more diversity and equity to the news industry. Independent journalists and small and medium-sized news organizations in Canada producing original news for minority and underrepresented audiences are eligible to apply for funding to support and expand their news operations.
We're proud of the work we've done to date to support newsrooms of all sizes across Canada. And our work doesn't stop here. We look forward to continuing this vital work with publishers and journalists across the country to help ensure a vibrant, diverse and innovative Canadian news ecosystem.