Indigenous speakers in Canada share their languages on Google Earth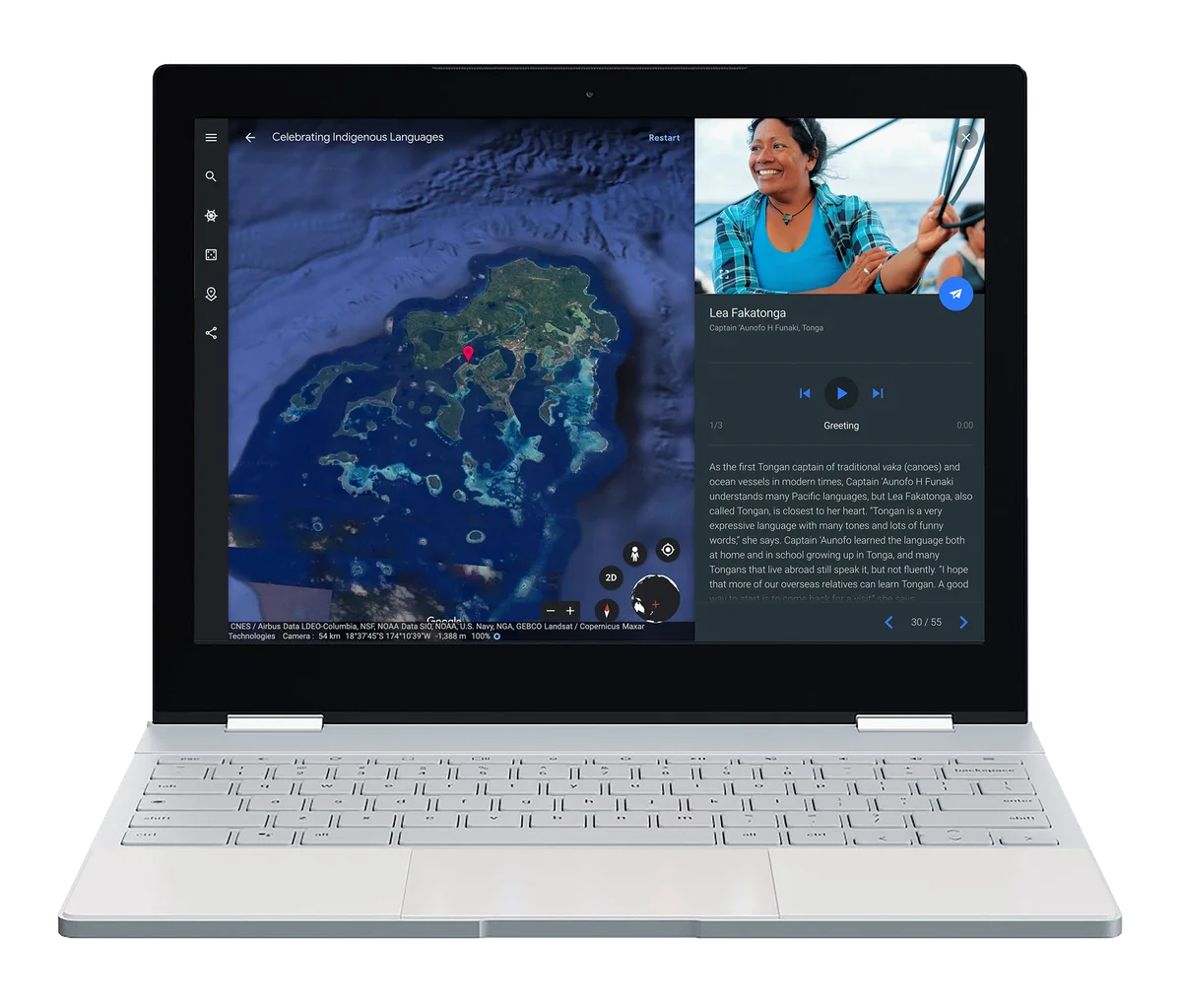 Of the 7,000 languages spoken around the globe, 2,680 Indigenous languages—more than one third of
the world's languages—are in danger of disappearing. The United Nations declared 2019 the
International Year of Indigenous Languages to raise awareness about these languages and their
contribution to global diversity. To help preserve them, our new Google Earth tour, Celebrating Indigenous Languages, shares audio recordings from more than 50 Indigenous language speakers.
"It is a human right to be able to speak your own language," says Tania Haerekiterā Tapueluelu Wolfgramm, a Māori and Tongan person who works as an educator and activist in Aotearoa--the Māori
name for New Zealand--and other Pacific countries. "You don't have a culture without the language."

Tania is one of several dozen Indigenous language speakers, advocates and educators who helped
create the tour. Thanks to their contributions, people can click on locations meaningful to Indigenous
speakers and hear people offer traditional greetings, sing songs, or say common words and phrases in
their languages. 

"Hundreds of languages are a few days away from never being spoken or heard again," says Tania.
"By putting Indigenous languages on the global stage, we reclaim our right to talk about our lives in our
own words. It means everything to us."
Listen to more than 50 Indigenous language speakers globally in Google Earth.

The healing power of speaking one's own language

The people who recorded audio in their languages and connected Google with Indigenous speakers
each have their own story about why revitalizing Indigenous languages strikes a chord for them.

For Arden Ogg, director of Canada's Cree Literacy Network, and Dolores Greyeyes Sand, a Plains Cree
person and Cree language teacher, the focus is on providing resources for language learners. For Brian
Thom, a cultural anthropologist and professor at the University of Victoria in British Columbia, the
interest grew out of his work helping Indigenous communities map their traditional lands.

Brian asked yutustanaat, a member of the Snuneymuxw First Nation and a language teacher in British
Columbia, to record the hul'q'umi'num' language. "Our language is very healing," says yutustanaat. "It
brings out caring in our people and helps our students be strong, because the language comes from
the heart." In her recording, yutustanaat speaks the traditional hul'q'umi'num' greeting:
'i ch 'o' 'uy' 'ul' or "How are you?"

By using their languages—and sharing them with the rest of the world—Indigenous people create closer
connections to a culture that is often endangered or has outright disappeared.

Wikuki Kingi, a Māori Master Carver, recorded traditional chants in Te Reo Māori, an Eastern Polynesian
language indigenous to New Zealand. He says, "Speaking Te Reo Māori connects me to my relatives, to
the land, rivers, and the ocean, and it can take me to another time and place."

On the right, yutustanaat, a Snuneymuxw First Nation member, records the hul'q'umi'num' language with student Beatrix Taylor. Listen to it in the Celebrating Indigenous Languages collection. Photo credit: Brian Thom
Ensuring that generations to come will hear their languages

"I do this not for myself, but for my children and grandchildren, so that in the future, they'll hear our
language," says Dolores, who recorded audio in her native Plains Cree. 


To ensure that future generations hear and speak Indigenous languages, more needs to be done to
support their revitalization. Tania Wolfgramm suggests checking out how her nonprofit organization,
Global Reach Initiative & Development Pacific, uses technology to connect far-flung Indigenous people
to their traditional communities—like bringing Google Street View to the remote island of Tonga. Arden
Ogg directs people interested in Indigenous languages to the Cree Literacy Network, which publishes
books in Cree and English to facilitate language learning. And a video from the University of Victoria
suggests five ways to support Indigenous language revitalization, such as learning words and phrases
using smartphone apps, and learning the names of rivers, mountains and towns in the local Indigenous
language.



This initial collection of audio recordings in Google Earth only scratches the surface of the world's
thousands of Indigenous languages. If you'd like to contribute your language to this collection in the
future, please share your interest.