Canadian travellers are ready for takeoff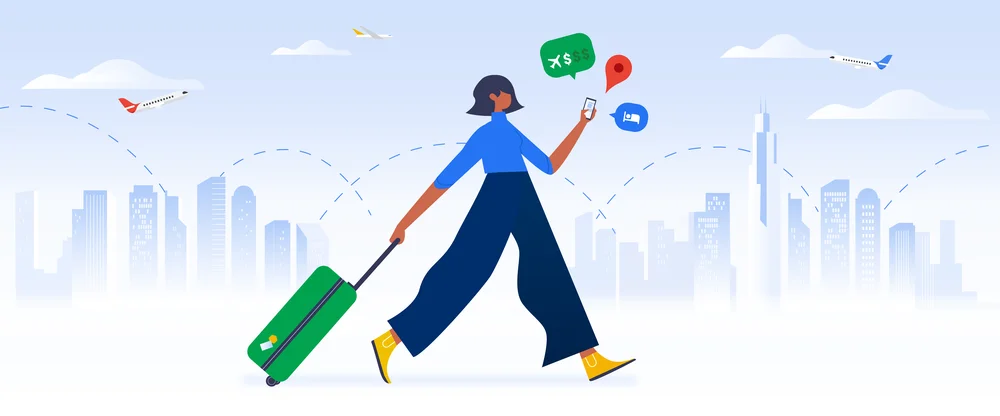 Summer is officially here, and after more than two years of being stuck at home, pent-up demand continues to drive growth for travel, despite growing economic pressures and inflationary price pressures. According to IPSOS, 60% of Canadians are thinking about, planning, or have booked travel this year,1 and searches for flights have continued to grow over the last month.
As governments around the world lift pandemic travel and testing restrictions, we're taking a look at how Canadians are changing the way they get out there and see the world again and how travel and tourism providers can stay on top of these trends.
Meet the new Canadian traveller
We're now seeing a new type of traveller in Canada. People are seeking flexibility and peace of mind, and are making sure they're covered for unexpected changes. Searches for "travel cancellation policy" are up +210% year over year in Canada and travel insurance-related searches are up +100% year over year, as travellers look to take extra precautions when planning their trips.
There's also a resurgence in business travel as governments continue easing up on border restrictions and companies are connecting in-person again after two years of video conferencing. Interest in business travel and tourism has grown globally, and we're also seeing brand new travel trends like 'work from anywhere' policies or "workation" emerging, with searches skyrocketing during the pandemic, and continuing to grow.
When booking travel, Canadians are taking into consideration cost, loyalty programs, and brand familiarity before making their final decision. 91% of Canadians are choosing the most cost effective option to their destination, 60% are choosing a travel provider where they can use loyalty or rewards programs, and 73% are booking with the companies that they usually use. For travel providers, investing in loyalty programs will go a long way with customers, as will finding ways to re-engage with existing and past customers.
Travel to Canada takes off
Travel to Canada is taking off both at home and abroad. For Canadians, searches for domestic travel are exceeding peaks seen during COVID-19. For domestic travel, Vancouver, Toronto, Calgary and Montreal top the list as destinations of choice. We're also seeing an increase in appetite from international travellers looking to visit Canada for their next vacation. Global searches for travel to Canada are up +100%, with 'flights to Canada' up +80% and hotels in Canada +40% year-over-year. When it comes to the attractions Canada has to offer, Canada's Wonderland, Niagara Falls and Ripley's Aquarium are topping the list as top searched attractions tourists would like to visit.
Canadians rediscover the world
As interest in travel continues to rise, International travel searches in Canada have exceeded pre-pandemic levels. For Canadians travelling internationally, many are flocking to the beach this summer. While sun destinations and holiday packages are typically planned to escape colder temperatures, Canadians are looking for fast, affordable and convenient travel options, and many aren't waiting for the cold, with searches for 'beach resorts' and 'all inclusive resorts' almost doubling in interest from last year. Other Canadians are excited about exploring some of the world's most metropolitan cities for the first time in over two years, with Paris, London, Lisbon and Rome as the top international destinations.
Here's where Canadians are heading to internationally this summer:
How the travel and tourism industry can stay on top of demand
With so much change in the way Canadians are getting back to travel planning, it's important that travel businesses and tourism officials have access to the insights and information needed to meet the new demands of eager travellers and keep building on the industry's recovery. Additionally, with the looming economic pressures, and its potential impact on travel, it's all the more important for businesses to keep on top of demand.
That's why we created Travel Insights with Google for Canada, which provides powerful insights into real-time travel demand based on global Google Search data.
Tools like Destination Insights offer travel businesses, governments, and tourism boards a clear picture of top sources of demand per destination, helping users understand where potential travellers may be coming from and adjust marketing campaigns accordingly. With Hotel Insights, you can learn where interest for your hotel and your region is highest, explore booking trends, and learn about the digital tools you can use to attract news guests and grow your business.
Our Travel Analytics Centre provides our commercial partners with useful performance and demand metrics like travel demand and destination popularity, along with marketing performance on Google Ads and Google Flights Search.
Whether it's seeking out sun or cities, at home or abroad, it's exciting to see people making travel a priority again. As the travel industry bounces back from the pandemic, it's important that providers have the right tools and insights to better understand all the new ways that people are planning and booking travel so they can meet demands and provide the best experience for globetrotting Canadians.
Sources:
Google Commissioned IPSOS Global Consumer Survey, April '22, n=500-1000