Introducing JioPhone Next, the Made-for-India Smartphone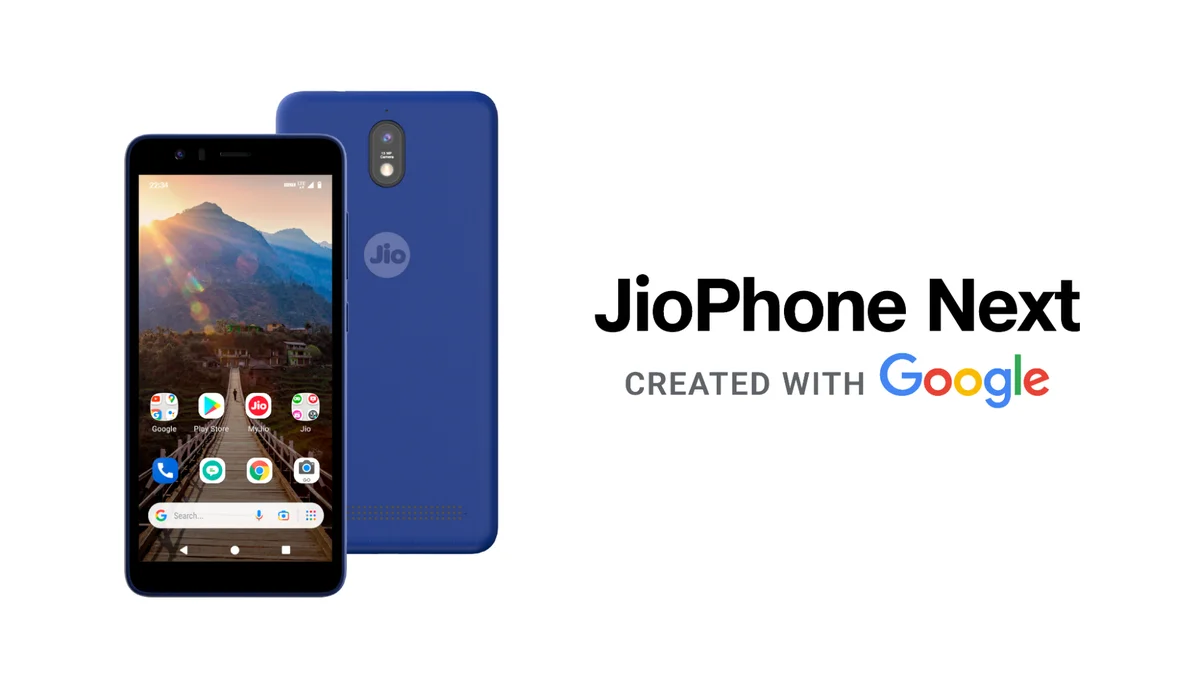 Last year, as part of our announcement to invest in Jio Platforms Ltd, we made a commitment to develop an affordable smartphone for India, aimed at serving the needs of new internet users across the country. Earlier this year we shared more on this vision, revealing the many capabilities and features of this smartphone that would enable millions across India to experience the power of the Internet. Our teams at Google and Jio have since been working together to deliver a best-in-class smartphone experience, and today we are excited to bring the much-awaited smartphone to everyone in India -- a smartphone made-for-India: JioPhone Next.
Delivering best-in-class capabilities at an affordable price with Pragati OS
JioPhone Next is an affordable, first-of-its-kind smartphone based on an optimized version of Android called Pragati OS, customized to deliver a great smartphone experience to users in India. Enabling access to millions of apps available on the Play Store, it also comes with over the air updates support for new features, customization, security updates and more, which will continue to enhance the experience over time. The smartphone will be available in India during Diwali at Jio and Reliance Retail's network of retail locations.
Sundar Pichai, CEO, Google and Alphabet said, "The JioPhone Next is an affordable smartphone designed for India, inspired by the belief that everyone in India should benefit from the opportunities the internet creates. To build it, our teams had to work together to solve complex engineering and design challenges, and I'm excited to see how millions of people will use these devices to better their lives and communities."
Mr Mukesh D Ambani, Chairman & Managing Director, Reliance Industries said, "I am delighted that Google and Jio teams have succeeded in bringing this breakthrough device to Indian consumers in time for the festival season, inspite of the current global supply chain challenges caused by the Covid pandemic. I have always been a firm believer in the power of the Digital Revolution to enrich, enable and empower the lives of 1.35 billion Indians. We have done it in the past with connectivity. Now we are enabling it again with a smartphone device. Among the many rich features of JioPhone Next, the one that has impressed me the most — and one that will empower common Indians the most and take their digital journeys to the next level — is its contribution to India's linguistic integration. India's unique strength is our linguistic diversity. Those Indians who might not be able to read content in English or in their language can get it translated, and even read out, in their own language on this smart device. It makes me proud to say that we are bridging the gap between 'India' and 'Bharat, because 'BHARAT' Karega Digital Pragati - PRAGATI OS Ke Saath'."
Serving the unique needs of the Indian consumer
Google and Jio have worked closely to create this OS with unique capabilities that have been built to cater to the diverse needs of the Indian consumer, including read-aloud and language translation for any on-screen text, a great camera with India-centric Snapchat Lenses, and much more. The embedded voice-first features will also enable people to consume content and navigate the phone in their language of choice. With dual SIM support and the powerful Jio network, JioPhone Next will open a world of opportunities for users, enabling millions more to benefit from the power of the Internet.
A great camera: A fast, high-quality camera is a must-have feature for today's smartphone users. JioPhone Next delivers great photos and videos: from clearer photos at night and in low-light situations to HDR mode that brings out wider color and dynamic range in photos. Google has also partnered with Snap to integrate Indian-specific Snapchat Lenses directly into Camera Go, the phone's camera app, which will create a more delightful and innovative photo-taking experience for users.
A high-quality camera with HDR
Before and after shots showcasing JioPhone Next camera quality
Instantly share apps, files, and more with family and friends: Simply and quickly share apps, photos, videos, music and other content, even without the internet, using the 'Nearby Share' feature.
Share apps and files offline with Nearby Share
Ongoing feature drops and security updates: Along with support for Android security updates, the phone's experience will keep getting better with new feature drops and customizations, all delivered over-the-air. With Google Play Protect built in, the phone has Google's world-class security and malware protection. And with the Google Play Store, users will have access to millions of apps that people across the world use and enjoy.
We are actively expanding our Android product and engineering presence in India, where we will continue to focus on building new experiences in close collaboration with our global engineering teams aimed at the millions of new users coming online. We hope that this first step – the launch of JioPhone Next – will enable more people across India to benefit from greater access to services and information online, and have a positive impact on their daily lives.