Google for India 2021: Stepping up product focus to drive digital inclusion in India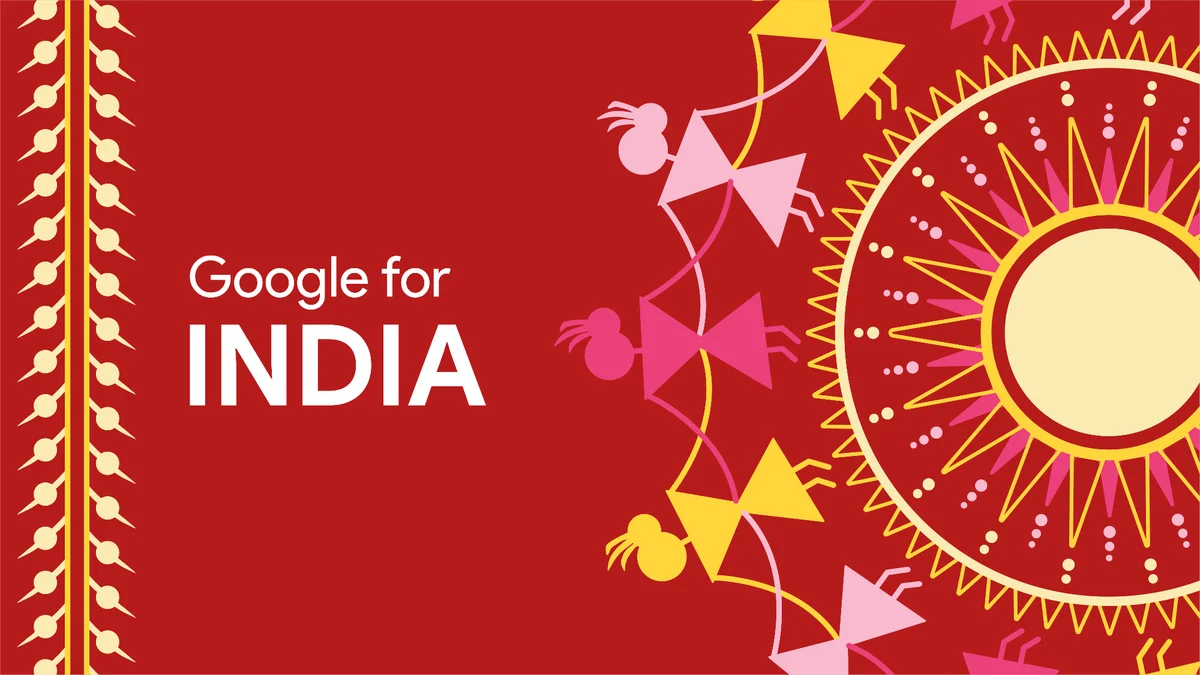 Each year at Google for India, we are humbled and privileged to share updates about the role Google plays in bringing more helpful and useful experiences to people across the country. From easier access to information, to creating more natural ways for local language speakers to interact with the internet, to helping bring affordable smartphones to people who aspire to own one – our products are built to deliver more helpful, safe, and convenient ways for people to experience the benefits of the internet.
Today at our 7th edition of Google for India, we announced several initiatives to help India's digital transformation journey, and we are happy to announce a set of product enhancements that we hope will continue to have a positive impact on people across the country.
Vaccination booking on COWIN, guided by Google Assistant
Filling a web form may sound trivial to most, but for millions who are unfamiliar with using a smartphone or who are unable to read, it can be daunting. Over the last few years, we've strived to reduce such complexity and remove barriers to information, especially with innovations in speech recognition and language understanding. India continues to be a global leader in the adoption of these technologies – in fact, the number of Indians using voice queries daily is nearly twice the global average.
Today we are excited to share a milestone in this important work. We are announcing a pilot of the first-ever Google Assistant-enabled, end-to-end vaccine booking flow in India.
We have worked closely with COWIN to enable this integration, where people everywhere will be able to easily book a vaccine appointment in a more guided manner. It will empower them with access to information and healthcare that would otherwise have been out of reach – a telling example of how technology can bridge gaps in access, and make a tangible difference in people's lives.
Piloting the first-ever Google Assistant-enabled, end-to-end vaccine booking flow in India, where users will receive voice guidance at each step while booking a vaccination appointment on the COWIN website
This feature will work in English and eight Indian languages including Hindi, Gujarati, Kannada, Malayalam, Bengali, Marathi, Tamil, and Telugu, and will begin rolling out in early 2022. We look forward to scaling this technology to other services on the web, to help make it simpler for people to get this done on the internet.
Helping local language speakers find high-quality information
When people across India access the web, not surprisingly, they prefer to find content in the languages they use in their daily lives. However, the local language web ecosystem is still growing, and most information on the web is in English. This often leads to people being unable to find useful information in their own language online.
At Google we have long since employed advanced machine learning techniques to significantly improve translation quality across Indian languages. Thanks to these developments, today we are announcing a feature in Search that will give users the option to access web pages originally written in other languages, and see it in their preferred language.
Google Search will now translate high-quality content from pages that may be in a different language from a local language query. Tapping the translated search results will take the user to the destination page, where they can view the content in their preferred local language or in the page's original language.
This feature will now make high-quality web content available to local language users when they search, and they will still be able to view the page in its original source language if they prefer. It is now available in five Indian languages including Hindi, Kannada, Tamil, Telugu, and Malayalam, with more to come. It can be accessed on any mobile browser that supports Google Search.
We are also expanding voice driven experiences in Indian languages by introducing the ability to hear search results out loud, for users who find it easier to consume information by listening.
By simply tapping a button in the Search results, people can now hear the information read back to them in Hinglish and five Indian languages.
This feature is launching first in India and it will be available in Hinglish and five Indian languages including Hindi, Bengali, Marathi, Telugu, and Tamil, and we look forward to extending this to other Google Search experiences.
New features coming to Google Pay
With a goal to further simplify digital payments, we today announced an industry first and a first for Google globally - the additional option of Hinglish - a conversational hybrid of Hindi and English - on the Google Pay app. Money is integral to our lives, and our experience with it should be as seamless as our everyday conversations. The introduction of Hinglish is our attempt to make these interactions even more intuitive and natural via Google Pay.
Hinglish language option on Google Pay
In the same vein, we also announced the upcoming launch of speech to text, which allows users to use voice input to pay directly to another user's bank account - they can voice account numbers in Hindi or English into the app to enter the account number, which is then confirmed with the sender before initiating the payment. Another key feature we announced to mirror how people interact with money is Bill Split, which helps users split and settle shared expenses.
Split expenses easily with Bill Split on Google Pay
To help micro entrepreneurs and merchants stay competitive in a post-pandemic world by establishing an online presence, we announced the upcoming launch of MyShop – a functionality available to merchants using Google Pay for Business app which provides merchants a quick store builder tool, where they can add images, descriptions, prices within minutes and and connect it with their Business Profile to reach hundreds of Millions of users on Google Search and Maps, or share the link beyond Google on social media.
MyShop - a simple store builder for merchants to create an online presence
With over 10 million merchants now on Google Pay for Business and many more joining the fold of digital payments everyday, we believe this will be a timely feature to help merchants start their digital journeys. The coming months will see all of these features go live on Google Pay.
Climate and weather related information at your fingertips
Climate change continues to affect us in increasingly local and personal ways. In collaboration with local authorities, Google has been working on a range of climate-related efforts in India that can help surface timely and important information, and ensure people's safety.
Air quality information on Google Search

Weather alerts for severe climatic conditions on Google Search

Flood Forecasting updates in affected regions
Air Quality: With air quality deteriorating in many parts of the country, especially during the winter season, access to this information is key to empowering people to make informed decisions about how climatic conditions can affect their day-to-day health. We have partnered with the Central Pollution Control Board to bring the latest Air Quality Information to Google Search. People can now see Air Quality from their nearest station by typing queries like "Air quality near me" or "Air quality Delhi".
Weather Alerts: We have partnered with the Indian Meteorological Department (IMD) to launch Weather Alerts for extreme climatic conditions. For heavy rainfall, heatwaves, cold waves or thunderstorms, timely and easy access to information is critical to help people prepare and stay safe. When extreme conditions are developing, severe weather alerts issued by the IMD will show up in the 'At-a-Glance' section on your Android phone's home screen, as well as on Google Search. You can also ask Google for this information with a query like "Weather near me". Google Assistant will also respond with spoken weather alerts to such queries.
Flood Forecasting: Over the last several years, the Google Flood Forecasting Initiative has been working with governments to develop systems that predict when and where flooding will occur. Our new forecasting models have doubled the alert lead time, and our coverage now spans roughly a fifth (17 percent) of the local population in affected areas. Since the start of the monsoon season this year, we have issued 110 million notifications to at least 20 million affected people.
Extending the power of AI, our products and platforms to more people
Google's AI for Social Good initiative has been supporting nonprofits and universities to solve big challenges in the field of Public Health, Conservation, Agriculture and Education using AI. Earlier this year we posted an update about our work with them. Among these is ARMMAN, an NGO that provides systemic solutions to improve access of pregnant women and mothers to helpful information and services. Utilizing an AI-based approach developed with support from academics and Google researchers, ARMMAN vastly improved their ability to identify women who are at high risk of dropping out of programs. With AI helping them scale their efforts, they are on their way to increasing their reach to 1 million mothers and children in the coming years.
The field of assistive technology plays an especially important role for the 26 million people in India who live with disabilities. We announced that our Look to Speak app, which helps people communicate by using their eyes using pre-stored words and phrases, is now available in five Indian languages including Hindi, Marathi, Telugu, Tamil, and Bengali.
Along with the announcements above, we also provided updates on our work in stepping up our Android efforts in India. We are rapidly growing our engineering team presence in the country, hiring across design, research, engineering, business and other areas. Focusing on identifying and building natural and intuitive solutions that will serve the unique needs of people in NBU countries like India, this team will work closely with our global engineering, business and marketing teams to re-imagine the experience for internet users in India.
Since the pandemic, digital education has evolved from being a stop-gap solution to a long-term strategy for enhancing learning and mitigating disruptions to schooling. We shared updates on two new features in Google Classroom to make for a more seamless experience: the ability to download study material from the internet and work on it offline, and selecting and uploading multiple homework images through the app.
As India advances on the journey toward digital transformation, there is much to be done for creating more meaningful, relevant, and simplified experiences for users and business. Across our teams we remain committed to doing so, to help the country and its people discover more ways to tap into the life-changing benefits of the internet.