Artetik: From the Art, a different way to experience art through emotions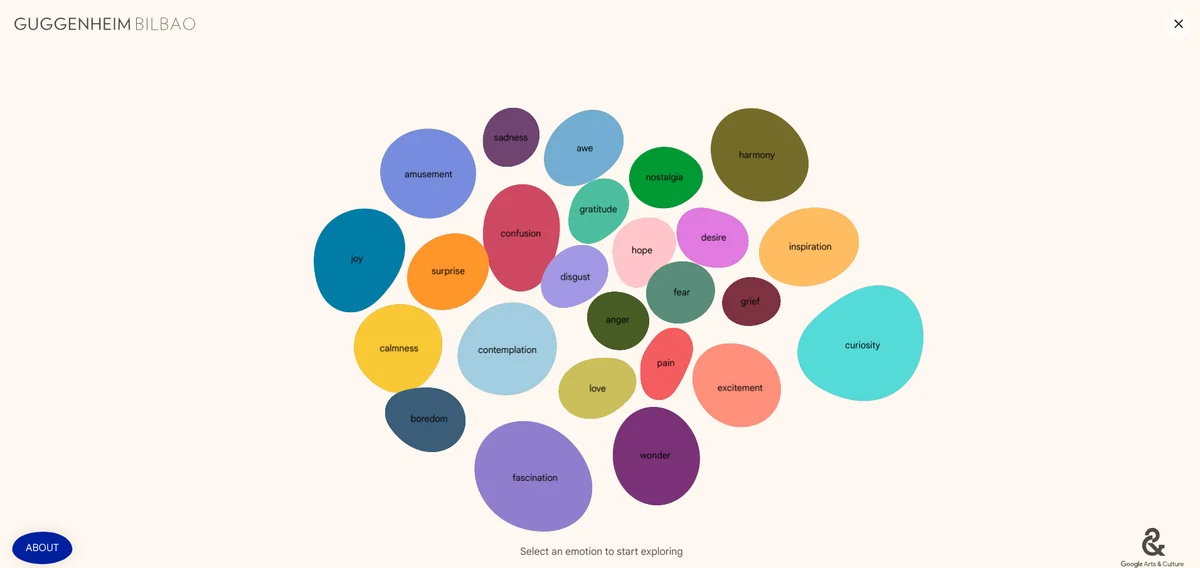 "Artetik: From the Art" is an innovative digital experience around art and emotions, the result of a new collaboration between the Guggenheim Museum Bilbao and Google Arts & Culture that expresses the commitment to innovation and content accessibility that we both share.
Through this interactive project, we have invited visitors to the Museum to explore their emotions in relation to our artistic holdings, art collections, discovering how others feel about the same work of art and which pieces in the collection are related to similar emotions. In this way, a graph of the feelings of different people interacting with Artetik has been created.
More than 230,000 people have already participated in Artetik, enabling them to connect art and emotions in a way that is unique among international cultural institutions. This initiative strengthens the Guggenheim Museum Bilbao's educational outreach, which aims to continue to inspire and open new perspectives through art and its values. Thanks to this project, we have learned that the main emotions evoked by the works in our collection are fascination, curiosity, fun and joy.
After the warm reception this project received in its in-person version, we have taken another step forward in our commitment to innovation by transferring this experience to the online realm, transcending the physical limits of the Museum building. In this way, a global audience will be able to explore the collection's works in relation to their emotions from anywhere in the world with an internet connection. Artetik proposes a way of exploring art and emotions through technology, contributing to the well-being of the Museum's audiences, whether they visit us in person or online.