UK
Celebrating Black History Month in the UK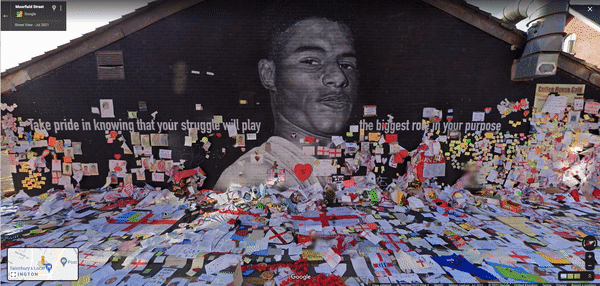 Each year we celebrate Black History Month in the United Kingdom through the month of October. It's a time for learning, reflecting on and celebrating the impact of Black heritage and culture. To support the importance of learning about our shared histories, today we are launching over 80 new stories in collaboration with a range of cultural partners across the UK; from Bristol to Liverpool, Manchester to London.
The Black and British hub on Google Arts & Culture has been created alongside contributing partners, many of whom are coming online for the first time. This includes Bristol Museums, National Museums Liverpool, and Far From the Norm joining our growing collection of cultural institutions to share their stories from across the UK.
A colorful photograph taken by Matt Miller, depicting artist BEKA sitting in front of clouds

BEKA - I'll Be There by Matt Miller, 2021, What We Seee

A Google Street view image of the Mafrcus Rashford mural and message in Withington, Manchester

Google Street View of the Marcus Rashford Mural and messages in Withington, Manchester

A black and white illustration of the key moments in history connected to the Black Lives Matter movement. Created by artist Jasmine Thompson and exhibited at Bristol Museums

A Movement Not a Moment by Jasmine Thompson, Bristol Museums

A still of a Far From The Norm performance, showcasing seven dancers on stage with lights behind them

Performance Still, Botis Seva, Far from the Norm

A black and white photograph of Notting Hill Carnival in 1975, taken by Chris Steele-Perkins. The photograph depicts Black children dancing on the streets of Carnival

Philmore "Boots" Davidson by Chris Steele-Perkins, 1975, Notting Hill Carnival
From football, to photography, and statues to sound systems
You can discover a range of new, young talents making waves across disciplines from dance, photography and sport. Find out about the community response to the now iconic mural of Marcus Rashford MBE in Withington, Manchester, or discover more about award-winning choreographer, director and dance artist Botis Seva's company and seminal production BLKDG. Or get acquainted with a host of stunning creatives like the powerful, colourful photography of artist Tayo Adekunle and the five talents selected by photographer and creative champion Misan Harriman in the second installment of his series Black Lenses Matter.
You'll find stories covering prominent events in British history like the Empire Windrush and more recent events such as the Colston statue in Bristol. This is in addition to profiles on influential figures such as Carnival pioneer Claudia Jones and broadcaster and poet Una Marson. Why not take a moment to learn about the story of Princess Campbell, a Bristol nurse? Or perhaps explore the garden of Sybil Phoenix OBE, the first Black British woman to receive an MBE?
And if you are suffering from Notting Hill Carnival withdrawals, take a deep dive from your living room into the Mas bands, sound systems and steel bands who make Carnival the vibrant, sonic experience it is today.
There's so much more to explore on the Black & British hub on Google Arts & Culture from today.
Visit g.co/blackhistoryuk, or download Google Arts & Culture's Android or iOS app