Create a festive song with Blob Opera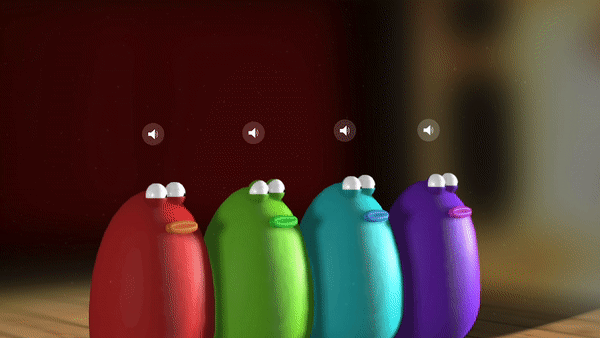 Still looking for that perfect present? Why not gift a festive song? Blob Opera is a new machine learning experiment by artist David Li that lets you create your own festive song inspired by Opera on Google Arts & Culture.
Guide the pitch and vowel sound of our four festive blobs who stand ready to transform your musical ideas (no matter how good or bad) into beautiful harmonies. Record your creation and share it with family & friends, especially the person who already seems to have everything — you can be sure this will be their first Blob Opera.

This experiment pays tribute to and explores the original musical instrument: the voice. We developed a machine learning model trained on the voices of four opera singers in order to create an engaging experiment for everyone, regardless of musical skills. Tenor, Christian Joel, bass Frederick Tong, mezzo-soprano Joanna Gamble and soprano Olivia Doutney recorded many hours of singing. In the experiment you don't hear their voices, but rather the machine learning model's understanding of what opera singing sounds like, based on what it learned from the opera singers.
The resulting experiment allows you to play Blob Opera, altering pitch & vowel sounds to create your own composition. The blobs respond and harmonise to your input in real time. But no worries if you're feeling a bit too shy to compose: You can also have the Blobs put on a festive performance while you sit back and enjoy classics like "Jingle Bells" and "O Holy Night."
The creative holiday fun doesn't end there. Google Arts & Culture has also created holiday-themed virtual colouring books. Find them the next time you search on Google for winter holidays like "Hanukkah," "Christmas" and "Kwanzaa."

Coloring Books will add some additional color to your holidays

Go on this never-ending holiday through France, Italy and Spain.

Tenor, Christian Joel, bass Frederick Tong, mezzo-soprano Joanna Gamble and soprano Olivia Doutney recorded many hours of singing that helped to create the Blob Opera.
Or venture a bit farther afield with another machine learning experiment, "The Never-Ending Holiday." These computer-generated, surrealist-inspired short videos use Google Maps and Street View data to offer mesmerizing explorations of France, Italy and Spain. With travel restrictions in place and winter keeping many of us indoors, they can take you on a journey to famous landmarks and distant shorelines.

We hope these activities - that we are able to create thanks to our partners - will help you to spend the holidays inspired and entertained. For more things to discover and to stay updated on future experiments and collaborations at the intersection of art and technology, visit the Google Arts & Culture
website
or get our free app for
Android
or
iOS
.