Defying gravity: an epic stunt at the Guggenheim Bilbao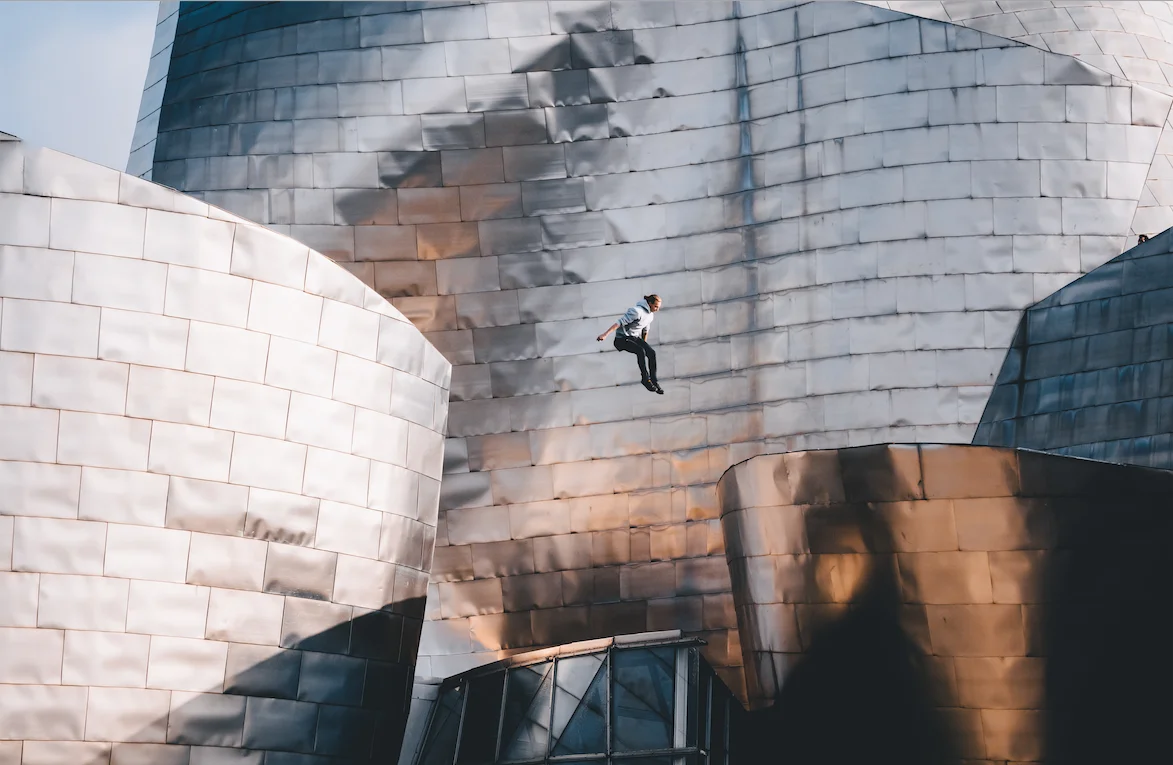 When the Guggenheim Bilbao museum opened 20 years ago it was described by many as a starship from outer space. Its swirling roof is made of paper-thin titanium tiles—33,000 of them—covering the building like fish scales. At the time, it was such a novelty that the museum had to commission a chemical laboratory to produce a custom liquid to clean the titanium!
Guggenheim Bilbao (photo by Trashhand)
The museum was an unusual experiment not just because of its gleaming shell. Over two decades ago, following the collapse of the traditional industries Bilbao was built on, the city was scarred with industrial wastelands, abandoned factories, and a community afflicted by unemployment and social tensions. Bilbao surprised the world (and raised a few eyebrows) with a unique idea to kickstart the city's regeneration, and they set out to build—not new factories or new roads—but instead a new center for modern art.
Since then, the museum has attracted 19 million visitors and became the epicenter of the urban renewal that rippled through Bilbao. Today it stands as an icon of the city and its successful self-transformation. To celebrate the Guggenheim's 20th anniversary, Google Arts & Culture partnered with the museum to bring their stories to you and show it from a new angle.
But how do you find a new angle on one of the world's most photographed buildings? Google invited Johan Tonnoir—known for running and jumping across Paris's busy rooftops with only a pair of sturdy shoes—to the Guggenheim.
Johan explored the building in his own way … through a breathtaking stunt-run across the building and its iconic slippery roof. He climbed to the highest peak and jumped, flipped and leapt from one wing of the roof to the other at 50 meters high. And all along, urban photographer Trashhand from Chicago followed him with his lens.
Check out the museum's masterpieces on Google Arts & Culture (but please don't try to do it Johan's way…). You can see all this online at g.co/guggenheimbilbao or in the Google Arts & Culture app on iOS and Android.