Digitizing artwork to share Puerto Rican culture around the globe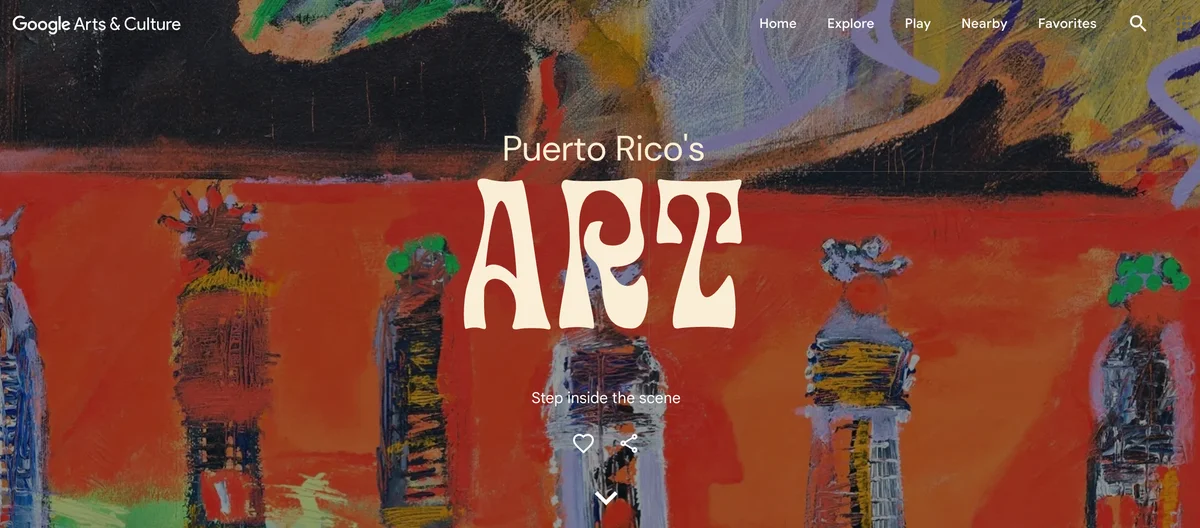 Today, for the first time, Puerto Rican art and culture is accessible on a new scale to audiences around the world. 10 museums and archives in Puerto Rico have come together through a partnership with Google Arts & Culture, Lin-Manuel Miranda and myself to launch Puerto Rico: The Sum of Its Arts. This new, digital exhibition is an immersive experience of Puerto Rico's rich multicultural heritage through over 60 expert stories and exhibits, curated from over 1,100 artworks and artifacts by our partners.
After the damage caused by Hurricane Maria, many of our partners' artworks aren't on view to the public because of building renovation, artwork fragility, or both. Over the past three years, Google Arts & Culture's Art Camera has lived on the island, digitizing more than 900 artworks in high-resolution so you can get up close to masterpieces by influential Puerto Rican artists like Rafael Tufiño, Olga Albizul and José Campeche, no matter where in the world you are. The Art Camera is a breakthrough technology in art-digitization developed by Google Arts & Culture. It is a robotic camera, custom-built to create gigapixel images faster and more easily. A robotic system steers the camera automatically from detail to detail, taking hundreds of high resolution close-ups of the painting.
Art Camera capturing artworks at the Contemporary Art museum of Puerto Rico

Art Camera setup at Ateneo Puertorriqueño

Closeup of Art Camera shutter while capturing artworks at Museo de Arte de Ponce
Some of you may remember our announcement back in 2019, when we began working with Google Arts & Culture and four partners on the island: the Instituto de Cultura Puertorriqueña, the Museo de Arte de Ponce, the Museo de Arte Contemporáneo de Puerto Rico and the Museo de Arte de Puerto Rico. Since then our work has grown to include 10 partners, including organizations like the Ateneo Puertorriqueño and Museo de las Américas. The more you dive into works like the Caribbean Impressionist painting Ponce Silk-Cotton Tree, the sci-fi imagery of Yolanda Fundora, or the portrait of Puerto Rico's "father of public education," the more you start to understand how Puerto Rico is a truly multicultural island, mixing Latin American, Caribbean, European, African, North American, Taíno, and pretaíno indigenous" influences. These cultures mingle under the umbrella of a spectacular landscape, commemorated by artists like Manuel E. Jordán and Francisco Oller, and preserved by Puerto Rican collectors with a love of their home.
Gaze at the bright colors and rich textures of Country Club Gardens by Melvin Martinez, Museo de Arte Contemporáneo de Puerto Rico

Go behind the scenes with the Art Camera at the Museo de Arte Contemporáneo de Puerto Rico

Enjoy the play of light and shadow in this 1960's portrait of Penelope by Francisco Rodon, Ateneo Puertorriqueño

Explore El Grito de Lares, Augusto Marín's depiction of the Lares Revolution - the first major revolt against Spanish rule in Puerto Rico. Instituto de Cultura Puertorriqueña
In the coming months and years, the project will grow into a hub for all things Puerto Rico. Already the Flamboyan Arts Fund is telling the story of San Juan's ballet, the Galeria Lin-Manuel Miranda is spotlighting our family's proud connection to the island, and the Casa Del Libro is sharing a rare collection of books.