Gilberto Gil: Our largest retrospective of a living artist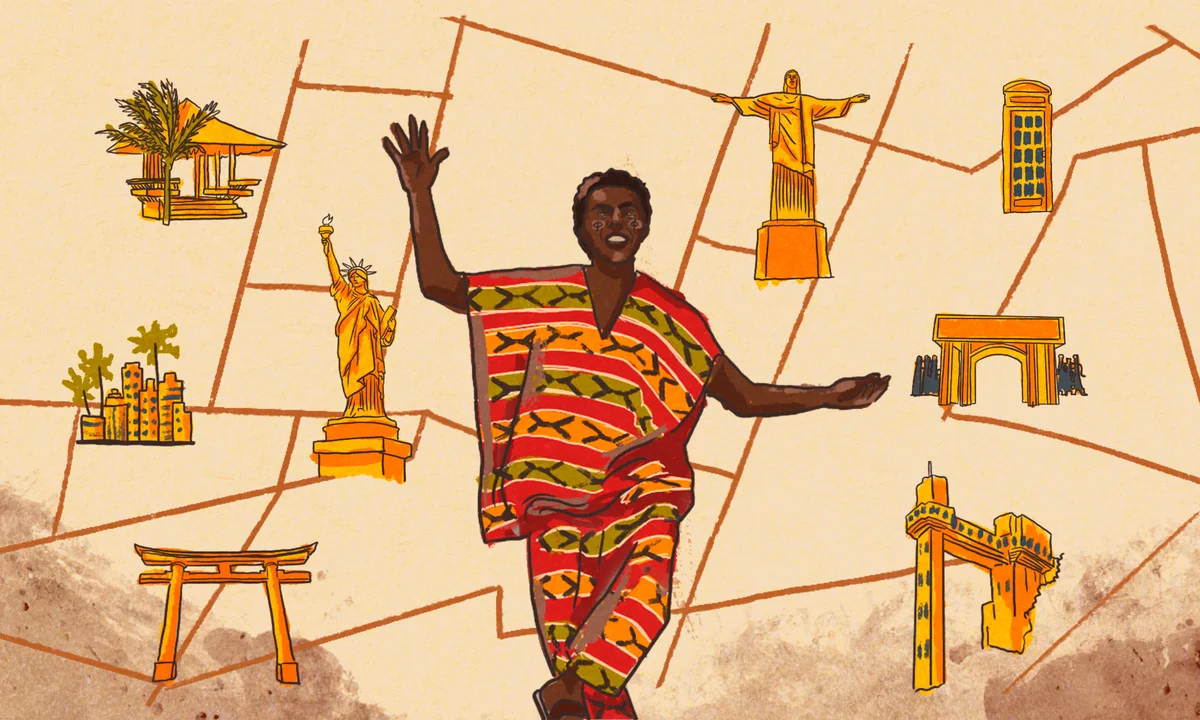 Gilberto Gil, the Brazilian singer, songwriter and cultural icon, once said that "Brazil was, is, and will be in fashion." The same could be said of him. With a career spanning over 60 years — as a pioneer of Tropicalia and Afro-Brazilian music, as an advocate for the environment, and as Brazil's Minister of Culture — Gil has left a profound impression on global culture.
To celebrate Gil's 80th birthday, Google Arts & Culture is launching the largest online retrospective dedicated to a living artist. In The Rhythm of Gil, you'll find a wealth of unique material – including an album believed to be lost forever, over 140 stories, over 900 newly digitized videos and tapes, and exclusive illustrations by artist Raiana Britto. An inspiring artist who resides in Gil's hometown of Salvador, Raiana Britto's work has drawn attention for reflecting on social issues of gender and race.
In this exciting exhibit, you'll follow the story of Gil, from his childhood in Bahia all the way to his election to the Brazilian Academy of Letters in 2022.
Here are five things to explore right away:
Learn about Gil's life through records
Gilberto Gil's discography tells its own story. As he wrote songs, Gil reflected on many of his personal experiences alongside events in Brazil and the wider world. In The Rhythm of Gil, you'll find a six-part discography, complete with recordings, images and commentary, where you'll learn how Gil's songwriting evolved over time, often in response to events in his life, from his exile from Brazil to his growing interest in transcendentalism and the natural world.
Discover the "lost album"
After Google Arts & Culture had digitized Gil's archive, there was a remarkable discovery. Jumbled up amongst the various files was an album that was assumed lost for nearly 40 years. This is the forgotten album, an LP that Gil recorded in New York over two months in 1982. For the first time, thanks to the digital cataloging carried out here, the record is available for listeners to enjoy.
Explore Gil's international encounters
Gilberto Gil is nothing if not international. Since his exile from Brazil to London in 1969, Gil has been engaged with other global artists, festivals and causes. Whether that's helping to organize Glastonbury festival and the very first Rock in Rio, collaborating with George Harrison, Stevie Wonder, The Wailers, and Elton John, or hanging out with Italian auteur Frederico Fellini, Gil has long been a global figure.
In The Rhythm of Gil, you'll be able to delve into Gil's childhood in detail. You'll learn how important his parents were to his later career — from his father's interest in politics to his mother's inspiring presence and encouragement. With intimate family photos and portraits, this is a window into the early life of one of the world's most influential musicians.
Kick back with Gil's live performances
The Rhythm of Gil includes some of Gilberto Gil's most memorable live performances. His 2003 UN Concert for Peace, where he was joined on stage by UN Secretary General Kofi Annan on the atabaque, is one of the standouts here — capturing the spellbinding quality of his musicianship, alongside his lifelong engagement with international causes.
These highlights only scratch the surface of what's to be found inside The Rhythm of Gil. From a catalog of letters he received, to an inventory of his different "looks" over the years and an opportunity to sing along his most famous beats through a digital Karaoke; The Rhythm of Gil holds treasures for dedicated fans of Gil or those coming to his music for the first time.
We invite everyone to experience the musical and cultural phenomenon that is Gilberto Gil, visiting the project at g.co/gilbertogil and on the Google Arts & Culture app on iOS or Android.