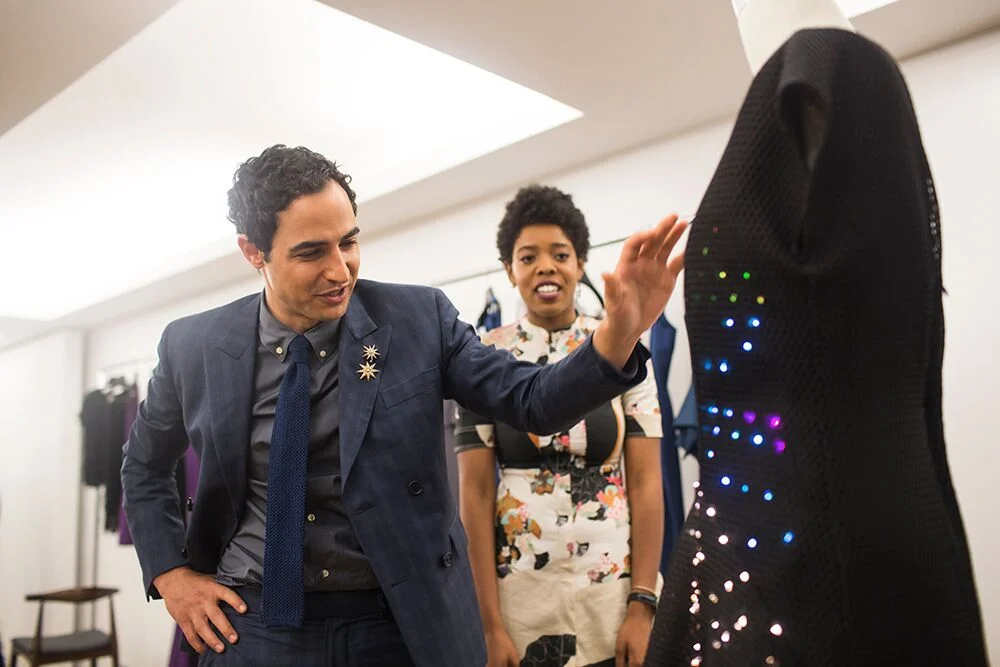 Increasingly, the worlds of fashion and technology are becoming intertwined—from wristbands that track your heart rate to responsive fabrics that adjust to your temperature. And just like you can sew together different pieces of fabric to make a dress, or choose different items from your closet to create an unexpected outfit, you can also put together code to make something that's never existed before.

Today, as New York's Fashion Week kicks off, fashion and technology are coming together in a new way. Made with Code and ZAC Zac Posen are teaming up to show how computer science can push the boundaries of what's possible in the world of fashion. A dress designed by Zac Posen and with designs coded online by teen girls will debut as the finale look of Zac's show—and hopefully inspire young girls who have an interest in fashion to see what code can help them create.

Made with Code started with the mission of inspiring girls to try coding and to see it as a means to pursue their dream careers—regardless of what field those careers are in. For this project, girls from organizations like Black Girls Code, the Flatiron School, Girls Who Code and Lower East Side Girls Club, coded designs for an LED dress using an introductory coding project online. Fashion engineer and Made with Code mentor, Maddy Maxey, coded and fabricated the LED technology of the dress, working alongside Zac as he designed. When the dress goes down the runway, it will displays girls' patterns in 500 LED lights, using a micro controller specially tuned to match Zac's Spring Summer 2016 runway collection—from Catalina Blue to Acid Yellow. Meanwhile, 50 girls will get seats at the show to see their designs light up the runway.

In the past year, we've seen many encouraging signs that more girls are exploring computer science. More than 5 million coding projects have been tried since Made with Code began a year ago. And Googlers, teen girls and partners like Girls Inc, Technovation and Girl Scouts have thrown 300+ Made with Code parties across the U.S., reaching tens of thousands teen girls in person. But with less than one percent of high school girls still expressing interest in computer science, it's obvious we have so much more work to do—so, let's start now. After today, girls all over the country can also head to madewithcode.com to create their own design. We hope the digital dress inspires more teens to discover what they can make with code.