Manga Out of the Box: the story of a Japanese art form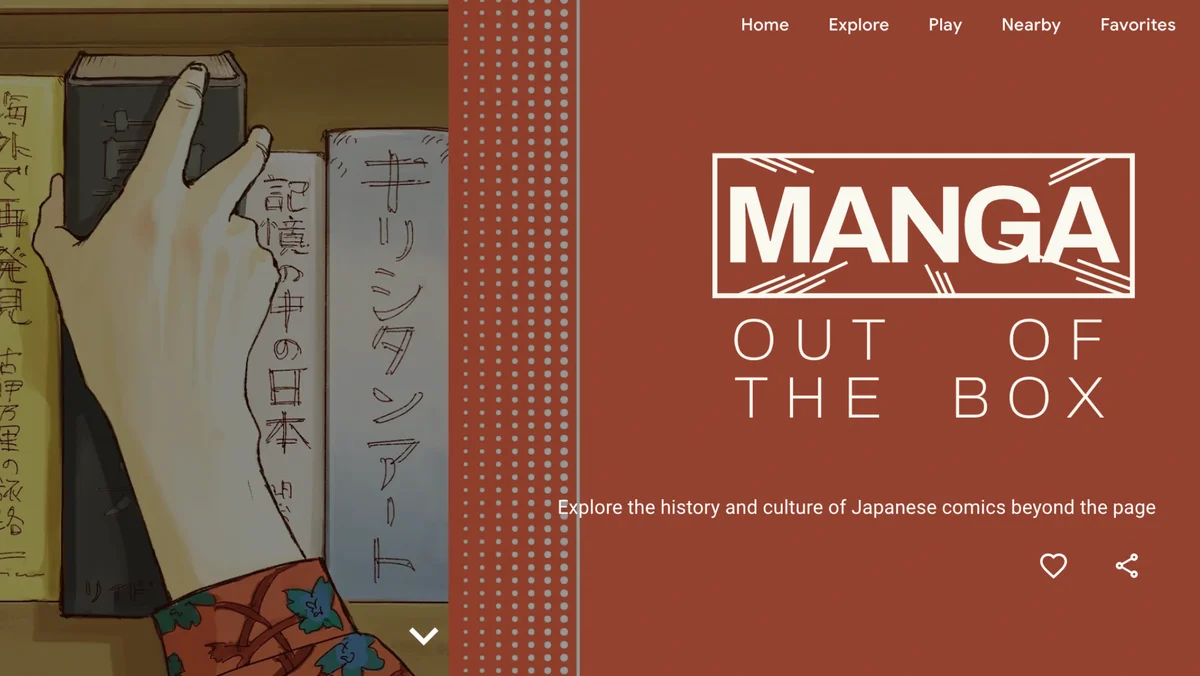 With its gripping storylines and vivid illustrations, manga is one of Japan's most beloved art forms. From Doraemon the cat-shaped robot to Astro Boy the android, it has left us with some unforgettable characters. Once considered a 'subculture', manga has gone mainstream – and global.
In Manga Out Of The Box – a new collaboration between the Japanese Ministry of Economy, Trade and Industry, 12 cultural institutions across Japan, and Google Arts & Culture – we take a closer look at this dynamic art form. Through detailed stories, interactive exhibits and exclusive experiments and videos, you'll be able to immerse yourself in the world of manga. Here are five things you can do as part of this virtual exhibit.
1. Learn manga history
The origins of manga, as we know it today, are disputed. In Manga Out of the Box, you'll be able to dig into this history. Are the 12th-century Chōjū Giga scrolls the first examples of manga? Or is this a case of searching too hard for the present in the distant past? Did manga's true history begin in the 19th century – with the meeting of Western caricature and Japanese drawing? Find out in these beautifully illustrated stories.
2. Create your own manga with the help of machine learning
With Giga Manga, you'll be able to create your own manga-style ink drawings with the help of machine learning. In this unique experiment, all you need to do is sketch a few simple lines and add some splashes of color – then let machine learning fill in the rest. You can also draw freeform to personalize your creation further. And when you're done, the tool will help you discover manga similar to the one you've drawn.
3. Discover influential figures
It's impossible to imagine Japanese manga without Osamu Tezuka. In works like Astro Boy and Black Jack, Tezuka stakes a claim as 'the grandfather' of modern manga. With his multilayered narratives, sci-fi themes and dark sensibility, he influenced generations of later artists. One of those, Fujiko F. Fujio, went on to define 20th-century manga in his own way. In Doraemon, the friendly cat-shaped robot, Fujio created a cultural icon recognized around the world.
Jungle Emperor Leo was created by Tezuka Osamu
Doraemon, the famous character from Fujiko F. Fujio
4. Visit the editor's desk
While we rightly celebrate the work of great manga artists, they aren't the only ones responsible for bringing manga to our shelves. Without dedicated editors, none of this would be possible. Through the story of Naoko Yamauchi, the editor of the popular manga serial Sleepeeer Hit!, you'll learn just how crucial the role of a manga editor is – in this case, Yamauchi and her team provide inspiration for the characters themselves. And, as you'll learn, it's not only the editors – there are the platesetters, the marketers, the booksellers and many more who toil into the small hours to bring manga to us.
5. Stay contemporary
Manga's influence reaches far and wide – touching fashion, internet culture, video games and contemporary art. Indeed, it can be seen in the work of one of Japan's leading contemporary artists, Takashi Murakami. In Manga Out of the Box, you can explore his ongoing project, Doraemon x Takashi Murakami – an expression of his lifelong fondness for Fujiko F. Fujio's manga classic.
In the 21st century, manga continues to find new fans across the globe. As it evolves and occupies the digital space, it's worth reflecting on its roots. They provide an insight into its lasting appeal. Reflecting on the playful, humane Doraemon, Takashi Murakami observes: "I think manga is art. I think it's also a rare, original culture that was brought into the world by postwar Japan." More acutely, he notes: "Manga is a culture of healing…" Whether you're a devout manga fan or discovering it for the first time, Manga Out of the Box offers a window into that culture.
Discover more on g.co/manga online or through the Google Arts & Culture mobile app on iOS and Android.