Paws meet machine learning with Pet Portraits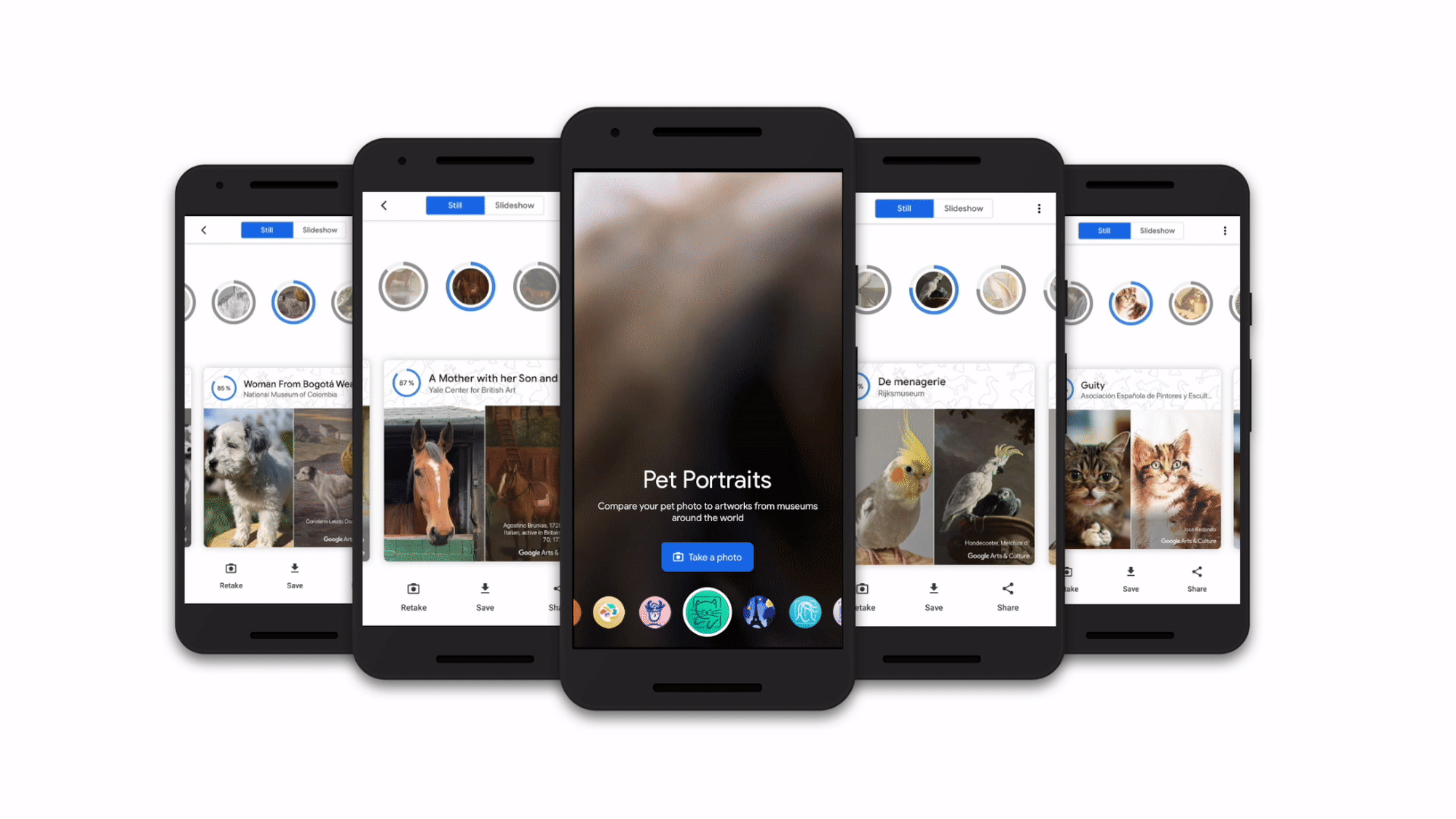 According to John Steinbeck, "I've seen a look in dogs' eyes, a quickly vanishing look of amazed contempt, and I am convinced that basically dogs think humans are nuts."
Perhaps Steinbeck's dogs would have really thought we were nuts back in 2018 when people around the world used Art Selfie to search for their doppelgängers from across art history — with over 120 million selfies taken so far.
But now, pets can get in on the fun too! Today we are introducing Pet Portraits, a way for your dog, cat, fish, bird, reptile, horse, or rabbit to discover their very own art doubles among tens of thousands of works from partner institutions around the world. Your animal companion could be matched with ancient Egyptian figurines, vibrant Mexican street art, serene Chinese watercolors, and more. Just open the rainbow camera tab in the free Google Arts & Culture app for Android and iOS to get started and find out if your pet's look-alikes are as fun as some of our favorite animal companions and their matches:
Nala Cat goes by many names: Guinness World Record holder, cat food entrepreneur and published author. Probably "The Favorite Cat" also, as this match will tell you.

CeCe is quite the jet setter as she has lived in three countries and competed in Show Jumping throughout Europe. You could easily believe that she was actually the inspiration for this Italian painter working in Britain and now on display at Yale.

Richard "Richie" Feynbird is in a league of his own. When he's not dunking hoops or bowling strikes, he enjoys quality time with his human flock (with plenty of head scratches). No wonder the Rijksmuseum has his lookalike on display.

From helping to feed dogs in need to finding new homes for rescue dogs, Holly and her human are always up for a good cause. If they could travel back to Milan in the 1880s, we're sure they'd help this friend find a home too.

Although just a bunny, Grey is already following her passions. She almost never responds to "Grey'' and is considering an official name change to "Come eat." Perhaps that's why she's been matched with these rabbits getting ready to welcome the autumn harvest.

At 34 years old, Agathe is in her prime - members of her species are expected to live to 75. After embracing her wild side by escaping to the French countryside a few years ago, she's now safely settled back home. Perhaps she was hoping to visit her art match in Brazil.

Yves was named for the artist who created his own hue of the color blue, a notoriously calming color. Based on Yves's artwork alter ego though, it seems he has more of a fighting spirit at heart.

Everyone loves a good dog, especially a trusty lookout companion like Patch or his doppelgänger in Bogotà. But don't be deceived by his innocent good looks; he'll definitely eat your homework if he gets the chance.

Ever wonder what your cat is daydreaming about? We're certainly curious about what Buster Kitten is imagining here. Based on his artwork counterpart chasing sparrows up a tree, he must be dreaming up something quite adventurous today.
When you take a photo in Pet Portraits, our trained computer vision algorithm recognizes where your pet is, crops the image and puts them where they belong: front and center. Once that is done, a machine learning algorithm matches your pet's photo with over tens of thousands of artworks from our partners' outstanding collections to find the ones that look most similar. Now it's time for them to enter the spotlight: Share your pet's #PetPortraits as a single still image or select multiple images to animate together as a GIF slideshow.
Additionally, Pet Portraits invites you to tap on your result to learn about the stories and artists behind each artwork. Keep on exploring Google Arts & Culture and discover more about our pawed, winged, and hooved friends throughout history. Get to know the 10 coolest cats or dogs of art history, dive into wonders of the natural world, or find out more about fantastic beasts in fiction and nature.
Ready to find your pet in art? Open up the free Google Arts & Culture app for Android or iOS and tap the rainbow camera button at the bottom of the page. Discover and share your most paw-fect #PetPortraits and don't forget to tag us @googleartsculture on Instagram or @googlearts on Twitter! 🐾