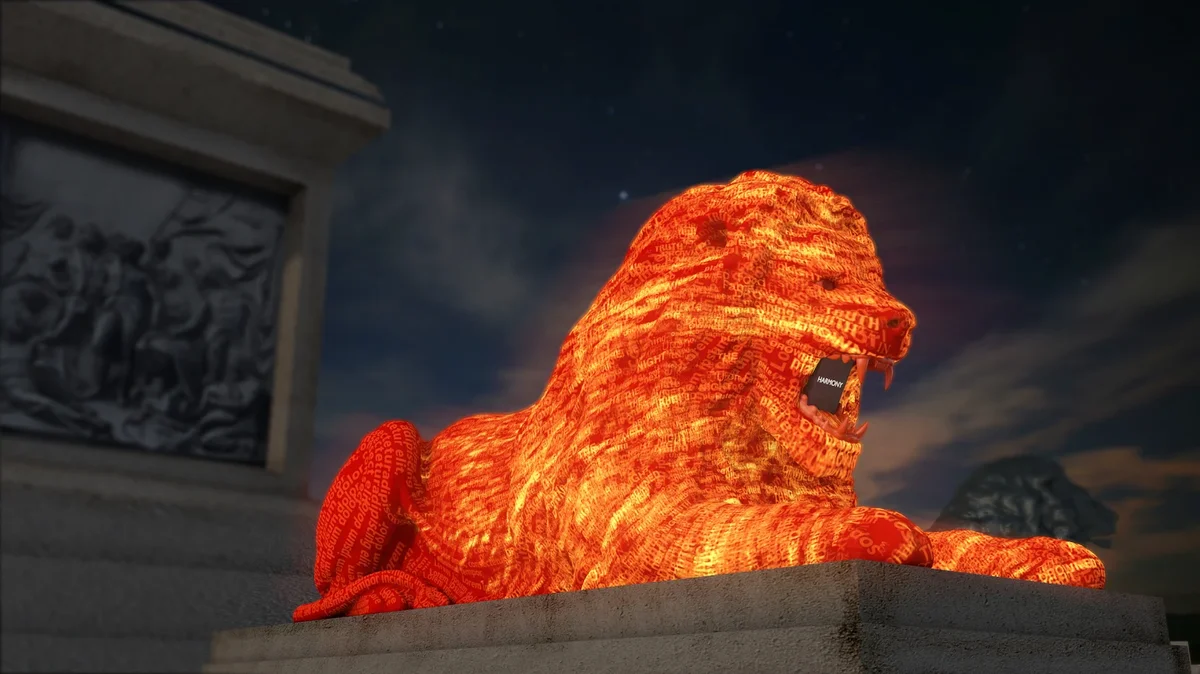 Since 1867, the base of Nelson's Column in London's Trafalgar Square has been guarded by four majestic bronze lions, designed by English painter and sculptor Sir Edwin Landseer. For over 150 years, the lions have witnessed decades of gatherings, protest, celebration and demonstration in the heart of the capital. If one of them could open its mouth and speak, what would it say?

This question is at the heart of a new public sculpture from renowned British designer Es Devlin, created with Google Arts & Culture. "Please Feed the Lions," being unveiled today as part of London Design Festival, relies on public submissions and AI to create a collective work of art.
During the festival, which runs from September 18-23, a fifth lion will join the pride in Trafalgar Square and the public will be invited to "feed" it with words. When an individual "feeds" the lion a single word via a Pixelbook in the Square, their word is expanded instantly into a line of poetry lit up inside the Lion's mouth, accompanied by a choral roar. Over the duration of the installation a collective poem will evolve, which will be projected at night onto both Nelson's Column and the Lion itself. 
The secret sauce of the installation is a neural network model created by creative technologist Ross Goodwin, part of the Artist and Machine Intelligence program at Google Arts and Culture. This model has been trained on 25 million words of 19th century poetry, which is used to create each line of the collective poem.

Those outside of London can feed the lions virtually by submitting words on the London Design Festival site. And each day from September 18-23, Google Arts & Culture will publish the poems—created by the public in a unique collaboration with AI, online with a virtual exhibition about the project.
Discover more about Please Feed the Lions online at g.co/pleasefeedthelions—or download our free app for iOS or Android.