Put a cultural spin on game night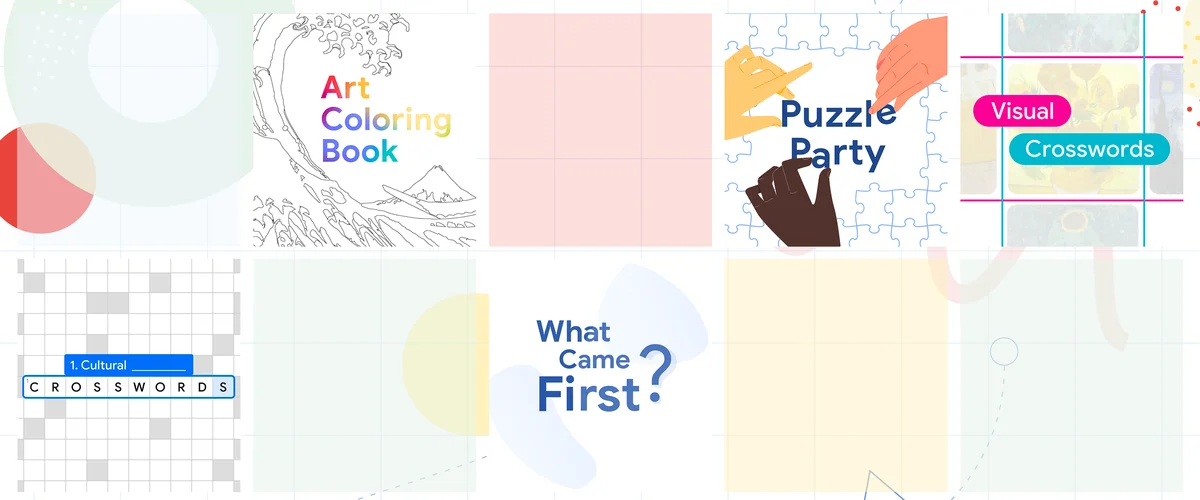 We are all curious beings at heart, and play is one of the best ways to learn. That is why we are introducing a few new ways for you to learn more about culture in fun and engaging ways. We are now adding a way to record videos with Art Projector, a tool that uses augmented reality to bring famous artworks to wherever you are. Tap the Camera icon to start recording your thoughts about these paintings, available now in the Google Arts & Culture Android app and coming soon on iOS.
While an Art Projector video is a way for everyone to become an artistic video curator, creative coders in the Google Arts & Culture Lab have come up with some other ideas to learn about arts, culture and history: by playing. The result is our new collection, "Play with Arts & Culture," which offers games, puzzles and trivia drawn from the cultural treasures of hundreds of partner institutions. Try them on your computer via g.co/artgames, in the Google Arts & Culture Android app, and coming soon for iOS. 

Puzzle Party
These collaborative jigsaw puzzles are made for family and friends to solve together (or for you to play solo). Dive into the rich detail of over 500 artworks, including Andy Warhol's "Flowers," Johannes Vermer's "Girl with a Pearl Earring" and Amy Sherald's "First Lady Michelle Obama" You can even choose between three different difficulty settings so everyone in the family can pitch in.


What Came First?
What came first, the Statue of Liberty or the game of volleyball? The faster you select the correct answer, the higher your score. And if you want to dig a little deeper into the history, tap on an item to reveal more information.


Cultural Crosswords 
Cultural Crosswords are a fun way to explore art, history, or themes such as African textiles or yoga postures. Tap on the boxes in the grid to reveal the clue and fill in your solution. Once you've got the right answer, you can click through and discover more about it on Google Arts & Culture.

Visual Crosswords 
As the saying goes, a picture is worth a thousand words. So we riffed on the idea of a crossword puzzle to create Visual Crosswords, which you solve with images instead of letters. Figure out where each artwork fits in the grid: Is it Renaissance or Modern? Is it Van Gogh or Gaugin—or both? Drag each one to the correct box and progress through levels of difficulty.

Art Coloring Book
Van Gogh's sunflowers might be yellow, but yours don't have to be. Coloring has always been a favorite activity for children, but it's becoming increasingly popular among adults looking for some mindful downtime. Exercise your talents and get inspired as you color famous artworks and even landmarks from Street View.

Start creating videos with Art Projector and playing with the Google Arts & Culture Android app—or coming soon on iOS. No matter if you're playing for fun or to learn something new, we hope "Play with Arts & Culture" will help you to further discover the amazing treasures our partners are making available to anyone online.