Take a journey on Romania's Via Transilvanica trail with Street View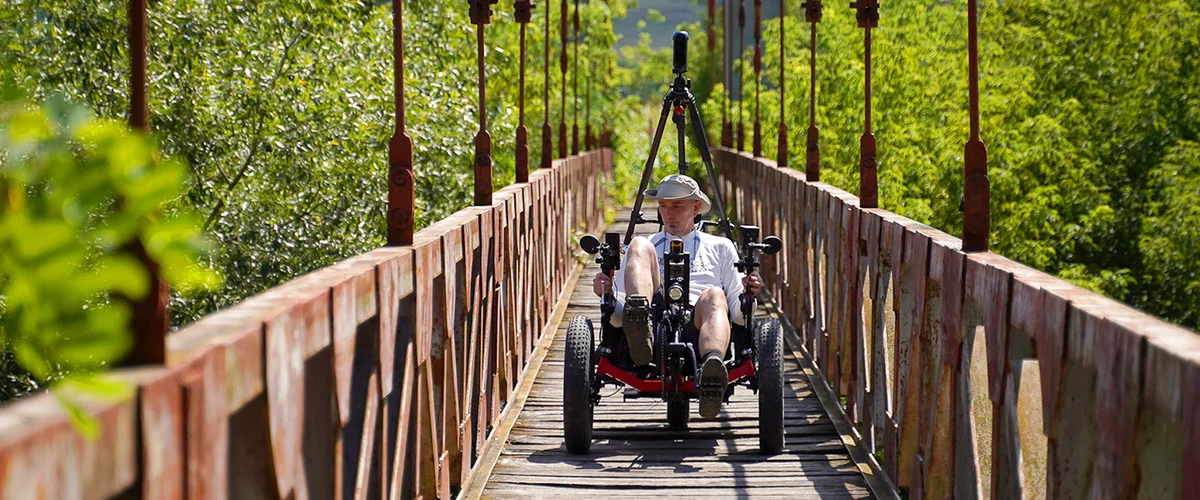 Have you heard of Via Transilvanica? This long-distance trail — similar in concept to El Camino or the Appalachian Trail — is a 1,400-kilometer route crossing Transylvania in Romania, connecting 12 UNESCO World Heritage Sites. The project, initiated by the Tășuleasa Social Association, was awarded the Public Choice Award 2023 in the European Heritage Awards.
Now, more than 850 kilometers of trails and roads on Via Transilvanica can be explored on Google Street View. In August 2023, a team of Google Street View Trusted Photographers from Romania drove a specially designed recumbent trike, fitted with a panoramic camera, along the trail to photograph some of the most stunning parts of Via Transilvanica.
Follow the orange Via Transilvanica signs.

Mapping the trail on a very narrow bridge.

One of the more than 1400 andesite bollards that mark the Via Transilvanica trail.

Crossing the Transylvanian meadows and valleys.

Iezerul Sadovei lake in the Bucovina region.

Reaching the end of the journey, on the bank of the Danube river.
Via Transilvanica's aim is to showcase Romania's rich cultural, historical and natural treasures. Passing through seven regions — from the northeast in Bucovina, and reaching the Danube in the southwest — the trail is a blend of the many cultures that have coexisted for centuries in Romania.
Via Transilvanica connects local communities, too: You can click to get to Inlăceni village, where you can sit back for a moment of peace in the small unitarian church, wander through abandoned villages or visit traditional villages such as Poiana Negri or Obârșia Cloșani. You can even stop to rest at one of the local businesses that offer hospitality for travelers on Via Transilvanica, and can be found on Google Maps along the route. Check out this traditional Transylvanian house or enjoy a coffee in the sunrise light în Gărâna.
Over more than a decade, Street View has taken the virtual explorer to incredible places in Romania, from the spectacular Transfagarasan Road and the famous Bran Castle, to Danube Delta's channels and Turda Salt Mine. Now, we invite you on a trip across Romania, on Via Transilvanica, open for all hiking, nature, culture and history enthusiasts.