The Art of Survival: A Yazidi Cultural Archive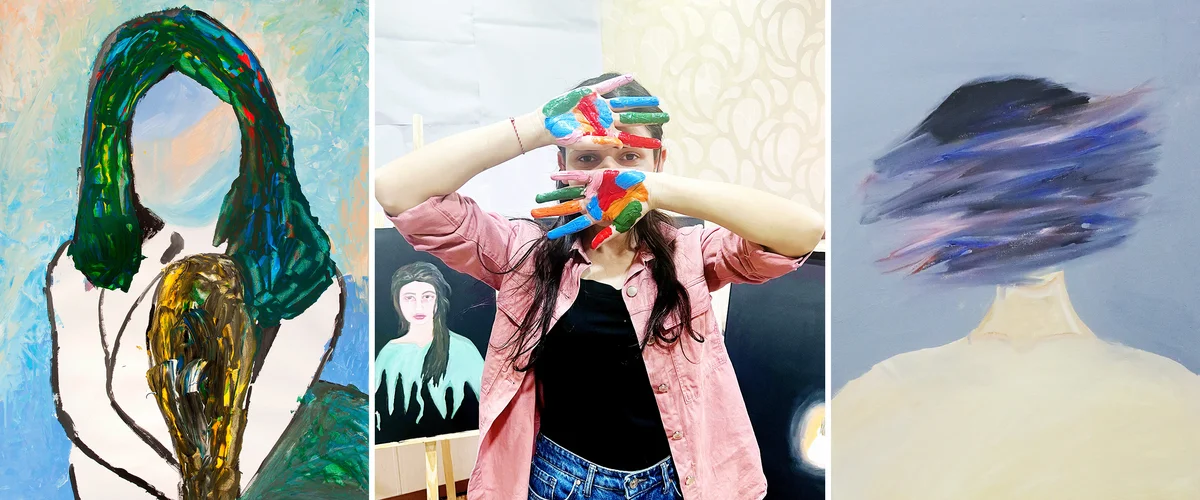 The arts are integral to how we make sense of the world. Traditional arts and cultural practices have long been used to elevate human experience and shift perspectives. However, in recent decades these benefits have increasingly been the subject of more formal study, highlighting the direct health benefits of participating in the arts such as increased physical activity, stress-reduction and connection. Such benefits are particularly vital for people who have experienced forced displacement.
Current evidence points to how the arts and arts therapies promote physical, mental and social well being for people who are working through the aftermath of violence and conflict. Dance and dance/movement therapy can help people release grief and recover a sense of joy. Theater and drama therapy can aid people in re-discovering a sense of playfulness, rehearse new ways of being, deepen empathy and communicate across differences. Music and music therapy can decrease stress, facilitate emotional regulation, and promote a shared sense of belonging for both displaced persons and host communities. Participation in visual art and art therapy can promote relaxation and enable greater expression.
Today, in collaboration with Google Arts & Culture, we present four unique digital stories commemorating the strength and vitality of the Yazidi people following the 2014 genocide in Iraq carried out by Da'esh. We honor these women who have shown extraordinary courage in the face of dehumanising acts which are, for most of us, unimaginable. The content was produced through a series of art and photography workshops, led by Yazda, to help women use art to express their experience, recover a sense of connection with themselves and each other, reimagine identity, and document examples of their intangible cultural heritage. What is particularly notable about this project is that rather than delegating the process of cultural preservation to "experts," this group of women were given the tools to identify what was meaningful to them and encouraged to find ways of expressing that meaning in the manner that suited them best.
The Nobody's Listening: Justice for the Yazidi People exhibition provides background to the historical and cultural situation of Yazidis, a unique ethno-religious group whose origins stretch back more than 6,000 years to ancient Mesopotamia. Between the description of the past and current events, people can discover artworks from Yazidi survivors and get to know their feelings and thoughts.
Stories of Thread & Ink: Preserving Yazidi Cultural Heritage shows us Yazidi women of different generations who have come together to reclaim and revive at-risk cultural practices to preserve their heritage. Sustaining traditional cultural practices like Dazik — Yazidi traditional handmade bracelets and unique markings known as 'Deq' Tattoos — is important to survivors, and those who remain displaced and living in camps, as a pillar of their cultural identity and link to their lives before the genocide.
"I survived captivity and am passionate about my new life. After I was liberated from Da'esh, I joined this art workshop to advocate for myself and other survivors. I felt pride in what we created because it helped me remember who I am and who my people are." - Malaeen LUQMAN, Yazidi survivor.
The Healing Lens: A Photographic Journey by Yazidi Survivors exhibition was created by eight women who were under Da'esh occupation, all currently living in refugee camps in Iraq. It is their response to the ongoing situation between Da'esh and the Yazidis. The story presents photographs they took to commemorate cultural motifs, such as a healing fountain, tombs, or the olive oil jars used in religious ceremonies and rituals that are held in Lalish temple. Through The Art of Survival: A Yazidi Cultural Archive exhibition people can explore inspiring paintings of resistance and healing by Yazidi women who have hope, belief in their dreams and are proud now to share their culture with a new generation.
This project is a reflection of how the arts and culture are a valuable and available resource that can create healthier, stronger and more equitable communities. We encourage you to explore this affirmation of healing and remembrance on the United Nations page on Google Arts & Culture. In addition to preserving cultural practices, the celebration of our unique expression of identity allows us to regain control of our individual narratives and imagine for ourselves a joyful and thriving future.