The Blobs are back and teaming up with Beethoven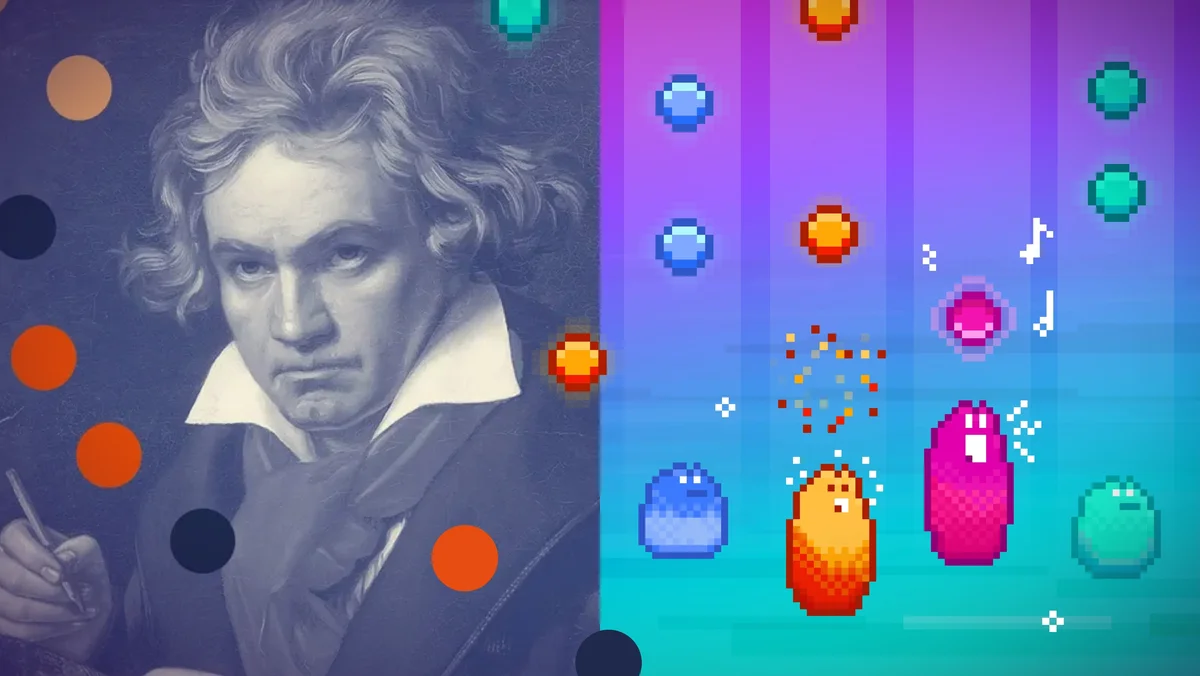 This month marks 252 years since Ludwig van Beethoven was born. A man whose music has had an immeasurable impact on culture and is recognised as one of the most influential composers of all time. Today, Google Arts & Culture presents two new experiments that challenge you to play with and discover the work of this musical master with Blob Beats and Beethoven Beats.
Matching rhythm with a master
Beethoven Beats, created in partnership with Deutsche Grammophon, celebrates Beethoven's musical genius with a completely new way to discover his famous piano sonatas. You are invited to tap out a rhythm, which, through the application of machine learning, will be answered by the closest matching work from Beethoven's extensive piano sonata collection.
Tap out a rhythm and ML will match it with Beethoven
The experiment features recordings by world-famous and award-winning pianist Daniel Barenboim, who has been exploring Beethoven's music for more than seven decades. Few musicians have engaged with the composer's music as intensively and over such a long period.
The Blobs are back in town
Video format not supported

Music game with falling notes hit by the player

Hit the right notes and get a high score

Play songs by a range of great composers

Learn fun facts as you play
After a world tour and live performance at last year's Google I/O, everyone's favorite singing Blobs are back for a brand new experience. This time around they're bringing you classical music like you've never heard it before, in Google Arts & Culture's latest game, Blob Beats.
In this rhythm-based game players take control of the Blobs and are challenged to play iconic compositions remixed in an arcade style. Hit the falling notes at the right time to play a classical masterpiece and score as many points as possible to maximize your high score. Progress through the difficulty levels as you develop from amateur to virtuoso and take a moment in-between your masterpieces to learn some fun facts about the composers who created them.
We hope you'll enjoy discovering and playing iconic compositions through these experiments, which can both be found on our Beethoven Everywhere theme page, alongside an extensive collection of stories, music and art about the composer and his legacy, plus you can hear the piano sonata collection in its entirety on YouTube Music.
More music on Google Arts & Culture
Now that you've gotten closer to Beethoven, why not uncover other musical icons on Google Arts & Culture such as the king of reggae Bob Marley, Brazilian icon Gilberto Gil, romantic pianist Chopin, or discover comfort through Culture with Yo-Yo Ma. You can keep getting creative with sound through more musical experiments from the Google Arts & Culture Lab such as Paint with Music, Assisted Melody, and AR Synth — part of our Music, Makers and Machines project. Or keep on playing with our collection of cultural games at g.co/artgames or in the Play tab ( 🎮) within the Google Arts & Culture app for Android and iOS.