Transform your photo in the style of an iconic artist

From the bold, swirling movement in Vincent van Gogh's paintings, to the surreal, confident brushstrokes of Frida Kahlo, many famous artists have instantly recognizable styles. Now you can use these styles to transform your own photos. With Art Transfer, a new feature in the Google Arts & Culture app, you can apply the characteristics of well-known paintings to your own images.
To try it, open the Camera menu in the bottom bar of the Google Arts & Culture app and select "Art Transfer." After taking or uploading a photo, choose from dozens of masterpieces to transfer that style onto your image. (And while you wait, we'll share a fun fact about the artwork, in case you're curious to know a bit more about its history.) For more customization, you can use the scissors icon to select which part of the image you want the style applied to. 

Thanks to cultural institutions from around the world, such as the UK's National Gallery and Japan's MOA Museum of Art, we're able to feature artists like van Gogh, Frida Kahlo, Edvard Munch or Leonardo da Vinci.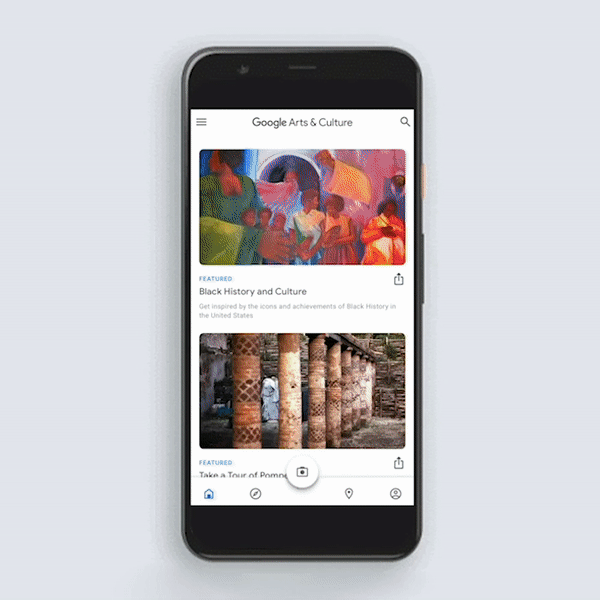 Many Google Arts & Culture experiments show what's possible when you combine art and technology. Artificial intelligence in particular can be a powerful tool not just in the hands of artists, but also as a way for people to experience and learn about art in new ways.  
In this case, Art Transfer is powered by an algorithmic model created by Google AI. Once you snap your photo and select a style, Art Transfer doesn't just blend the two things or simply overlay your image. Instead, it kicks off a unique algorithmic recreation of your photo inspired by the specific art style you have chosen. 
And all of it happens right on your device without the help of the cloud or your image being processed online.
We are curious to see what you will create with a little help of AI and hope it will bring a small piece of joy to you in this challenging time. Once you are happy with your Art Transfer, tap share to share the results as a still image or as a GIF - #ArtTransfer.

Discover more on Google Arts & Culture—or download our free app for iOS or Android.