Woolaroo: a new tool for exploring indigenous languages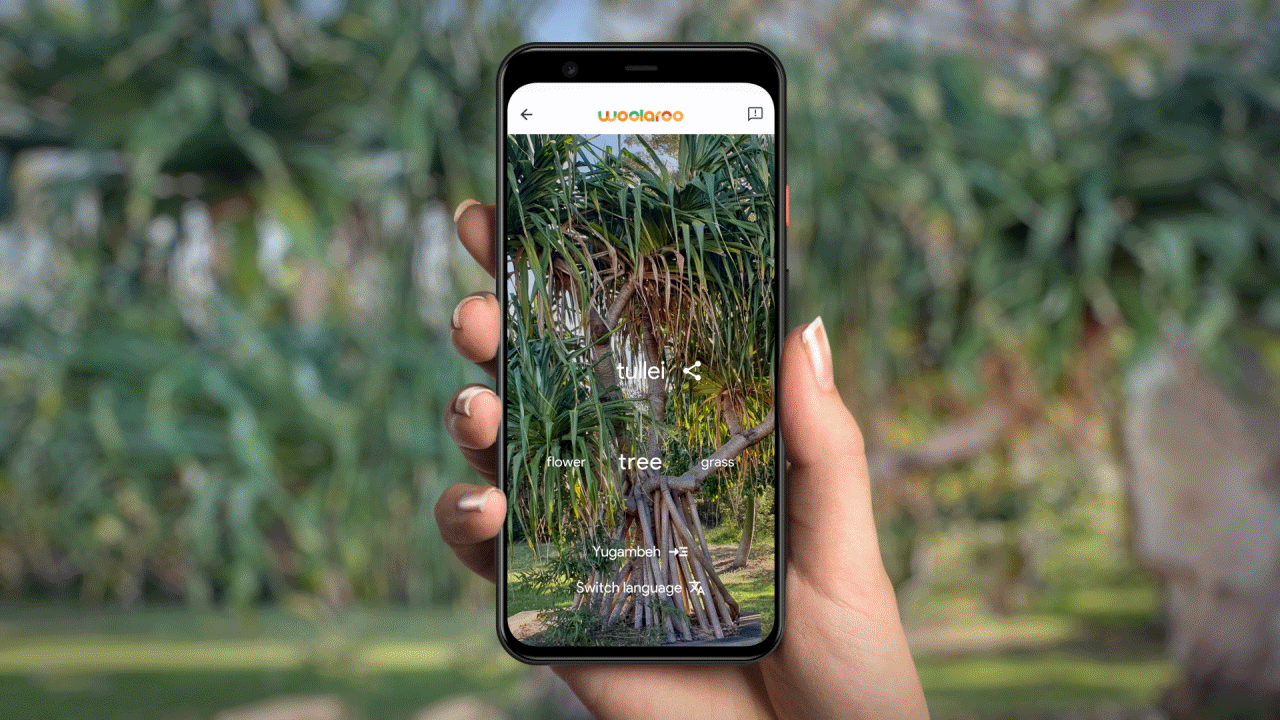 "Our dictionary doesn't have a word for shoe" my Uncle Allan Lena said, so when kids ask him what to call it in Yugambeh, he'll say "jinung gulli" - a foot thing.
Uncle Allan Lena is a frontline worker in the battle to reteach the Yugambeh Aboriginal language to the children of southeast Queensland, Australia, where it hasn't been spoken fluently for decades and thus is – like many other languages around the world – in danger of disappearing.  
For the younger generation, even general language can be a challenge to understand, but it can be especially difficult to try to describe modern items using Indigenous languages like Yugambeh. For example in the Australian outdoors, it's easy to teach children the words for trees and animals, but around the house it becomes harder. Traditional language didn't have a word for a fridge - so we say waring bin - a cold place. The same with a telephone - we call it a gulgun biral - voice thrower.
However, today's technology can help provide an educational and interactive way to promote language learning and preservation.  I'm particularly proud for Yugambeh to be the first Australian Aboriginal language to be featured on Woolaroo, a new Google Arts & Culture experiment using the Google Cloud Vision API. 
The team behind the
Yugambeh Museum
has been working for three decades to help gather local language and cultural stories. Given the importance of Aboriginal language to Australian culture we have the incentive to record the known but in particular new words our community members are using as the world evolves bringing us new technology we didn't have before.

Woolaroo is open source and allows language communities like ours to preserve and expand their language word lists and add audio recordings to help with pronunciation. Today it supports 10 global languages including Louisiana Creole, Calabrian Greek, Māori, Nawat, Tamazight, Sicilian, Yang Zhuang, Rapa Nui, Yiddish and Yugambeh. Any of these languages are an important aspect of a community's cultural heritage. 
Crucial to Indigenous communities is that Woolaroo puts the power to add, edit and delete entries completely in their hands. So people can respond immediately to newly remembered words and phrases and add them directly.
So if you, your grandparents or people in your community speak any of these languages – even if just a few words –  you can help to expand the growing coverage of Woolaroo.
We hope people will enjoy learning and interacting with a new language and  learn about the diversity of communities and heritage we all share together. 
Explore more on the 
Google Arts & Culture
 app for 
iOS
 and 
Android
 and at 
g.co/woolaroo
.