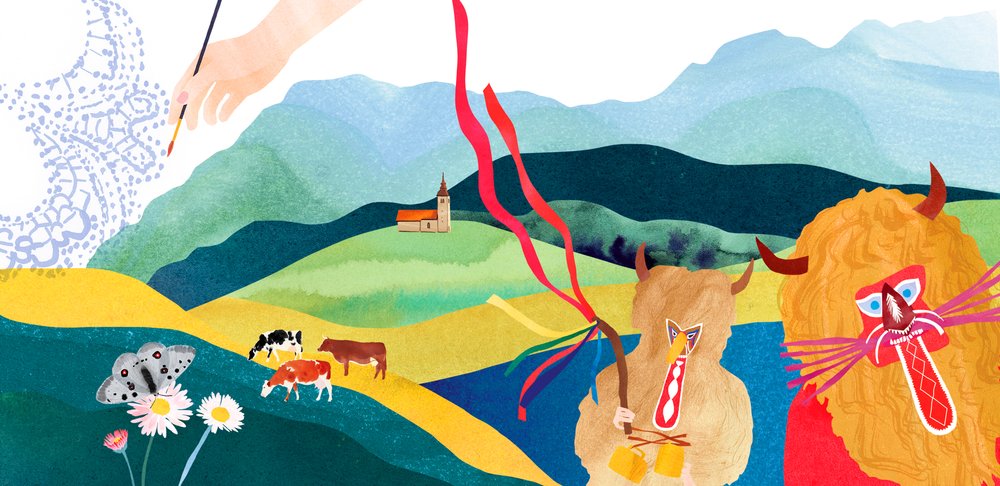 What comes to mind when thinking of the beautiful country of Slovenia? Its fresh air, clean water, amazing green landscapes, breathtaking views from the mountains and charming beaches. You cannot spell Slovenia without 'love' and it's for a reason. It's sometimes referred to as a mini version of Europe as it has all the natural diversity one could dream of, making it a perfect destination for any types of tourists.
This year, to inspire people all around the world when it comes to picking their next travel destination, Google Arts & Culture partnered with the Slovenian Tourist Board and a handful of cultural partners, like the National Library of Slovenia, Beekeeping Museum Radovljica and Slovenian Alpine Association to release the project 'Slovenian Stories'. This online exploration takes you through the country ​​in the most unexpected ways: users will meet the locals and discover the crafts of one of Europe's most forested countries. Let's dive in!
An aerial picture of trees in a forest with a bridge walkway cutting through

Take a magnificent treetop walk in Rogla (Ski Resort in Slovenia)

A picture of a large lake surrounded by trees and against a backdrop of ice-capped mountains. In the middle of the lake is a small island with a few buildings on it surrounded by trees.

Enjoy the colors of the famous lake Bled in October

The courtyard of a castle with a clock tower in the middle of it and ornate gold-yellow window decorations

Stroll around in the yard of the 400-year old Gewerkenegg castle

An image of a bridge and groom outside surrounded by friends, one of whom is holding a Concertina

Be invited to the marriage in the village, enjoying festivities with the bride and the groom

A picture of a man skiing in the snow with vintage skis and holding one large wooden pole

Step onto the mountain slope with this elegant vintage skier, using equipment from 1950s

An illustration of an old King sleeping at a stone table, with his very long white beard flowing all the way down to the ground. He is against a serene blue background with yellow dots, and green patterns to signify landscape.

Listen to to the legends of the Slovene childhood , while enjoying beautiful illustrations by Meta Wraber

A wall of beehive panels, all of which have been painted brightly with different illustrations of people, landscapes and symbols like hearts
1. The Crafts and Traditions
Have you ever wondered how to chase away winter and welcome spring? ​​Slovenes are great at that! Be a guest at one of the most recognizable carnivals in north eastern Slovenia, where impressively dressed kurents (Slovenian mythical figures) from all across the country gather to scare the winter away. Then say 'hello' to spring during St. Gregory's Day, as some of the local rivers get magically decorated with little lights.
Another tradition that survived hundreds of years is the one of salt production in Sečovlje and Strunjan. These saltworks are one of the last in the Mediterranean to use the traditional medieval method of manually harvesting salt by ranking it with wooden scrapers into heaps. It's an arduous, yet beautiful and rewarding process, yielding three different types of salt.

2. The Experiences
With its focus on natural ingredients and the great care that is given to its land and water, Slovenia is teaming with taste! Discover a potica dessert that you would find on the holiday menu of Slovenians, or stroll across the famous and the lesser known vineyards of Slovenia. People here have always had a special love for wine. The tradition is that entire families get together to pick grapes at harvest, visited also by family friends and relatives who gladly lend a helping hand in exchange for great food, great company, and some wine!

3. The Nature and Art
You can't go any higher up in Slovenia than the top of Triglav, its highest mountain, which is one of the favorite destinations of every true Slovenian. So, we partnered with the Alpine Association to create the first 360 panoramic digitization of the top of Triglav. You will now be able to navigate your way up to the top of Triglav and admire the vistas. Are you already feeling dizzy?
Slovenia is also the land of bees and it has one of the oldest in Europe traditions of beekeeping. It is also known for a unique folk art not to be found anywhere else — decorating beehive panels, some of which date back to the 18th century!

Curious to see more? Stroll around these six Slovenian Experiences you cannot find anywhere else and immerse yourself in the lush naturescapes of the country. Alternatively, check out g.co/travelslovenia, download the Android or iOS app or visit Google Arts & Culture. Uživajte!