4 days with Google at the 2022 ESSENCE Festival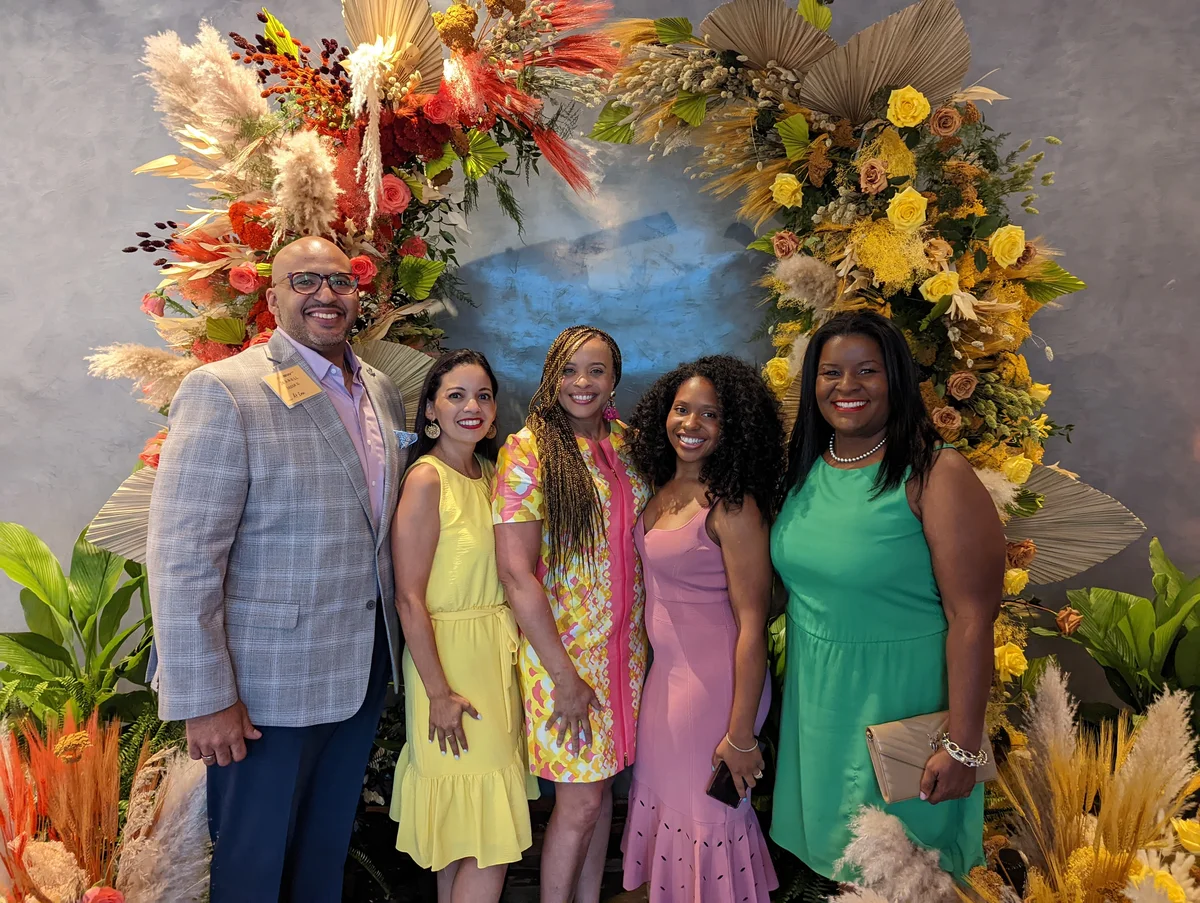 Earlier this month, a group of Googlers traveled to New Orleans for the 2022 ESSENCE Festival of Culture, an annual celebration that brings together Black women and allies for conversation and connection. After a two-year hiatus because of the pandemic, ESSENCE returned with over 500,000 attendees and a packed lineup of performances, workshops and panels focused on sisterhood, personal development, civic engagement and community leadership.
It was an honor to represent Google as a festival sponsor this year, and to witness thousands of Black women leaders, creators, founders, educators and entertainers gathering together. The experience proved how important and powerful it is to create a sense of belonging.
Here are some highlights from our four whirlwind days at the 2022 ESSENCE Festival:
Thursday: Building connections over brunch
We kicked off the festival on Thursday with a brunch for Googlers and their plus-ones. Over food and conversation, attendees admired photographer Deun Ivory's work, which was specially shot with Pixel's Real Tone technology to reflect the nuances of skin tones.
At the Google-sponsored brunch, Googlers and their guests admired Deun Ivory's photographs, shot using Real Tone on Google Pixel. Photo by Jonathan Priester.
"Starting the ESSENCE festivities with the brunch event was a highlight for me," says Stephanie LeBlanc, Global Lead of Community Inclusion Programs for Intersectional Communities at Google. "As a plus-one, you can sometimes feel like a tagalong, so it was important to us to welcome guests as part of an ever-growing and empowering community of Black women leaders. It was an amazing networking opportunity — many of us discovered how closely we're all connected."
Stephanie LeBlanc helped lead Google's brunch at the ESSENCE Festival. Photo by Jonathan Priester.
Friday: Sharing skills and training opportunities
On Friday, we hosted a conversation with sorority organization partners, moderated by Cassandra Johnson, VP of Customer Care and Vendor Management Office and an executive sponsor for our internal Black Googler Network. The session spotlighted Black Women Lead, a Grow with Google partnership with The Links, Incorporated, Dress for Success Worldwide and four Black sororities: Alpha Kappa Alpha Sorority, Inc., Delta Sigma Theta Sorority, Inc., Zeta Phi Beta Sorority, Inc. and Sigma Gamma Rho Sorority, Inc. Since launching in 2021, Black Women Lead has provided digital skills training to 100,000 Black women across the U.S.
Cassandra Johnson hosted a conversation with leaders from our sorority organization partners: (L to R) Elsie Cook-Holmes (Delta Sigma Theta Sorority, Inc.), Valerie Hollingsworth Baker (Zeta Phi Beta Sorority, Inc.), Nichole McCall (Sigma Gamma Rho Sorority, Inc.) and Andria Daniels (Alpha Kappa Alpha Sorority, Inc.). Photo by Jonathan Priester.
The Grow with Google team also sponsored a booth in the festival's convention center, where they set up time for a sorority "takeover." Hundreds of sorority members from across the country stopped by to learn more about training opportunities and workshops available through Black Women Lead. "It was amazing to hear firsthand from my Delta Sigma Theta sorority sisters about the success of this initiative in our communities," says Shani Waugh, Director of Diversity, Equity and Inclusion at Google.
Getting ready for the sorority takeover at Google's ESSENCE Festival booth.
Saturday: Holding space for conversations
On Saturday, I had the pleasure of hosting a fireside chat on building career paths with Jewel Burks, Head of Google for Startups U.S. and the co-founder of Partpic Inc, which Jewel sold to Amazon at age 27. Among many topics, we talked about the important role champions play throughout a career.
Erin Teague, Director and Global Head of Sports, Movies and Shows Product Management at YouTube, also spoke about the power of diversifying executive committees during a panel titled "Black Women On Boards: The Rewards, The Benefits And The Challenges."
Later that day, U.S. Vice President Kamala Harris took the stage in conversation with Emmy Award-winning actress Keke Palmer — two of the many high-profile and inspirational speakers at ESSENCE. Kamala's take on the importance of community and connection with others really captured the theme of the weekend.
I sat down with Jewel Burks at the ESuite stage event "Dynamic Pathways: Charting Your Career Through Reciprocity." Photo by Jonathan Priester.
Sunday: Reflecting on the ESSENCE experience
On the final day of the festival, Googlers wrapped up their volunteer duties, said their goodbyes to new and lasting connections and reflected on the experience. Although we were one of many companies that attended and contributed to ESSENCE, it was inspiring to see how Google's efforts helped lift up and bring so many people together. I personally reflected on the limitlessness of human potential, and how the work we do at Google can help Black women pursue successful career journeys.
Laurie Bennett, a consultant on Google's Human Resources team, summed up the experience well: "It was really powerful to see all the different ways people showed up at ESSENCE — from companies and vendors offering support to the Black community, to celebrities and entrepreneurs sharing professional, and even personal, advice. It leaves you feeling proud and wanting to pay that work forward. "
Rachel Spivey (L) and Laurie Bennett (R), joined a group of Googlers at this year's ESSENCE Festival. Photo by Laurie Bennett.