Black art is front and center this Black History Month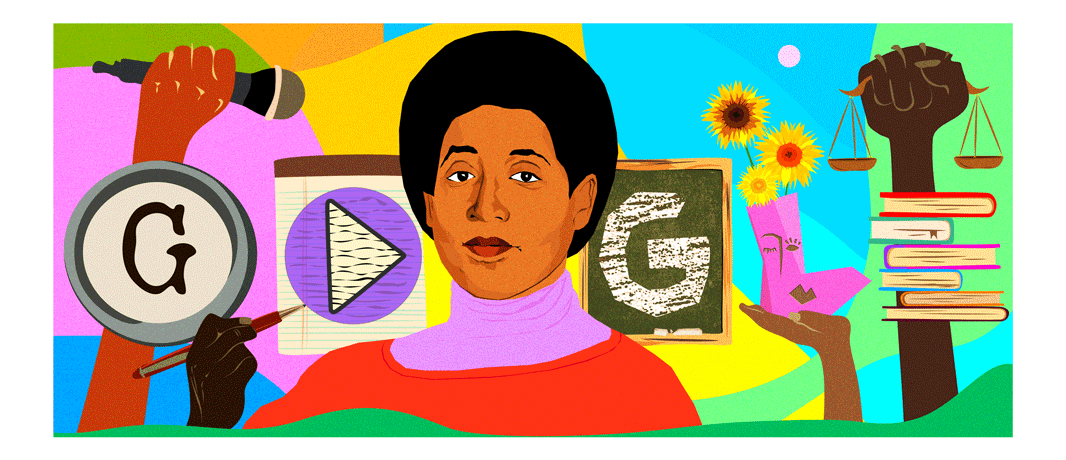 For centuries, Black artists have used their crafts to share their lived experiences with the world. Art as self-expression is not a new concept, but how we display it and share it in today's digital world is. Throughout Black History Month, Google is honoring the creativity and influence of Black artistry by putting it front and center on our products and platforms. 
Doodles galore  
Today, we're honoring internationally acclaimed poet and civil rights champion Audre Lorde with a slideshow Doodle, illustrated by Los Angeles-based guest artist Monica Ahanonu. The slideshow features a powerful excerpt from Audre Lorde, challenging the misconception that similar identities are a prerequisite to unity. You can also go behind the scenes for a closer look at Audre Lorde's legacy and explore Monica's creative process for bringing this inspiring Doodle to life.
We're also celebrating the Black
stories
, voices,
music
and culture that have contributed to creativity and innovation on YouTube and throughout the world. Every Monday, we've featured the artwork of a Black artist on the YouTube homepage to celebrate different aspects of Black creativity, including science, arts, motion and history. Click through to see all the artwork for the month of February:
Courtesy of the Kinsey African American Arts & History Collection, a Google Arts & Culture partner.
You'll also see Black content front and center on Google Play and Google TV. We're celebrating Black creators, culture and history on Google Play, including a collection of apps by Black innovators and interviews like this one with DeShuna Spencer, founder and CEO of kweliTV. You can also plug into iconic Black films and TV shows as we highlight content collections like "Black Love Stories" and "Revolutionary Black '90s Sitcoms" throughout the month on Chromecast with Google TV, or in the Google TV app on Android devices in the United States. 
And on February 26, YouTube Originals will celebrate the "Black Renaissance'' with a special featuring Black creators, artists, writers, storytellers and history makers who have shaped our nation. The special will feature the voices of President Obama, Michelle Obama, Stacey Abrams, Jason Reynolds, H.E.R., Shantell Martin, Bob the Drag Queen, the Alvin Ailey American Dance Theater and more.
Wallpapers for your browser and phone
Starting today, you can customize the look of your Chrome browser using a new collection of themes. We worked with six contemporary Black artists to turn Chrome into their canvas and each artist has presented their interpretation of the ways people use Chrome, from finding new information to connecting with others. You can also add new wallpapers to your phone. Google Pixel has partnered with Melissa Koby, a Jamaican-born, Florida-based illustrator, on an exclusive collection of Google Pixel phone wallpapers paying tribute to Black people around the world who continue to find joy and beauty despite trials. 
Google Pixel has also launched Google Pixel x Black Owned Everything, an exclusive collaboration that spotlights a bespoke collection of products from Black-owned businesses from across the country curated by costume designer Zerina Akers and her company, Black Owned Everything.
On the Hill by Melissa Koby for Google Pixel reminds us that the "Shining City on a Hill" was made such by the people standing at the bottom of the hill, in the sun. They have, despite their trials, found moments of joy and beauty and the strength to persevere.

Give Flowers by Melissa Koby for Google Pixel pays tribute to our ancestors who created a life for themselves in this country. The pursuit of their dreams were kept alive by the hope of brighter days for themselves and their future generations.

Many One People by Melissa Koby for Google Pixel honors the different paths and walks of life that Black people in America take that shape their existence.
Digital art and storytelling to amplify small businesses 
To help people more easily discover Black-owned brands and products they'll love, we've partnered with mixed-media artist Amani Lewis to create an original piece of fine art integrating products made and sold from Black-owned businesses—a piece of "shoppable artwork." Brands featured in the artwork include Jungalow, Blk & Bold, Diarrablu, Lonéz Scents, Coloured Raine and 3rd Eye View. You can explore the painting on Google Shopping  and purchase items directly on the merchants' own sites or through the Shopping tab. We're also amplifying work by young Black artists such as Briana Peppers, Jade Purple Brown, Pink Lomein and more as they show support for their favorite Black-owned businesses. You can follow along on Twitter to see these specially commissioned works of art as they go live throughout Black History Month, and check out Google for Small Business to learn more about how you can support Black-owned businesses. 
Finding community through technology 
In addition to showcasing Black artists across our products and platforms, we also want to help raise awareness to some of the challenges Black artists face in their day to day lives. Tune into this featured interview with Jillian Mercado, founder of Black Disabled Creatives, and Brent Lewis, co-founder of Diversify Photo, as they discuss the adversities of Black and disabled Black artists. They also discuss how they used Google tools to build a public database of artists and innovators who are often overlooked because of their identities and lack of access to opportunities. Black artistry continues to influence every aspect of American culture, and we hope you'll join us in amplifying these powerful voices.