Four years later, Google's first Code Next class is graduating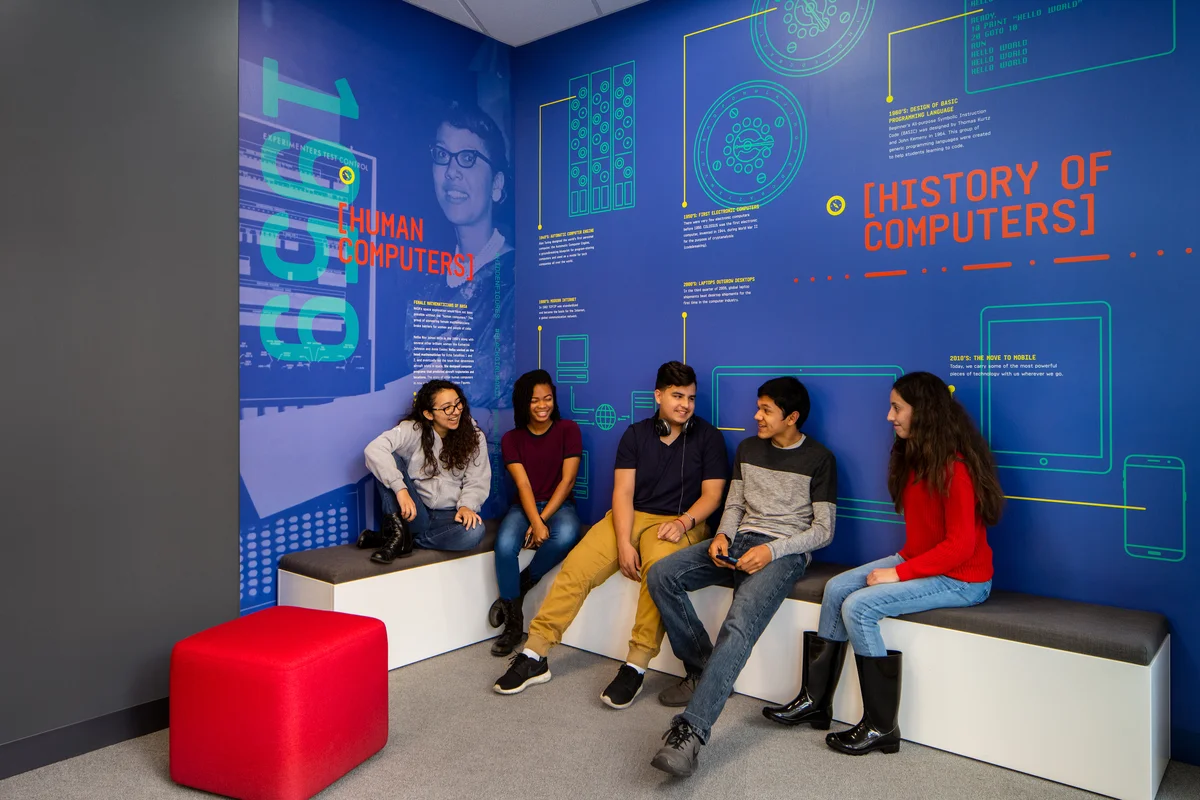 My weekday routine is a balancing act. When I walk to the subway station at six in the morning, it's typically still dark outside. If I'm lucky, I'll snag a seat on the 5 train for the hour-long ride from the Bronx to Manhattan, but most days I'm standing—balancing with one hand on a pole and the other gripping my phone (usually working on something on Google Docs for class at the last minute).

I'm headed to Yale in the fall!
I'm one of the 54 students that make up Google Code Next's first graduating class. Code Next, which started in 2015, is a free computer science education program that supports the next generation of Black and Latinx Tech leaders. 
For four years after school and on the weekends, my classmates and I participated in a rigorous curriculum focused on computer science, problem solving and leadership—balancing that on top of our schoolwork. Our coaches from Google, who have lots of different backgrounds (from software engineering to youth development), provided hands-on coding instruction, inspiration, and guidance as we navigate our way through the Code Next program. We have developed websites, applications, and hardware models.
I had never coded before participating in Code Next. I didn't think it was for me, but my mother pushed me to sign up, so I gave it a try. Looking back on the past four years, I admit, I'm lucky that I listened. During my freshman and sophomore years, I was at Code Next every day, working on projects, even before the assignment was due and often just for fun. 
I work really hard on what I'm passionate about and coding became my passion. One time, we were asked to make a digital ping pong game from scratch—we had to write all of the code ourselves. There were awards for certain categories (like display and ease of use), and I won most of them, if not all. I always remember that moment because I was really proud of myself, bringing the awards to the coaches to show them what we had done.
There was another time when I participated in a coding competition hosted on Google's campus. It wasn't affiliated with Code Next, but my coaches still showed up to watch and support me from the sidelines. I ended up winning first place by designing a website from scratch. It  was a huge accomplishment for me. I had never coded before Code Next so to win the competition where everyone is really smart, I thought, "Wow, maybe this is something I'm good at and maybe I can turn this into a career for myself in the future."
I hope to be a software engineer one day. I dream of going to Japan, learning Japanese and maybe even working there. Until then, I'll be attending Yale University in the fall—I'm the first person in my family to go to college. 
If it weren't for all my coaches at Code Next I definitely would not be where I'm at today. It was because of Code Next and the way it was taught that I truly found my passion. Here are a few other proud graduates of Google's first Code Next class. They've shared a bit about themselves, their aspirations and dreams for the future. 
Left: Jovir Llanes, Code Next Oakland. I have so many dreams. I want to create organizations that will work to keep Oakland culture and fight against gentrification. I want to give folks opportunities that have been exposed to. I want to start my own school where everyone is taught well and is exposed to everything there is. 

Right: Jose Ceja Romero, Code Next Oakland. I'm proud of graduating high school and I dream to be a mechanical engineer one day. 

Left: James Dominguez, Code Next Oakland. I want to create a better tomorrow with technology. I know one day I want to have a job that I love doing, maybe something like software engineering 

Right: Sarah George, Code Next NYC. I would describe myself as an artist. I love my creations, whether it be a painting, drawing, or piece of writing for school. It feels good to be able to express myself and to use my art as a form of meditation. I also enjoy taking in and appreciating other people's works, including music. Another thing that makes me who I am is my interest in understanding how other people think and learning about what matters to them. 

Left: Bianca Burciaga, Code Next Oakland. I'm very family oriented. I love soccer, and I try to keep an open mind. I just want to be able to repay my parents for everything they have done for me. 

Right: Elias Cruz, Code Next Oakland. I describe myself as curious and outgoing. I'm proud of graduating because now I can go on to a new chapter in life. My favorite quote is "Invest in assets not liabilities."

Gerardo Arteaga Garcia, Code Next Oakland: I describe myself as a hard working person with lots of ideas. I'm proud of building my own car and making it better. I dream of making it as fast as possible.




Lita Hernandez (top row, third from left), Code Next Oakland: I was born and raised in Oakland. My family is originally from Mexico. I dream of finishing college and one day working at Google or even Code Next. I want to be able to help my family with whatever need they need. Ultimately, I want to be able to help those that are in need. Especially kids who need help in school and hopefully give them the help they need for the future.

Salvador Avelar (first from left), Code Next Oakland: I'm an introverted Mexican kid who loves soccer more than anything in the world. I'm proud of winning the 2018 Code Next Hackathon because my group and I made a multi-use website that addressed immigration, a conflict that affects the local community.

Tasnim Nahar (first from left), Code Next NYC: I was born and raised in East Harlem. I am Bengali-American. I have an older sister and a younger brother. My favorite color is purple. Some of my passions include journaling/scrapbooking, calligraphy and graphic design. I want to become a UI/UX designer and to create my own font one day. 

Jessica Franco (front row, third from left), Code Next Oakland: I dream of having my own business for businesses. I want to make logos, business cards, portfolios, costume clothing, etc. I enjoy painting, drawing, and writing stories in my free time. I also spend time practicing 2D animation for future projects. There are so many things I feel proud of. 

Emily Ronquillo-Ruiz (first from right), Code Next Oakland: I'm proud that I graduated high school. It was way harder than it should have been but I did it. 

Orlando Jose Molina, Code Next Oakland: Instead of a picture of myself, I included a picture of my parents who have supported me throughout my life. I am proud of accomplishing high school. It is a milestone that took four years and lots of stress to complete. I plan to be a software engineer in the Bay Area.