Get ready for #IamRemarkable Week with 5 remarkable stories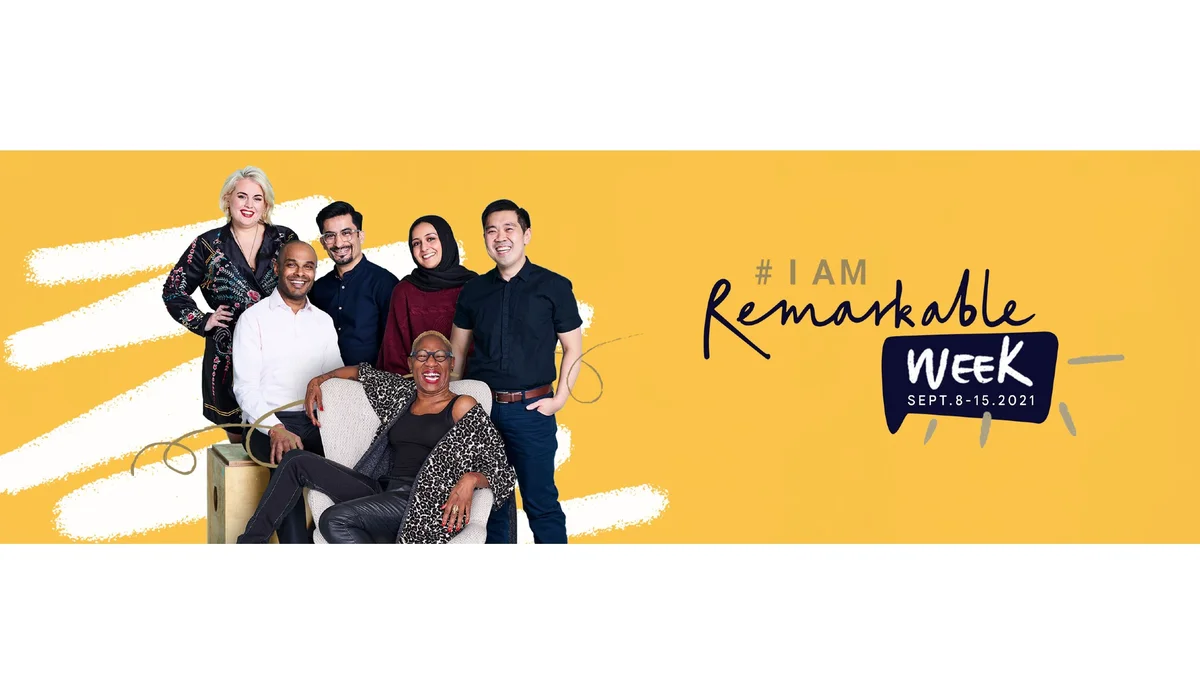 Most of us are taught we shouldn't brag about our achievements — but is it bragging if you're  stating facts? Judging from the looks of surprise I get when asking people to list their accomplishments, the answer to this question is often "yes." But it shouldn't be.
In 2016, I launched #IamRemarkable together with a colleague of mine. It is a global movement that empowers women and underrepresented groups to celebrate their achievements in the workplace and beyond.  Our 90-minute workshop helps participants learn to acknowledge, share and celebrate what makes them remarkable. 
To date, over 250,000 people from more than 150 countries have participated in an #IamRemarkable workshop with the help of 8,000 facilitators. And last year, over 30,000 participants took part in the first-ever
#IamRemarkable Wee
k
: a digital experience celebrating diversity, inclusion and allyship.

Erica Falkingham - UK Sales Senior Sourcing Recruiter, Salesforce and #IamRemarkable facilitator 
I first learned about #IamRemarkable in 2019 and was instantly hooked. Finally, I could name the feelings I'd always had around imposter syndrome and gender modesty. Working in recruitment, I advocate for others on a daily basis, but I'm still working on doing the same for myself. During last year's #IamRemarkable week, I learned that everyone — from public speakers to thought leaders —  struggled with self promotion. 
At Salesforce, we brought #IamRemarkable in-house to drive employee empowerment and allyship, and  we've seen incredible growth. We now have more than 100 internal facilitators, whose workshops have been attended by more than 4,000 employees across 16 countries.

Debo Harris - Strategic Advisor, TheConfidenceVault.com and #IamRemarkable facilitator  
Women, Black women in particular, were among those hardest hit by the pandemic. It's been an immensely challenging time for many of the women I know. While working from home has benefits, it also reduces  in-person opportunities for  self promotion. I wanted to help women feel less isolated and more confident when they returned to work once restrictions lifted, so I signed up to be a facilitator during 2020's #IamRemarkable Week.
During my workshops, I asked participants to read "It's NOT bragging if it's based on facts!" out loud, three times in a row. Their voices became stronger and clearer each time. One participant smiled and said how good it felt. Seeing this impact was an amazing, humbling experience.

Pedro Pina - VP, Head of YouTube Europe, Middle East and Africa 
Every leader should play an active role in building the culture where they work, and #IamRemarkable helps them do that by encouraging people to find their voice, inner strength and confidence. 
At Google, it's helped us build stronger relationships with our partners. We share our learnings with them and they do the same in return, helping us all build richer company cultures where everyone belongs. 
Last year's #IamRemarkable Week was an incredible experience for me. It's not often people from around the world gather online to celebrate each other's super powers. It makes you feel unstoppable. 

Koro Castellano — Director of Prime Video for Amazon in Spain
During last year's #IamRemarkable Week, I participated in a panel to talk about how I first fell in love with the initiative, how we ramped it up at Amazon and the positive impact it had on hundreds of colleagues. For me, it's not so much about the individual as it is about how we can all help and support others. The incredible energy and passion around #IamRemarkable is what makes it so powerful, it has helped us confirm that we can do remarkable things together. 
In honor of this year's #IamRemarkable Week, we put together an exciting program at Amazon, including discussion panels, career talks and daily exercises to help employees grow their self promotion skills. 

Sagar Kewalramani - Customer Engineer at Google and #IamRemarkable Week volunteer
Sometimes I've felt like I have a lot on my plate, dealing with work and life responsibilities. I've wondered why I've had to sacrifice so much while others have it easier. But last year's #IamRemarkable Week was an eye-opening experience for me. Learning about other people's journeys and struggles really helped me overcome my own imposter syndrome and made me believe in myself and my ability to make a difference. 
This year, I'm looking forward to learning more about icons like Ibtihaj Muhammad, who overcame childhood obstacles, and Guneet Monga, who went into debt on her way to becoming an Oscar-winning producer in India.