Happy Lunar New Year! Get ready for the Year of the Tiger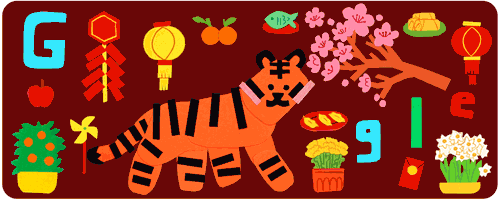 Starting February 1, about a quarter of the world, including much of East Asia, will be celebrating Lunar New Year, and the beginning of the Year of the Tiger. As a tiger year, 2022 will be associated with the animal's attributes of bravery, confidence and strong will. Previous tiger years include 2010, 1998, 1986, 1974, 1962, 1950 and 1938.
We're celebrating Lunar New Year with a few fun features like an animated Doodle on Search and a special, firework-filled surprise when you look up "Lunar New Year." On Android, you can choose from more than 200 new Year of the Tiger-inspired Emoji Kitchen combinations in Gboard. And don't forget to wish Google Assistant a happy Lunar New Year and hear the response.
Video format not supported

Gif of a search for Lunar New Year, followed by a set multicolored fireworks on the results page

Type "Lunar New Year" or related queries into Google Search for a fireworks show.

Share in the festive spirit with friends and family and wish them good fortune with over 200 new tiger Emoji Kitchen combinations for Gboard — now available on Android.

The Google Assistant is ready to celebrate the new year, just start the conversation with "Hey Google, Happy Lunar New Year!"
During the upcoming days and weeks of festivities, Lunar New Year will be welcomed with feasting, the honoring of ancestors and deities and those who celebrate will be focused on fortune, happiness and prosperity. We wanted to hear how Googlers are honoring these traditions, what new ones they've created and what they're most excited about for this new year. With help from the Asian Google Network, we learned about how our very own colleagues celebrate this holiday.
What is your favorite memory of celebrating a Lunar New Year with your family?
Back when I was still in elementary school, my entire family would gather at my aunt's place. My grandma used to cook the entire afternoon and we would all sit at a huge round table to devour all the delicious food she made for us. It was always crowded and loud and the foods were sometimes too greasy and salty. But, it is my favorite Lunar New Year memory.

-Belinda Wang, Account Manager, Taipei, Taiwan

The Tibetan lunar new year is called "Losar," and the year of the Water Tiger (each year has a specific animal and element combination) begins on March 3, 2022. The first day of Losar is usually brimming with excitement; I remember as a child, my grandmother would wake everyone up at the crack of dawn, remind us to dress in our best new clothing and gather us all in the family altar room to light incense and prostrate before a portrait of His Holiness the Dalai Lama. The rest of the day would be spent visiting family, friends and the local Tibetan Buddhist monastery, always full of optimism and of hope that the new year will bring happiness for all sentient beings.

-Nima Binara, Counsel, Washington, DC

Every year, my grandmother would prepare a feast to celebrate the Lunar New Year. One year, she decided to make it different by not only cooking for us but also giving all the girls in the family a rooster made with gold, which symbolizes "building your family." For me, that gift has so much love from my grandmother and I carry those golden roosters with me whenever I move to a new place.

-Ting-Yi Wang, Gaming Growth Manager, Berlin, Germany

Lunar New Year is all about family quality time! My mom has a big family with five siblings, so four generations of the family (nearly 30 people, from 98 to 8-years-old!) gather each year on the second day of the Lunar New Year. We usually gather at my grandmother's house (回娘家) for a day full of joy and laughter. Sadly my grandma passed away two years ago, but the family gathering ritual remains and I believe my grandma is looking at us with a smile on her face in heaven. I'm looking forward to this year's gathering!

-Shelly Lin, Account Manager, Taipei, Taiwan

I get excited during Lunar New Year because we gather together in festive red clothes and have a delicious banquet with traditional Chinese dishes. We also have a special ceremony to thank the gods and our ancestors and take the time to relearn our Chinese family stories. As kids, we used to receive "hong bao" (red envelopes with money!), although things have changed since I became an adult and now I am the one who gives money to my family. But I still get pretty excited because all that money is usually converted to more food on family reunions in fancy restaurants!

-Zhu Jing, Account Executive, Sao Paulo, Brazil
What current traditions do you and your family incorporate in your Lunar New Year celebrations?
It's still summer in New Zealand during Lunar New Year, so a classic Kiwi barbeque combined with Korean (my family) and Chinese (my in-laws) food is our way to celebrate. Last year, our two families got together and made homemade dumplings, ate Korean rice cake soup and made Korean gimbap (seaweed rice roll) just because we felt like it! This was the first time we had a Korean and Chinese Lunar New Year celebration together, which is now my favorite memory of celebrating Lunar New Year. We exchanged red packets (hongbao) and talked about how the holiday is celebrated in China and Korea.

-Emma Shen Huang, Google Marketing Platform, Partner Manager, Auckland, New Zealand

Our tradition has really been just to get together and eat! We would gather with any local family members and have a Chinese banquet out at a restaurant. The kids (and some aunties and uncles) would all get lai see (red envelopes). It'll look a little different this year again (with take-out food and some video calls), but the heart of the meal remains the same!

-Lily Donovan-Seid, Visual Designer, San Francisco, California

Master Tony's (my husband) calligraphy writing is our perpetual tradition. He enjoys sending blessings to Googlers, friends and family. In recent years, we added a new tradition to celebrate baby sister Renee's birthday! It happens to be on the new year day (大年初一) this round. Truly culture meshing as we feast ourselves with both birthday cake and carrot cake.

-Jennifer Chan, Google Play Business Development and Tony Chan, Developer Relations, Hong Kong

I always put a red envelope filled with money under my daughter's pillow. The tradition started to warn off monsters but now it's all about the hopes and staying healthy for the new year. It's all very hopeful.

Another tradition is to go vegetarian for a day on the second day of the new year. It's my family's version of "the cleanse" after over indulging on New Year's Day.

-Hoi Lam, Product Manager, Engineering, DeepMind Research, London

Back when I was growing up in Malaysia, the month of Lunar New Year was filled with delicious food and snacks all day long. Since we live in the U.S. and can't access those foods as readily, my family has made a point of always making traditional New Year's food from scratch. This year, my fiancé and I have been perfecting our homemade Chinese bao with various traditional (i.e. ground pork) and non-traditional (i.e. scrambled eggs and bacon) fillings in preparation for this year's Lunar New Year celebrations!

-Xinrou Tan, Field Sales Representative, New York, New York
The Year of the Tiger will be about making big changes, risk-taking and adventure. How are you planning to be courageous in 2022?
This last year has been particularly challenging for me — for the first time I experienced the unique challenges of being a professional woman from a cultural background where girls are more expected to become homemakers than breadwinners. So this year I'm personally committing to becoming more courageous. That means being able to let go of the past and insecurities; to lean into my support system; to choose happiness; to wholeheartedly welcome new people, challenges and opportunities into my life; to ask for help; and to be vulnerable enough to share my authentic story and lessons learned to those who can benefit from them. In upholding this commitment, I hope that I too can inspire in others the same, if not greater, courage.

-Cindy Au, Product Design Engineer, Mountain View, California

If all goes well, my wife, my close friends and I have plans to visit Japan. I don't normally eat or enjoy seafood, but I plan to venture out of my comfort zone and try out freshly made sushi and other seafood dishes during my visit!

-Earl Van Alstyne, Data Center Technician, Moncks Corner, South Carolina

Like so many, the last two years were somewhat affected or in some ways controlled by COVID. In this Year of the Tiger, I would love to make the change of taking over again, leading myself to what I would love to achieve both personally and professionally. As the legend of the "Great Race" goes, Tigers are ambitious but they are also extremely generous in helping others. I would love to bring upon this spirit to be ambitious in driving my goals, while empowering and enabling others to achieve mutual success!

-Sunny Lo, Partner Success Manager, Sydney, Australia
Happy Lunar New Year, we hope the year of the tiger is full of adventure and hope for everyone.