Who run the world? How we're celebrating International Women's Day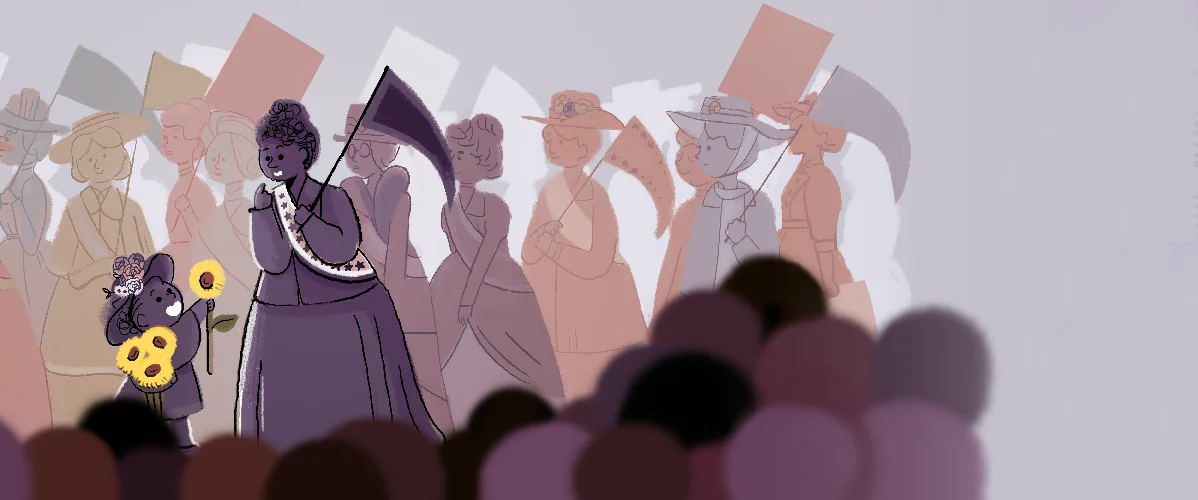 Lee Tai-Young was Korea's first female lawyer and first female judge. Cecilia Grierson was the first woman to receive a medical degree in Argentina. And Ida B. Wells was a newspaper editor by age 25 and one of the founders of the NAACP. These are a few of the remarkable women you'll meet in today's Doodle celebrating International Women's Day, one of several ways we're raising awareness about the contributions of women, past and present, throughout Women's History Month. We're also supporting efforts to close the gender gap in tech and other fields. Read on for a look at what we're doing to recognize women across media, culture, leadership and more this month.
Celebrating historical heroines
In today's interactive slideshow Doodle, a young girl goes on an imaginary journey to meet 13 female trailblazers from throughout history. From a pilot in Egypt to a dancer in India, these women may not all be household names, but they've all made a unique mark on the world. In fact, all of them have been celebrated in a Doodle in the past, but often only in their countries of origin. Today, we're sharing their stories worldwide.
After your journey, learn more about all of the women in the Doodle in a new Spotlight Story from Google Arts & Culture. See the São Paulo Museum of Art, designed by Brazilian architect Lina Bo Bardi, or the Phoenician alphabet tablet with which Halet Cambel deciphered Hittite hieroglyphics. You can also find more exhibits on notable women from throughout history on our Women in Culture page. You might just meet a new heroine!
A day in the life of women astronauts, pilots and engineers with VR
Today's Doodle introduces you to notable women of the past, but what about the women of today and tomorrow? With Expeditions, more than 2 million students have gone on 500+ virtual field trips to places like Machu Picchu and the International Space Station using Google Cardboard. Today we're adding 40 new Expeditions to this collection, all focused on on the careers, adventures, and contributions of women.
The new Expeditions highlight everyone from astronauts, airplane pilots, engineers and photographers to the female firefighters of the FDNY. They open a window into a typical day on the job—whether in a recording studio or a cockpit, explain the person's backstory and reveal how she got to where she is today. Some also offer advice to students interested in pursuing a similar career. Download the app on iOS and Android to get started.
Recognizing inspirational women on YouTube
Rosie Rios, an inspiring woman in her own right as the 43rd Treasurer of the United States, led the efforts to put a woman on U.S. currency. That meant learning more about the hundreds of American women who made great contributions to the history of this country. Now she's created a special playlist for YouTube Kids called "
Super Women of Our Past
" that introduces young people to some of these women, from Eleanor Roosevelt to Harriet Tubman to Grace Hopper.  
Watch
 with the YouTube Kids app. You can also find other, related playlists, like "
Celebrate Women's History Month
" and "
Celebrate International Women's Day
."
YouTube is also working to turn up the volume on inspirational women's voices through the #HerVoiceIsMyVoice campaign. We hope you'll join by sharing a video of a woman whose voice speaks to you.
The Geena Davis Inclusion Quotient (GD-IQ) tool uses machine learning to detect different characters on-screen, determine their gender, and calculate how often and for how long they spoke in relation to one another.
Media can play a huge part in empowering women to discover new careers, but often the characters we see on screen aren't very diverse. Recently, our machine learning team worked with the Geena Davis Institute on Gender in Media and USC Viterbi School of Engineering to develop a new tool that uses machine learning to measure how often we see and hear women on screen. We then put the software to work, analyzing the 100 highest-grossing live-action films from the past three years. The tool revealed that men are seen and heard nearly twice as often as women. In Academy Award-winning films, women make up just 32 percent of screen time and 27 percent of speaking time. In a world where girls are only half as likely as boys to have CS role models, representation matters. Over time, we hope this project can help raise awareness of the "missing women" in media, encourage filmmakers to include a broader range of characters, and introduce young people to more diverse role models.
Coming together in the community
We're also participating in or hosting dozens of events supporting women at Google and in tech. Last weekend we held the first of many
Women Techmakers summits
, which offer hands-on coding workshops on TensorFlow, networking opportunities and inspiring speakers. Women Techmakers is also sponsoring more than 140 community meetups for women in tech worldwide. Many of our 120 Women@Google employee resource group chapters are hosting events—from career development workshops to civic action weeks—in cities around the world. And at our
Cloud Next event
headed by Diane Greene, SVP of Google Cloud, we'll feature women leaders from Google and partners in a
panel
on diversity and inclusion. And of course, we're also supporting Googlers who choose to participate in other grassroots efforts marking International Women's Day.
The She Word: spotlighting women Googlers
There are thousands of powerful, dynamic and creative women at Google. This month, you can get to know some of them right here on the Keyword and our Instagram account, starting with Alexandrina Garcia-verdin, whose personal hero is Frida Kahlo, and Tea Uglow, who loves coffee (but not tea).
These are just a few of the women who inspire us. We hope you'll share some of your own. Whether it's empowering female voices as part of #HerVoiceIsMyVoice, or telling your personal story with
#TodayIAm
, we're excited to hear it.