How Women Techmakers India reimagined their IWD event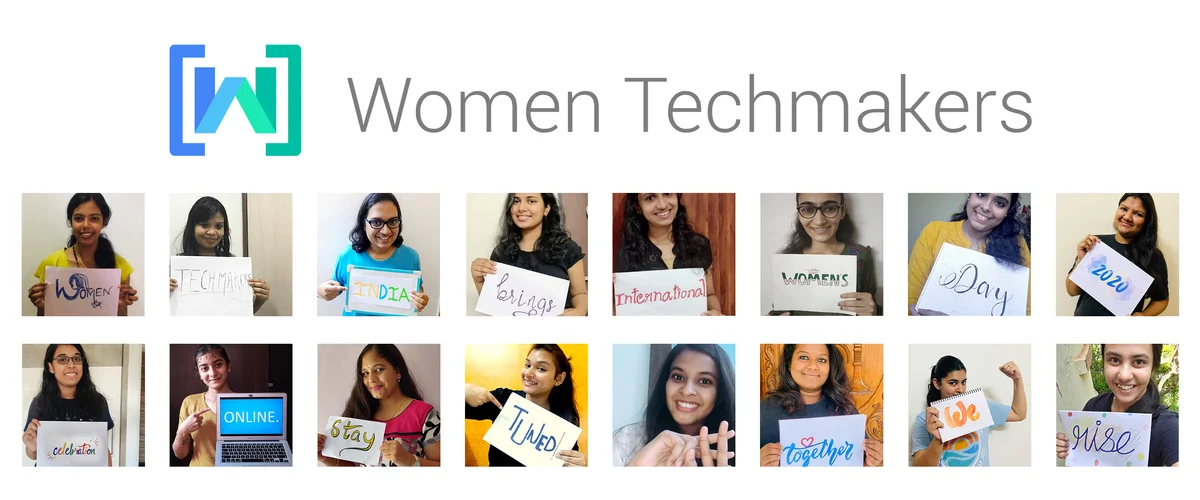 When the Women Techmakers International Women's Day event in India was canceled due to the onset of the COVID-19 pandemic, Program Coordinator Lakshya Sivaramakrishnan knew she had to find another way to bring the group together. Originally scheduled for March 21, the event was supposed to host panels, tech trainings, networking events and inspiring keynotes for hundreds of women developers from across India, as well as honor women in tech. "Initially, I was disheartened when the International Women's Day celebrations were called off," Lakshya says. 
In part, that's because she knows how important moments of representation are for these women. In India, women only make up 34 percent of all tech employees (based on research Women Techmakers conducted in 2018).  "While we took time to settle into the new mode of life 'online,' it was important to celebrate the super-women in our lives," Lakshya says. The group decided to host the event online, scaling it  into a worldwide gathering. In just 20 days, around 5,000 women from across 76 countries, along with 40 speakers, registered and eventually joined the summit. The event lasted four days and offered four tracks (Leadership, Machine Learning & Cloud, Design & Entrepreneurship, Android & Web); pre-scheduled sessions pulled in 10K views, and live streams accumulated 6.4K views.  "It was so great to turn things around and celebrate the event with a global audience. And it was incredible to see our local Ambassadors pull this off."
I talked to Lakshya to get her thoughts on reorganizing a massive, IWD event into an even bigger, online-only one. Here are five things she learned, alongside  her team of Women Techmakers local Ambassadors, while bringing this event to life.
Listen to your community.
Coming together to create a unified women in tech online summit in India was a result of one of the monthly community chats we have as a team. From ideating between smaller, chapter events to regional ones, the conversation snowballed into a country-wide event and eventually became global with registrations pouring in from 76 countries. 
Create collaborative systems
This event brought us all together to create something that was unheard of! We'd never hosted something with multiple tracks like this online before. We used Google Docs to collaborate and  ensure that our discussions were all in one place for anyone to add their contributions. A few of the collages and videos were produced in under  two hours, which speaks volumes to the love and attachment  the Ambassadors have for their communities and exemplifies their leadership capabilities. 
Play to your team's strengths.
The organizing team was one of the most diverse I have seen: We had passionate, young leaders with varied cultural backgrounds, technical expertise and creative minds. Smaller teams were formed and owners were identified for designing and maintaining the website, creating posters and interactive filters for attendees, engaging with participants through social media and  figuring out the technical infrastructure needed to host 22+ sessions over 12 hours in an online medium despite flaky internet, bad weather and frequent power cuts. 
Community is key.
The highlight of the summit was that almost all speakers were part of the Women Techmakers community. This ensured visibility to our community champions, giving them a great platform to showcase their passion in tech, design and leadership.  One of the most engaging moments throughout the four days were the 15-minute ice breaker sessions. The speakers tried to engage with the audience even in the online medium by asking and taking questions from  through live chats, as well.   
Celebrate and amplify your success.
I truly believe that a  leader is only as good as their team. My goal was to ensure they brought out the best in themselves while working on what they're most passionate about. The experience of working with them so  closely, mentoring them and learning along with them as we figured out the unknowns was incredibly gratifying. After each day of the event, we would have a small after party to bask in the day's success and pep each other up for the next day.