Meet 3 women who found community in India's tech scene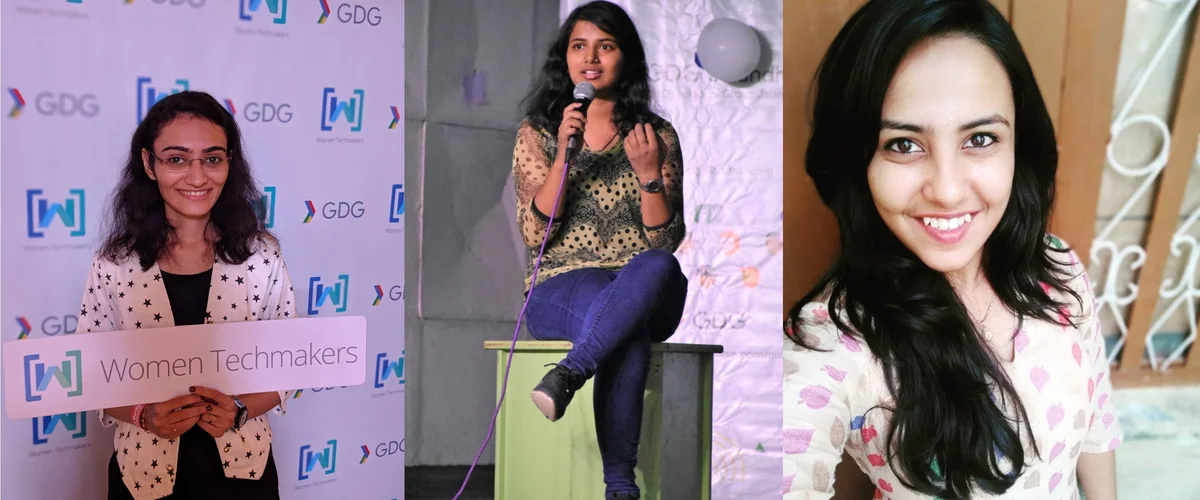 From left to right: Dhruva Shastri, Varsha Jaiswal and Supriya Shashivasan.
Based on research Women Techmakers conducted in 2018, women only make up 34 percent of all technology sector employees in India. Thankfully, there's a rising leadership of Indian women in tech working to make this industry more inclusive and equitable. 
Many of them are a part of our Women Techmakers community, which is at the forefront of this change. I recently had the chance to talk to Dhruva Shastri, Varsha Jaiswal and Supriya Shashivasan, three Women Techmakers Ambassadors from India, about their experiences in tech, and why they're so motivated to do this work.
How would you explain your job to someone who isn't in tech?
Dhruva:  I'm a Flutter developer with a background in UX Design, so I'd say I create experience and tools for people who use Android phones, and that I pay extra attention to the design so that it's fun and easy to use.
Varsha: I'm a web developer, so I would say I talk to people about how they want to use technology so that I can create the places on the internet that serve them with the information or tools they're looking for. 
Supriya: I'm a front-end developer who takes amazing mockups and designs of websites and apps and converts them to live code so everyone can use them. I'm also pursuing research in security. So I'd say I'm looking into how best we can safeguard our assets, data and online details from hackers.
What made you want to work in this field?
Varsha: Since an early age, I was  interested in  technology and wrote my first code in first grade. I've always been passionate about solving problems and building solutions.
Supriya: I've always been curious about the mechanics of how things work. I've also loved building things on my own since I was a child. In college, I fell in love with technology and discovering ways it could make life easier. Solving problems by building innovative solutions with nothing but a laptop!? It's amazing.
Tech is such an evolving industry, how do you keep your technology skills current? 
Dhruva: The industry is constantly evolving. The internet is the easiest and best resource to learn new things and stay updated on my field. I learn from people and organizations I follow on Twitter, by reading blogs and newsletters and occasionally visiting forums like Stackoverflow, Quora, Reddit and so on. I also attend offline (and more recently due to the pandemic, online) meetups, take online courses, do pair-programming, create sample projects and talk with colleagues. 
Supriya: I spend a few hours a day studying and reading different blogs and forums. I'm also part of online and offline communities like Google Developer Groups, Hashnode, Quora and Stackoverflow where I can connect with other people who work in my field and we can talk, help, network and update each other. Attending online workshops, hackathons and meetups is also helpful.
Why is being part of the Women Techmakers community important to you?
Dhruva: This community provides a sense of belonging, safety and security. I remember  when I  joined the Google Developer Group here in Ahmedabad back in 2013, I was too shy to talk to anyone. And now I feel so much more confident. GDG and Women Techmakers brought out this transformation in me by providing a platform, resources, opportunities and connection. This inclusive space gives you the freedom to share your struggles, celebrate your achievements and build your support system. Now it gives me immense happiness to touch  the lives of women and non-binary groups and be a part of helping them find success. 
Supriya: I used to be so scared of speaking in front of more than five people. I would stutter and gasp for huge breaths of air. That all changed when I got involved with Women Techmakers. During Google Developer Days in 2019, in the community lounge, I watched women speak about the importance of community and how it helped them. I found myself raising my hand to share my experience, but I could barely manage to speak three sentences. Next thing I know I heard claps, and I saw smiles all around. I didn't feel scared anymore. I went on to become an ambassador for my own community.
What is one piece of advice you have for a woman interested in getting into tech?
Dhruva: Success always lies on the other side of our comfort zone. So when you don't know how to do something, say yes. Take risks, learn something new, because the best way to get out of mediocrity is to keep shooting for excellence.
Varsha: Don't hesitate, try and keep trying. Ask questions, explore more and trust yourself. And you're not alone — we're all together in this, helping each other grow and create a better future.
Supriya: Be fearless, bold, follow your dreams and speak your mind. Turn things to your advantage by forcing your way through any obstacles in your path.