Meet Women Techmakers Ambassador Hanane Ait Dabel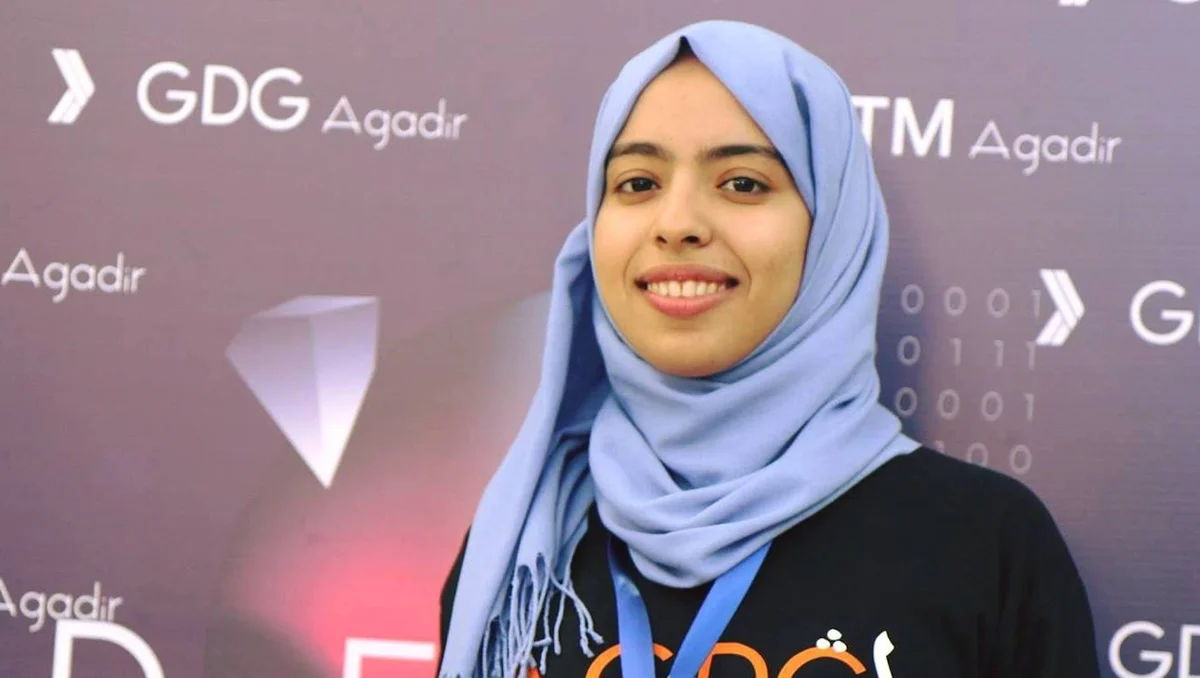 When Hanane Ait Dabel started college to earn her computer science degree, she wanted to find a community. "My first year at university, I was looking for that place where I belonged," she says. Hanane, who lives in Morocco, found that in Women Techmakers. "I really liked the atmosphere. They made technology easier to learn, so I decided to join."
Today Hanane works as a project coordinator handling technical support for web hosting. She's also working on her second undergraduate degree in economics — and has stayed involved in Women Techmakers, now as an ambassador.
As an ambassador, she's had the opportunity to lead #IamRemarkable workshops — hosting them in English, Arabic and French, no less. Currently, Hanane and a group of other Women Techmaker ambassadors are planning International Women's Day 2022 in Morocco. Hanane had some time to take a break from all this work to tell us a little about herself, and why she's remained so active in Women Techmakers.
What sort of things were you interested in learning when you were young?
I remember as a kid, my mother was always telling me to bring my books and sit with her and study. She wasn't able to attend school, so she always encouraged me to pursue my dreams and emphasized the importance of studying. And my father introduced me to business; he would invite me to work in the store he owned, and I learned so much there. I've always been fascinated by business and technology. My mother still loves to listen to me talk about these things, and she gets excited about events I'm involved in.
It's important to get involved in communities where your work, thoughts and skills are validated.
What led you to tech?
In high school, I had the difficult decision of choosing between a technology and a business program. With my family's support, I chose computer science. The program was hosted at a university in another city, and I wanted to be on my own and be independent. Many of my friends' families encouraged them to stay home and study business at the city university. I'm grateful that my family supported my decision.
After I earned my computer science degree, if I wanted to continue studying engineering, I knew I would have had to move to yet another city. I couldn't afford this and didn't want to ask my family for financial support, so I moved home to get a second degree in economics.
What are some of the skills you've gained from Women Techmakers?
I've learned more about marketing, which has been really helpful to add to my engineering and economics background. I've also learned what it's like to be a part of a healthy organization, both through Women Techmakers and the Google Developer Groups I've joined. These communities are so inspiring, and I appreciate connecting, learning and sharing experiences with women around the world.
What would you tell someone who's interested in Women Techmakers or Google Developer Groups?
In these groups, you feel respected. It's important to get involved in communities where your work, thoughts and skills are validated.
Hanane giving a talk at GDG Agadir DevFest.
One benefit of knowing people around the world through these groups is that they also think outside the box — I've met a lot of people who embrace more nontraditional career paths and academic choices.
Aside from planning events with Women Techmakers, what's next for you?
I'm in the process of revising a side project, the Tech Kids Center, that I started with a team during the summer and fall of 2020. Some friends and I taught robotics, programming and business concepts online to local children. We were surprised by how brilliant kids are — they have an amazing capacity to learn technology.