Mind the Gap: Inspiring female students to pursue careers in STEM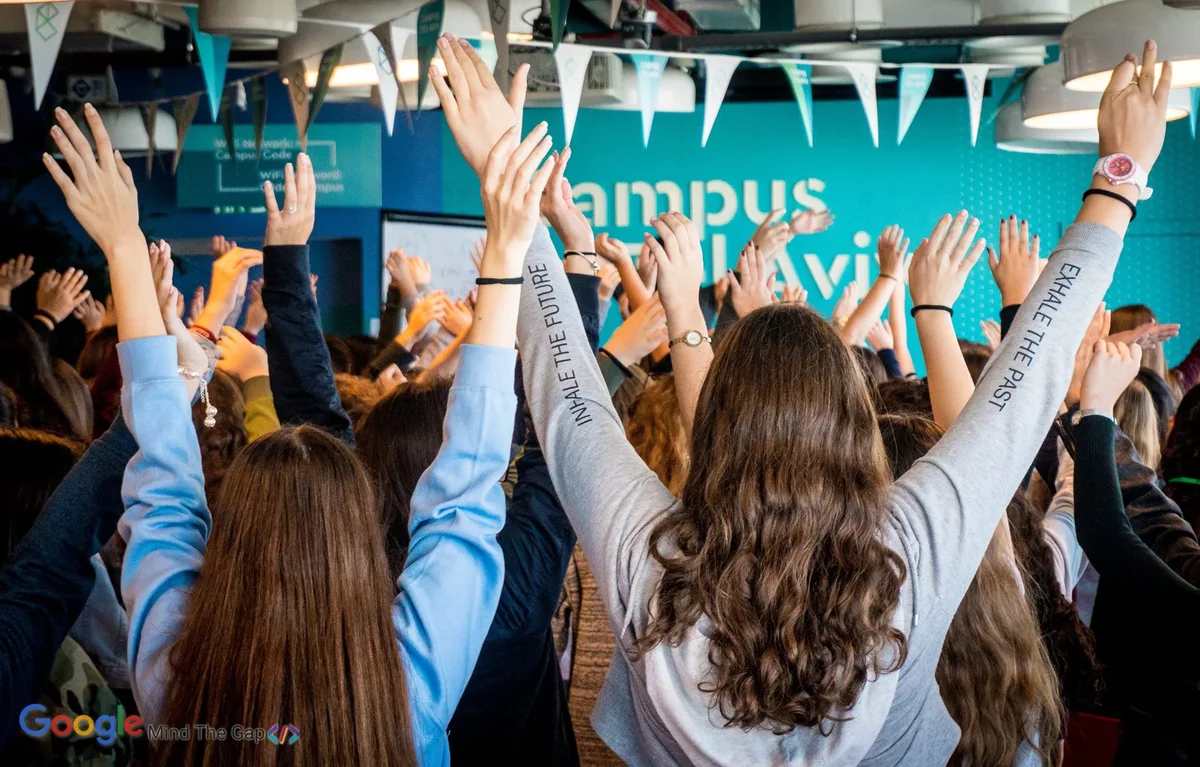 Today, on International Women's Day, we are looking back on 15 years of Google's Mind the Gap initiative, a grassroots program which aims to bridge the gap of female representation in the tech industry by inspiring middle and high-school students to pursue careers in STEM at a critical stage of their education.
Computer science is for everyone
For the two first female engineers in Google's Tel Aviv office, Daniela Raijman and Michal Segalov, the challenge of making computer science more inclusive was personal. They wanted to see more female engineers like themselves in the tech industry.
In 2008, with the support of site lead Yossi Matias, who continues to sponsor the program today, they set out on a mission: to inspire female students to pursue a career in STEM by introducing them to female role models and giving them a behind-the-scenes look into software engineering jobs. This is how Mind the Gap (MtG) was born. Their idea was to change the perception of young women about their place in the tech world, and the message to young female students was clear: computer science and STEM are for everyone.
From a local program to a global initiative
The program gained momentum with the help of many enthusiastic Google volunteers and educators. Inspired by the mission and the promise that MtG could make a difference, volunteers around the world started creating local programs in their home countries. To date, MtG — recognized with the ABIE Award — has impacted over 100,000 students in 17 countries worldwide: Belgium, Brazil, England, Egypt, France, Germany, Ghana Ireland, Israel, Japan, Jordan, Poland, Romania, South Korea, Spain, Tunisia, and the U.S.
MtG Poland, the first initiative outside of Israel in 2013, hosts on-site visits where female students meet and interact with female software engineers. MtG Brazil brings together young students from 26-states to a first-of-its-kind 4-day immersive program. In 2021, MtG Ghana took the concept of equitable participation continent-wide, providing students from across Africa with basic computer skills otherwise unavailable for them. The MtG Arab countries initiative, a virtual program for young female students in Egypt, Tunisia, and Jordan, focuses on minimizing gender bias about women's capabilities to pursue careers in tech in these countries. In South Korea, MtG recently started to focus on marginalized communities, rural areas and homeschooled students.
Many early participants were inspired to pursue STEM studies and are now in high-tech jobs, including at Google. Batya Berzack visited the Tel Aviv Google offices in 2009. "Until then, I mostly heard that you can't be both a mom and a computer science engineer," she says. Eleven years later, Batya is a software engineer in Google Tel Aviv, a mother of two, and MtG volunteer. Another volunteer, MtG ambassador and Google software engineer Abigail Annkah, also got to study STEM at a young age and is now committed to giving young women the same opportunity she had.
Scaling up: Hello Tech
This year, we launched HelloTech, a new youth education program for young students from underrepresented groups under the MtG umbrella, focused on AI and tech skills. The program, conducted in partnership with leading local tech-education NGOs, will be introduced to the curriculum in more than 10 local municipalities in Israel and will include a nation-wide digital campaign. HelloTech aims to positively impact around 500,000 students in five years. We are excited for the opportunity to inspire youth across the country, and look forward to seeing how to further scale our impact worldwide.