Shining a light on Hanukkah and the fight against antisemitism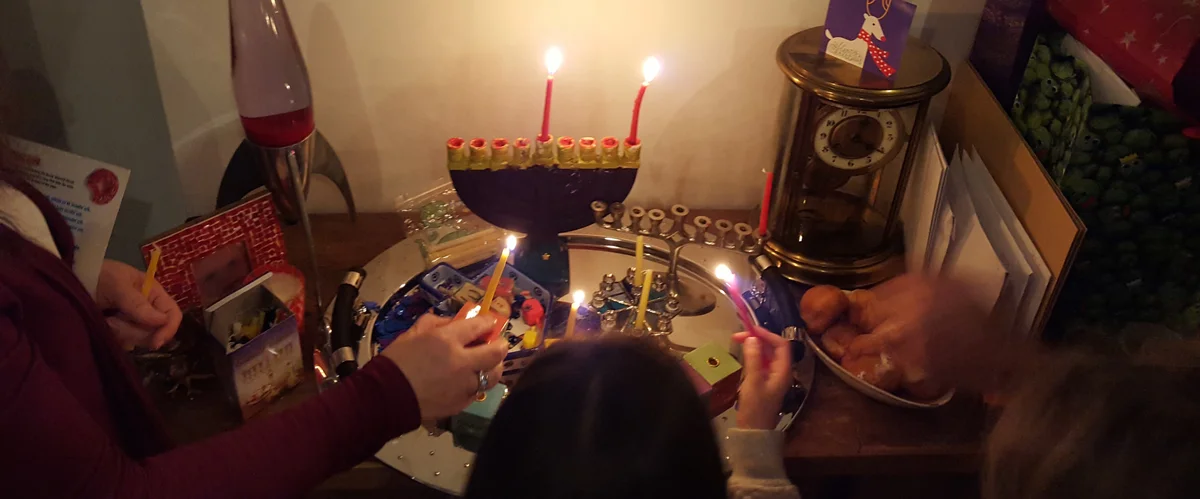 Growing up, my cousins and I would spend hours every Hanukkah grating potatoes and peeling onions to help our families make the lightest, most delicious golden latkes you've ever seen. Our parents would bless and light the menorah candles while we'd play games like dreidel and commemorate our history and Jewish heritage. Now that I'm a father of two daughters I'm excited to teach these traditions to my kids, because the things I learned about my Jewish culture and heritage played a huge role in making me who I am today.
Unfortunately, we're living in a time of rising hatred and outward expression of antisemitism targeting the Jewish community. In 2021 there were more than 2,700 incidents of antisemitic harassment, vandalism and assault against Jewish people in the United States, a 34% spike from 2020, according to the Anti-Defamation League(ADL). And in 2022 we've continued to see more of this vile antisemitic rhetoric. The reality is that the Holocaust was within my grandparents' lifetime, so to hear stories of people around the world still denying its existence — and perpetuating antisemitism more broadly — is both heartbreaking and dangerous.
Being silent is not an option. I'm proud that Google has once again partnered with the ADL in support of its annual Shine a Light initiative to raise awareness about antisemitism. Alongside a $50,000 donation to the ADL, we're hosting an allyship discussion with award-winning author Dara Horn, followed by a panel with Googlers who will share their personal experiences with antisemitism and what it means to navigate their Jewish identity.
We'll also continue to tackle misinformation and bring broader awareness through our platforms and services. We don't allow hate speech on YouTube and combating it is one of our top priorities. Earlier this year, YouTube launched Recipe for Change: Standing Up To Antisemitism, a special that brought together chefs, activists and creators for a powerful conversation about ways to raise awareness around antisemitism, build allyship, and celebrate the Jewish community. Google Arts & Culture is working with organizations like The United States Holocaust Memorial Museum, the Polish History Museum and the Jewish Museum Berlin to preserve and amplify the stories, history and experiences of Jewish people. Content includes inspirational female pilots to the artistry of Hanukkah lamps throughout the ages. Google Search has also launched an interactive experience for anyone searching for "Hanukkah" or "menorah" to help more people learn about our community, history and culture.
I hope that this Hanukkah gives us all the opportunity to be inspired by the miraculous story of Jewish survival in the face of millenia of persecution. And, unlike the Maccabees — the Jewish rebels who resisted the ancient Greeks' persecution — I hope today that Jews, and all targets of bigotry, will never be alone in their fight for safety, dignity and the freedom to live freely and proudly in their identity. May the candles lit during the eight nights of Hanukkah remind us of the difference one small light makes. People need allyship and support. And each of us has the power to be there for one another, whatever our faith or beliefs.