This new emoji has been years in the making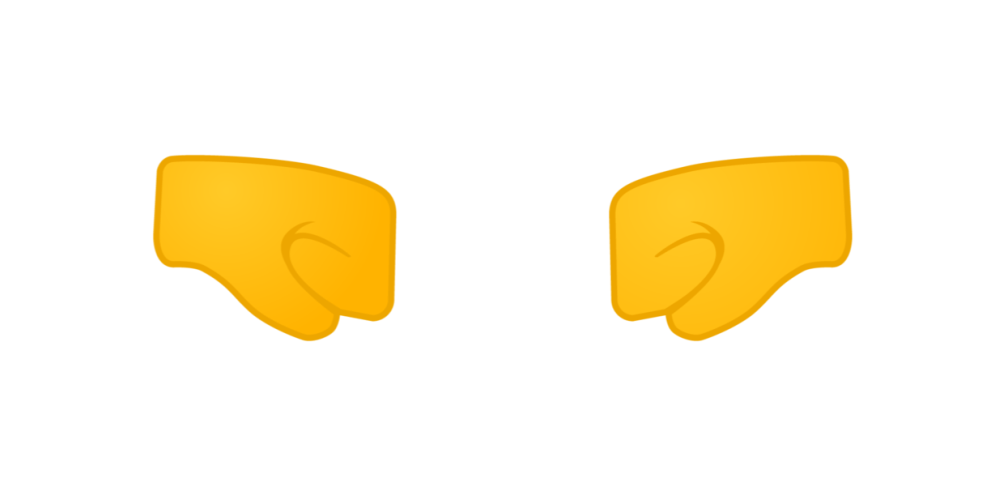 In this post: Technical work and COVID-19 delayed the release of the multi-skin tone handshake emoji, but now it's finally on its way. 
---
When Jennifer Daniel, Google's creative director for emoji, first joined the Unicode Technical Committee, she wondered, what's the deal with the handshake emoji? Why isn't there skin tone support? "There was a desire to make it happen, and it was possible to make it happen, but the group appeared to be stuck on how to make it happen," Jennifer says.
So in 2019, she submitted the paperwork for Unicode to consider the addition of the multi-skin toned handshake.The proposal detailed how to create 25 possible combinations of different skin tones shaking hands. But encoding it all would be time-consuming; creating a new emoji can take up to two years, Jennifer explains. And while a regular, one-tone handshake emoji already existed, this particular addition would require making two new emoji hands (a right hand in all the various skin tone shades and a left in the various skin tone shades) in order to, as Jennifer explains, "make the 'old' handshake new again." 
Every Unicode character has to be encoded; it's like a language, with a set of rules that are communicated from a keyboard to a computer so that what you see on your screen looks the way it's supposed to. This is called binary — or all the ones and zeros behind the scenes that make up everything you see on the internet. 
Every letter you are reading on this screen is assigned a code point. The Letter A? It's Unicode code point U+0041, Jennifer says. When you send a word with the letter "A" to someone else, this code is what ensures they will see it. "So when we want to send a 🤦,  which maps to U+1f926, that code point must be understood on the other end regardless of what device the recipient is using," she says.
This means when one emoji can come in different forms — like with gender or skin tone options — the coding gets more complex. "If emoji are letters, think of it this way: How many accent marks can you add to a letter? Adding more detail, like skin tone, gender or other customization options like color, to emoji gets more complicated." Adding skin tone to the handshake emoji meant someone had to propose a solution that operated within the strict limitations of how characters are encoded.
That someone was Jennifer. "I build on the shoulders of giants," she quickly explains. "The subcommittee is made up of volunteers, all of whom are generous with their expertise and time." First, Jennifer looked at existing emoji to see if there were any that could be combined to generate all 25 skin tone combinations. "When it appeared that none would be suitable — for instance, 🤜 🤛 are great but also a very different greeting — we had to identify new additions That's when we landed on adding a leftwards hand and a rightwards hand." Once these two designs and proposals were approved and code points assigned, the team could then propose a multi-skin toned handshake that built on the newly created code for each hand.
Aside from the actual coding, COVID-19 added new hurdles. Jennifer had proposed the emoji in November 2019 with the expectation it would land on devices in 2021, but because of COVID-19, all Unicode deployments were delayed six months. 
Fortunately, the multi-skin toned handshake emoji should appear in the next release, Emoji 14.0, meaning you should see it appear in 2022. For Jennifer, it's exciting to see it finally come to fruition. "These kinds of explorations are really important because the Unicode Consortium and Google really care about bringing inclusion into the Unicode Standard," she says. "It's easy to identify 'quick solutions' but I try to stop and ask what does equitable representation really look like, and when is it just performative?"  
"Every time we add a new emoji, there's a risk it could exclude people without our consciously knowing it," Jennifer explains. "The best we can do is ensure emoji continue to be as broad, flexible and fluid as possible. Just like language. Just like you. 🦋"