Tech Exchange students reflect on their future careers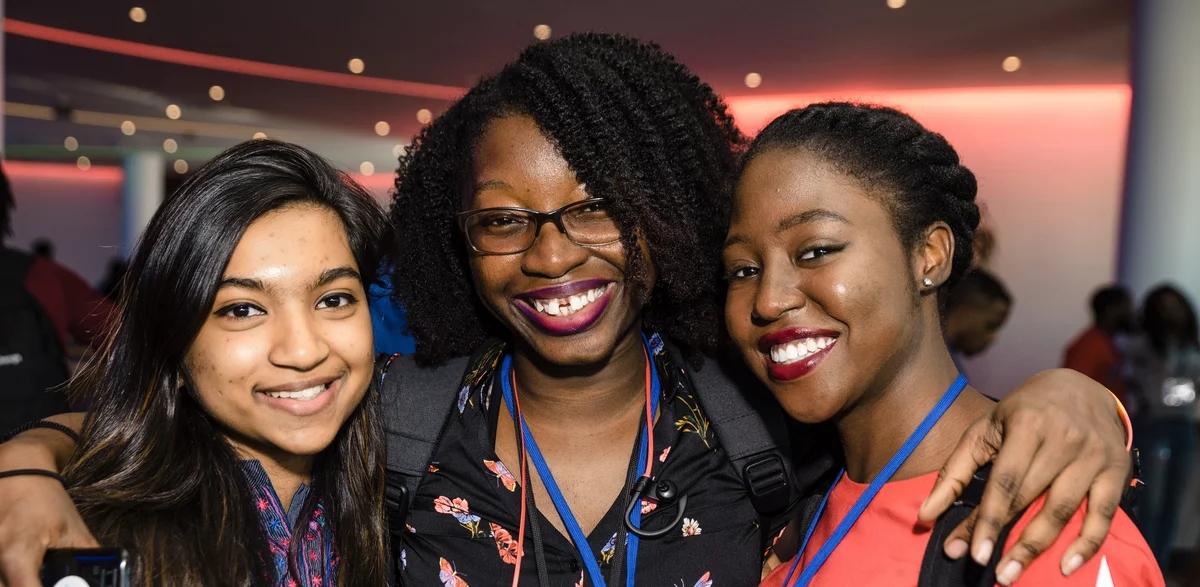 What if this was your day? At 10 a.m., explore the impact of cybersecurity on society. Over lunch, chat with a famous YouTuber. Wrap up the day with a tour of the Google X offices. Then, head home to work on a machine learning group project.
Sound out of the ordinary? For the 65 students participating in Google's Tech Exchange program, this has been their reality over the last nine months.
Tech Exchange, a student exchange program between Google and 10 Historically Black Colleges and Universities (HBCUs) and Hispanic-Serving Institutions (HSIs), hosts students at Google's Mountain View campus and engages them in a variety of applied computer science courses. The curriculum includes machine learning, product management, Theory of Computation and database systems, all co-taught by HBCU/HSI faculty and Google engineers.
Tech Exchange is one way Google makes long-term investments in education in order to increase pathways to tech for underrepresented groups. We caught up with four students to learn about their experiences, hear about their summer plans and understand what they'll bring back to their home university campuses.

Taylor Roper
Howard University
Summer Plans: BOLD Internship with the Research and Machine Intelligence team at Google
What I loved most: "If I could take any of my Tech Exchange classes back to Howard, it would be Product Management. This was such an amazing class and a great introduction into what it takes to be a product manager. The main instructors were Googlers who are currently product managers. Throughout the semester, we learned how design, engineering and all other fields interpret the role of a product manager. Being able to ask experts questions was very insightful and helpful."

Vensan Cabardo
New Mexico State University
Summer Plans: Google's Engineering Practicum Program
Finding confidence and comrades: "As much as I love my friends back home, none of them are computer science majors, and any discussion on my part about computer science would fall on deaf ears. That changed when I came to Tech Exchange. I found people who love computing and talking about computing as much as I do. As you do these things and as you travel through life, there may be a voice in your head telling you that you made it this far on sheer luck alone, that you don't belong here, or that your accomplishments aren't that great. That's the imposter syndrome talking. That voice is wrong. Internalize your success, internalize your achievements, and recognize that they are the result of your hard work, not just good luck."


Pedro Luis Rivera Gómez
University of Puerto Rico at Mayagüez
Summer Plans: Software Engineering Internship at Google
The value of a network: "A lesson that I learned during the Tech Exchange program that has helped a lot is to establish a network and promote peer-collaboration. We all have our strengths and weaknesses, and when we are working on a project and do not have much experience, you can get stuck on a particular task. Having a network increases the productivity of the whole group. When one member gets stuck, they can ask a peer for advice."

Garrett Tolbert
Florida A&M University
Summer Plans: User Experience Internship at Google
Ask all the questions: "One thing I will never forget from Tech Exchange is that asking questions goes beyond the classroom. Everyone in this program has been so accessible and helpful with accommodating me for things I never thought were possible. Being in this program has showed me that if you don't know, just ask! Research the different paths you can take within tech, and see which paths interest you. Then, find people who are in those fields and connect with them."