Together we rise: a Q&A with Libby VanderPloeg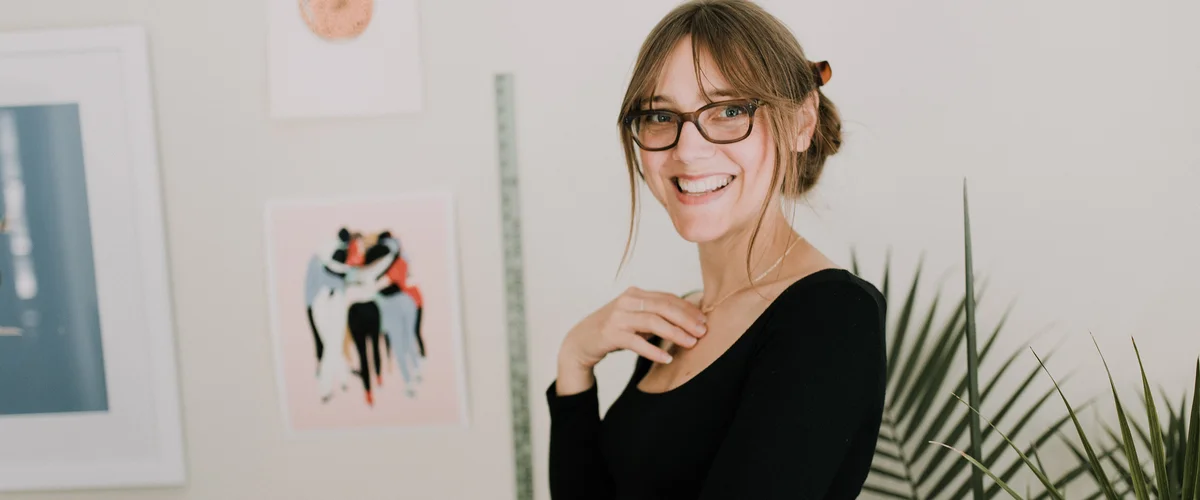 Women Techmakers is Google's global program to build visibility, community and resources for women in technology. For Women's History Month, we're recognizing the inner qualities that make women stand out—their very own superpowers. To do this, we teamed up with Libby VanderPloeg, whose superpower is the art she creates. She's the mastermind behind multiple viral gifs emphasizing the power of women, collaboration and civic engagement. 
We sat down with her to talk about the evolution of her craft, her work with the Women Techmakers team, and her illustrations that encourage women to rise up together. 
You've created art that resonates with  many people and movements. Which of your designs makes you the most proud?
It's definitely "Lift Each Other Up," first shared in 2016 on International Women's Day. It's been shared for the past four years, especially lighting up the internet on its birthday, March 8. It's given people hope and inspired women to work together and help each other out when they can. I'm proud of how much it communicates in just a few seconds, and how that message has resonated so deeply all over the world.
How would you describe your design style?
Colorful, relatable, energizing, funny and hopeful.
A lot of your art is digital. Has that always been the case?
I never liked computers, growing up into my early twenties, because I didn't know how to use them as part of my art practice. I was a painter, period. But once I started playing around with technology, I started to fall in love with it. First I got the wacom tablet, which took some time to master. And then I started doing most of my drawing in Illustrator, learning more about how to bring a natural touch to vector art. Now I use a mix of Procreate, Illustrator, and Photoshop. It's so fun to work digitally because you can play with your artwork in infinite ways, like changing the color palette or adding a little bit of animation, a skill that I've been working on for about ten years. I'm not a master animator, but excited to always learn new tricks. I just started learning how to use After Effects and it's so much fun! 
What advice do you have for women starting out in their careers?
Know that you are capable of more than you can imagine. Sometimes it's just a matter of being asked to do something you don't know how to do. When you accept new challenges, it can be very nerve wracking, but the payoff of growth makes it so worthwhile.
What does it mean to you to have your work highlighted by Women Techmakers?
It's really exciting that, through my artwork, I can be a part of the effort to get more women into tech. For a long time, I thought of myself as simply an artist, and took for granted the other strengths that I was honing along the way. I'm my own IT and production department, and am constantly communicating with my clients to help them achieve their goals through art, yes—but art with a technological edge. So on top of being visually creative, I'm technologically creative, and whenever I can solve problems, I feel like somewhat of a superhero! So these Women Techmakers are an ode to all of the women out there who have the vision to make the world more connected and empathetic. I want them to know what inspiring superheroes they all are.
Know that you are capable of more than you can imagine.
What's your superpower?
This is one that fellow designers will appreciate: I can deliver designs in multiple sizes and file formats without batting an eye or breaking a sweat :) 
Who are the superwomen who have inspired you?
My mom has been a huge source of inspiration, her superpower being relentless hope. She's an incredibly hard worker with a positive outlook, and has always inspired me to chase after my dreams. And my dear friend, Marisa Ponitch, whose superpower is making doing the right thing look cool. She is one of the most creative people I know, using her voice and vision to teach people about waste in the textile industry and give them fun and engaging ways to reduce their consumption. 
Don't miss Libby's work featured on the Women Techmakers page. If you're interested in learning more and getting involved with Women Techmakers, check out our website and sign up to become a member.
Photo credit for headshot of Libby: Leigh Ann Cobb Photography