Celebrating 10 years of Chromebooks in education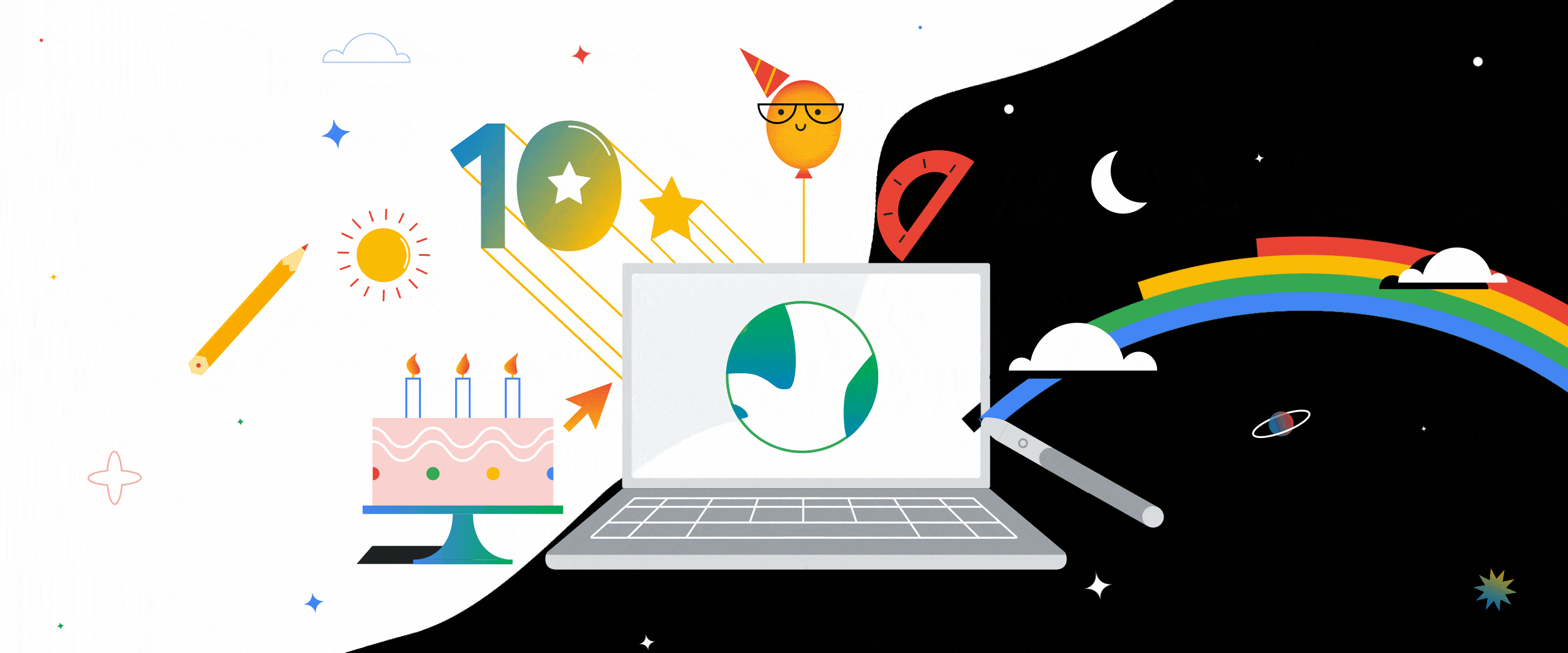 A decade ago, we launched a small pilot program with a handful of schools. Council Bluffs in Iowa and Fond du Lac in Wisconsin were among the very first to use Chromebooks. Today, Chromebooks are as essential as a backpack for students learning in the US and in places like Australia, Brasil, Canada, Japan, Mexico, the Netherlands, New Zealand, Spain and Sweden. As we celebrate our 10th birthday, we're taking a look back at how far Chromebooks have come in the classroom, and announcing new features for educators and students. 
From pilot program to 40 million 
Googlers took the first Chromebooks into schools in the U.S. for a pilot program in 2010, and we found that students, teachers, and education leaders immediately loved how fast, simple and secure they were — three principles we still adhere to today. And with the rapid introduction of Chrome Education Upgrade, which unlocked advanced features in the operating system, Chromebooks rapidly became a hit with schools and IT administrators for their shareability and ease of management at scale. With Google Admin Console, school administrators were suddenly able to manage devices remotely, which has fundamentally shifted the computing model for schools from "computer rooms" to "shared carts" to today, assigned Chromebooks for most students – because hundreds of thousands of devices can all be managed by a single person.
Chromebooks expanded globally, scaling up in partnership with manufacturers like Acer, ASUS, Dell, HP, Lenovo and Samsung. More recently, NEC and Sharp have all started building Chromebooks for the Japan Education market--making Chromebooks the #1 device in K-12 education globally for the last year. To open up possibilities for note taking, digital reading, art, filming video reports, podcasts, and early learning apps, Chromebooks are now available in multiple formats, like convertibles, clamshells and tablets, and come with stylus support and touchscreen functionality. And to increase access, Chromebooks now come with multiple connectivity options including WiFi and mobile broadband. Today there's a device for every learner and a growing ecosystem of apps for students and teachers alike-- over 40 million of them around the world-- with the Chromebook App Hub offering engaging apps and fresh lesson ideas. 
Chromebooks were built to be the foundation for teaching and learning, no matter where you are. And in 2020, as schools turned to distance learning, we've worked hard to improve the video conferencing capabilities of older as well as newly released devices to run Google Meet and Zoom, and introduced new features like Zero Touch Enrollment to help admins remotely enroll and ship devices to students and teachers at home, and extended support for automatic updates to eight years, so devices stay secure and equipped with the latest features for years to come. 
Building for the future of teaching and learning
With over 40 new devices for education, we're launching new devices for not only students, but educators and faculty as well. We've heard from teachers that they love having a high-powered, lightweight convertible with a stylus that fits perfectly in the nook of their arm, because it untethers them from their desktop to enable them to roam freely about the classroom and engage with students 1:1 – or use those same devices to help teach remotely. 
So we're kicking off Chromebook's next decade with helpful productivity features for educators and students like the new Screen Capture tool that lets you take screenshots and screen recordings, perfect for recording lessons and sharing with students. When taking a screen capture, it'll immediately show up in Tote, a new space that keeps important files right at your fingertips - perfect for adding images or videos to presentations or group projects. To help keep track of the many links and homework assignments, Chromebook now has a Clipboard that saves the last five items copied so you can easily paste any or all to a new page without needing to switch between tabs. And with support for eight Desks, students can have separate desks for each class, and teachers can keep their lesson planning separate from grading. Best of all, when you reboot, your windows will restore to their previous desks so workflows aren't interrupted. 
We're continuing to make improvements to Select-to-speak to support students with dyslexia and those who need additional reading support. Now, students can press pause and resume play, adjust the speed at which content is being read and skip between sentences and paragraphs using the new Select-to-Speak control panel or keyboard shortcuts. 
We're also launching an API for user and printer policies, meaning IT administrators sometimes managing hundreds of thousands of Chromebooks can now write scripts to manage policies at scale, in addition to using Admin Console. And to help figure out when it's time to switch legacy devices over to Chrome OS, the Chrome OS Readiness Tool is there to help, and our TCO Calculator will help schools determine which Chromebooks are right for them with our helpful guide, For more for IT administrators, head here.
Wherever you're learning from, Chromebooks are easier than ever to use and manage remotely. For families helping their children learn from home, they can add a school account to their personal Google account managed with Family Link to approve content and help kids develop healthy device habits, and even create a PIN to make sign-in easier for young kids.
We'd love to hear from you on what you love most about Chromebooks. Reach out to @GoogleForEdu on Twitter, and join in the fun.