A field trip to the polar bear capital of the world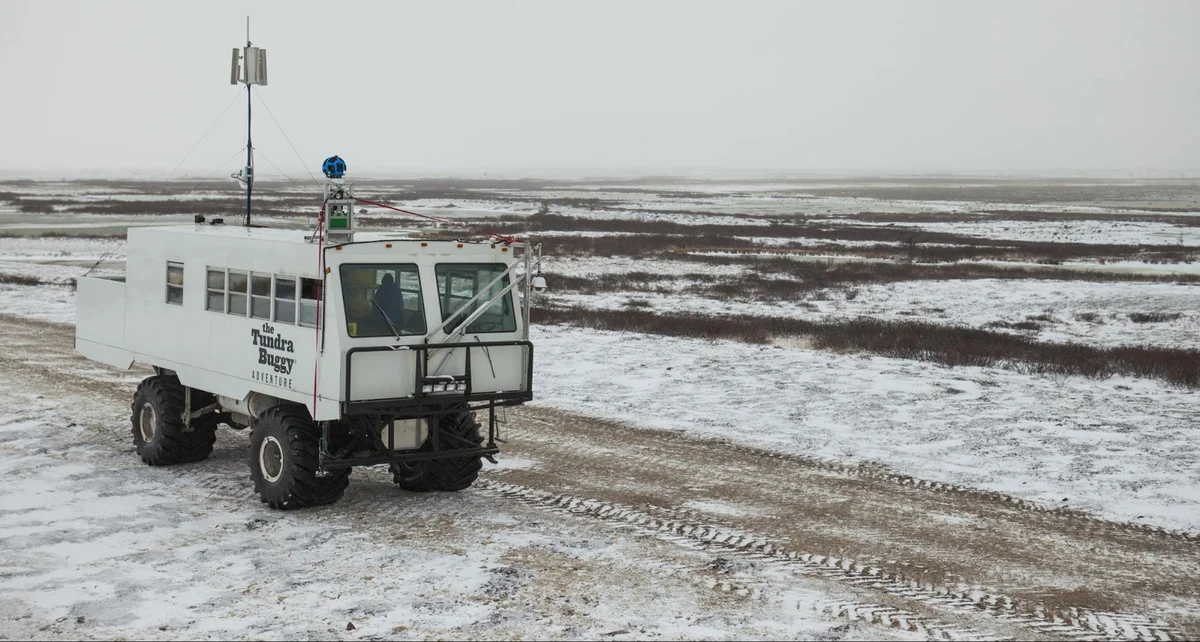 Editor's Note: Today's post is authored by Julene Reed, director of Polar Bears International's Tundra Connections program, which connects scientists and educators in the field with students in remote classrooms 
An incredible journey takes place every fall when hundreds of polar bears migrate from the Canadian tundra to the shores of
Hudson Bay near Churchill, Manitoba
 — a northern town known as the "Polar Bear Capital of the World." The polar bears congregate there, waiting for Hudson Bay to freeze over. Once the ice forms, the bears are on the move again, roaming the frozen bay during the winter months and hunting for seals. It's an extremely rare opportunity to experience this amazing migration first hand, and it's something to behold. But, it's not easy to travel there. There are no roads to Churchill, so your best opportunity to see a polar bear there is to fly north from Winnipeg and hop on board a Tundra Buggy for a bumpy trip along the coastline.
A screen capture from the Google Expeditions tablet, of a polar bear roaming the tundra imagined with the Street View Trekker, providing educators with context and information for what the students are seeing through Google Cardboard 

But now there's a way to experience the tundra these bears call home without packing a parka. In celebration of International Polar Bear Day on February 27th, Polar Bears International and Google are launching new Street View imagery and two new Google Expeditions: "Polar Bears and the Arctic Ecosystem" and "Churchill, Manitoba: Life in the Far North." Using Google Cardboard and customized curriculum, students in classrooms around the world can now travel virtually with Google Expeditions and Google Street View to view polar bears and learn about the impact climate change is having on this unique ecosystem.
By tapping on the screen (left), teachers can guide students to specific aspects of the imagery they want to highlight, such as the 
Tundra Buggy and research tower
, imaged with the Street View Trekker. Students view the imagery in Google Cardboard (right). 
The stunning imagery highlighted within these Expeditions is the result of a long-term partnership between Polar Bears International and Google. The Google Maps team travelled to the Churchill region two years ago and then returned last fall. Over time, by returning to this ecologically–sensitive location and collecting Street View imagery and geospatial data, Google Maps users will have a virtual front row seat to witnessing the impact of climate change on the polar bear's habitat. A Tundra Buggy collecting Street View imagery outside Churchill.

A Tundra Buggy collecting Street View imagery outside Churchill 
These Expedition modules, developed in association with Polar Bears International, provide an opportunity to understand the consequences of rising temperatures in the Arctic. With the sea ice forming later every fall and melting earlier every spring, polar bears have less time to hunt, breed, and den. Google Expeditions offers students and teachers the opportunity to explore these issues and the polar bear's fragile domain using Cardboard's immersive 360° technology.
By bringing this virtual field trip to classrooms thousands of miles from the Arctic, we can offer a greater understanding of global warming and the plight of these majestic creatures.