Choose your own adventure with 13 Google for Education tools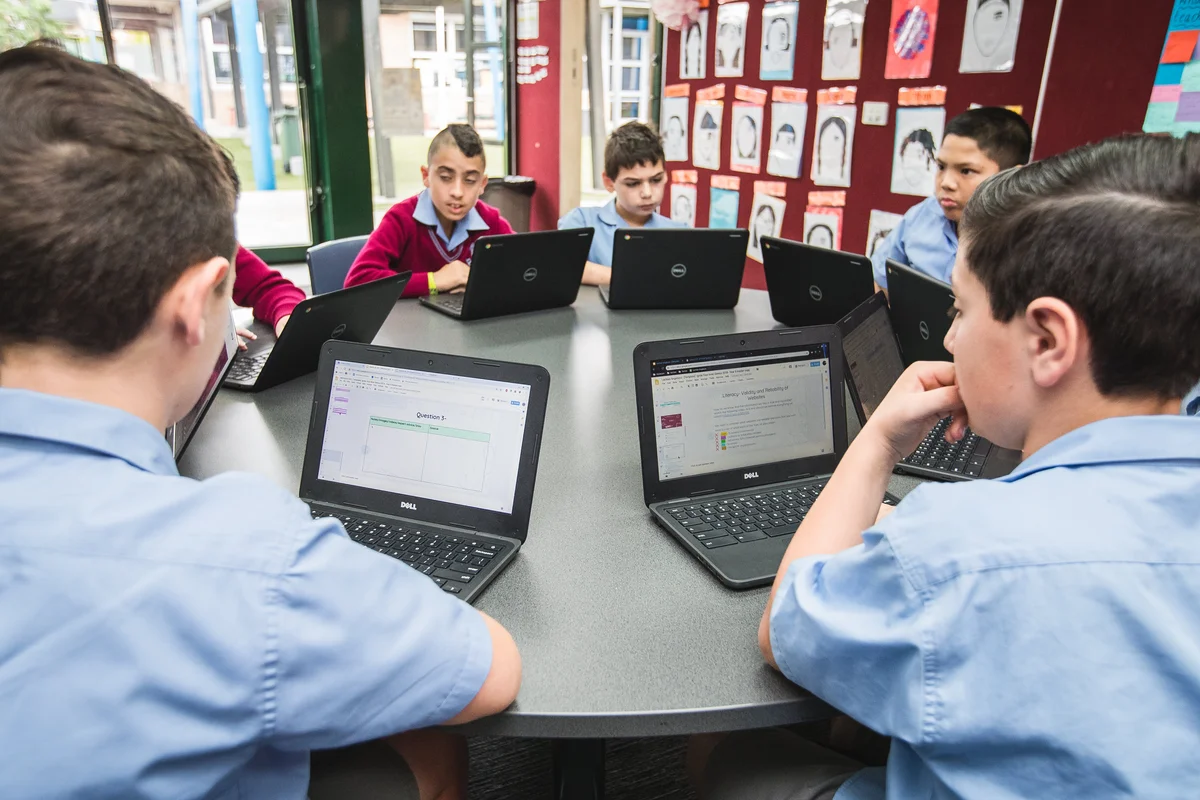 Power up a Chromebook and watch as it transports students to the Taj Mahal, the Great Barrier Reef or a state-of-the-art science lab. It's like magic, except the magicians are the teachers who inspire engaged and focused learning. As the leaders of these journeys, teachers give students the opportunity to explore the limits of their imagination—all on a device that's simple to use and easy to navigate. While we're here at BETT, we're exploring more ways to bring magic moments to the classroom. So open up a Chromebook, and try out a few of the things it can do.
Secure and accessible, out of the box
1.
Learn with adaptable Chromebooks:
We're launching more devices for education, with 25+ new devices in 2019. Choose from tablets like the
Asus Chromebook Tablet CT100
, convertibles like the Acer Chromebook Spin 512 with a 3:2 screen ratio for a taller display to see more content, the Lenovo 300e Chromebook, and clamshells like the Dell Chromebook 3400. Chromebooks aren't just for students—educators are turning to high performance devices like the Google Pixel Slate, Pixelbook and HP Chromebook x360 14.
2. Explore built-in security and accessibility features: When you customize your security settings with multi-layered security, automatic updates, individual profiles and data protection, they'll follow you no matter what device you log into. Learn more about customizing settings in G Suite and on Chromebooks to support all learners—including those with visual aids, auditory aids and more.
3. Become an Internet Legend: With our online safety program developed in partnership with the experts at Parent Zone, all Key Stage 2 primary school teachers can now order the Be Internet Legends curriculum pack for free. It's available in new languages, including Arabic, Belgian, Italian, Polish and will soon be available in Turkish.
Plan with efficiency, collaborate & explore, check for understanding
4. Plan with Classroom and Course Kit: In addition to the new Classwork page, Classroom has a refreshed look and feel. And if you love G Suite but use a different LMS, you can now use Course Kit, a free toolkit that incorporates G Suite into your existing LMS.
5. Collaborate with Jamboard: Create, edit, and view Jams (a "Jam" is a collaborative whiteboard space) on your Chromebook or from a Chrome browser with Jamboard or the Jamboard app. You can now modify frames, switch quickly from selection to drawing and use familiar keyboard shortcuts when jamming. Soon, you'll also be able to add images. Head over to Workbench for a new course on student agency and engagement using Jamboard.
6. Explore the world in Augmented and Virtual reality: Now students can create VR tours using Tour Creator on their Chromebooks, and view them together through a guided experience using the Expeditions Android app (coming soon to iOS). We're also translating our most popular VR and AR tours into Arabic, French, German, Hindi, Italian, Japanese, Korean, Portuguese, Russian and Spanish.
7. Sign up for the locked mode and Gradebook betas: On managed Chromebooks, locked mode prevents students from browsing away from the Quiz until they submit their answers. The new Gradebook in Google Classroom lets you check grades, see average grades by student or assignment, and choose to calculate grades by weighted average or total points-based.
Bringing learning to life with STEAM
8. Code with CS First:
We recently introduced
CS First + Scratch 3.0
, the latest version of the coding language designed for kids. The 3.0 version is complete with new videos and digital materials, plus lesson plans easily shareable in Google Docs. Check out the
CS First Starter Guide
and learn more about Scratch 3.0.
9. Prepare for the future with Applied Digital Skills: Students learn critical thinking, collaboration, communication, creativity and digital skills with new lessons mapped to the UK Essential Digital Skills Framework and the Computing National Curriculum in England, all on the new UK English Applied Digital Skills website.
10. Get hands on with Science Journal: Soon, you'll be able to sign in with your G Suite for Education account to save and access your experiments across your devices using Google Drive. Check out new training modules and lessons on the Google for Education Teacher Center and Scholastic. For more hands-on science, order the new Science Kit from Arduino for middle school science classrooms, or try out Science Journal's Android app with Vernier's new Go Direct line of classroom sensors.
11. Travel the globe with Google Earth: Bring the whole world to each desk in your classroom, no download required. Students can quiz their animal knowledge in Street View, learn about weather, volcanoes and sea surface temperature with map layers, measure area and distance, and see 3D views of buildings and landmarks.
Supporting educators through professional development

12. Learn with the Teacher Center: We've added new trainings on Jamboard, CS First, Applied Digital Skills and Science Journal. To support educators globally, the Teacher Center is now localized in 17 languages, with Italian coming later this year.
13. Engage with the education community: Looking for an expert? Coming soon, an updated Google for Education Directory can help you find a local expert to assist a school in any number of areas including teacher trainings, transformation support and advice from other schools. Looking for in-person interaction?  We just announced our 2019 Innovation Academies, with more locations including Stockholm and London, so apply now.
Visit us at BETT this week to check out the entire ecosystem of our tools, and if you're not able to be with us in London, stay tuned on Twitter for more news.