Chromebook Plus is made for the way you teach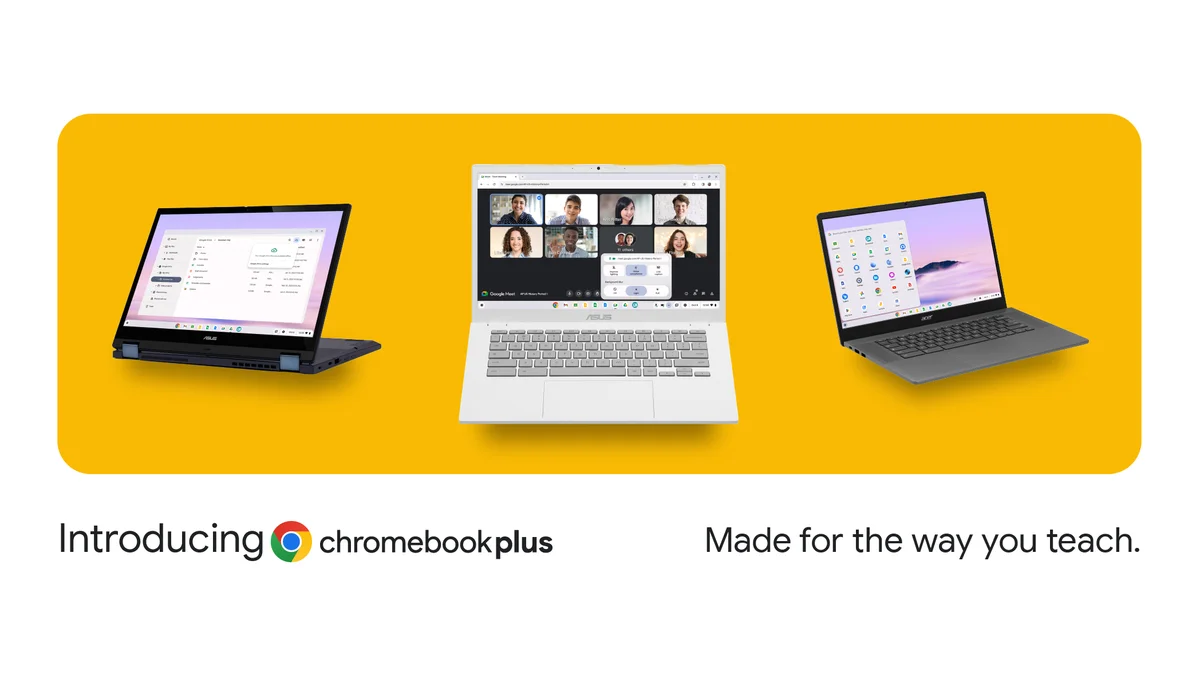 For the past decade, Chromebooks have made computers fun and easy to use while offering schools reliability, affordability, performance and security. Chromebooks are used by 50 million students and teachers every day, and have transformed many classrooms around the globe from lecture halls into maker spaces, research centers and collaboration hubs. Features like Screencast and cast moderator have helped simplify the classroom, amplify teachers' impact and give back some of their most precious resource: time.
Now, to power all these teaching tools, we're launching Chromebook Plus, a new class of Chromebooks to make your classroom experience even better.
Introducing Chromebook Plus
Chromebook Plus is a new category of powerful devices perfect for teachers and staff. The first Chromebook Plus laptops will be available for education this fall, including the ASUS Chromebook Plus CX34, Acer Chromebook Plus 514 and Acer Chromebook Plus 515. Check out devices available through your reseller or from your local retailer.
These Chromebooks feature the same best-in-class security and simple management that IT leaders know and love, plus twice the power, speed, memory and storage. With a Full HD 1080 IPS screen and webcam, Chromebook Plus expands your options — at an affordable price point, starting at $399.
In addition to these new releases, existing Chromebooks that meet the performance requirements of Chromebook Plus will receive some of the enhanced Chromebook Plus features in the coming weeks. Learn more in our Help Center.
New features for teachers
Chromebook Plus is made to meet the ever-changing needs of teachers as they work on the fly. Teachers can work from their desks or wirelessly whiteboard from anywhere else in the classroom with enough battery power to make it through an entire school day on their feet. With twice the storage, Chromebook Plus offers automatic File Sync so teachers can work on Google Slides, Docs and Sheets offline on the bus, in the breakroom or even outside at recess.
Parent teacher conferences and virtual "snow days" are a breeze (blizzard!?) thanks to the new video conferencing tools for Chromebook Plus — all powered by ChromeOS's built-in machine learning to enhance clarity and lighting. With Chromebook Plus' new noise canceling and background blur features to protect privacy, teachers can turn even the noisiest and busiest classroom into an island oasis.
Use File Sync on Chromebook Plus to access Workspace files offline

AI-powered video call controls on Chromebook Plus

Chromebook Plus comes with premium wallpapers
Need to grade a paper? Just grab your stylus and mark up PDFs in the Gallery app for ChromeOS. Want to record and share a quick lesson for your class? The Screencast app for ChromeOS lets teachers record and annotate their screen and transcribes their instruction automatically to make editing, navigating and translating recordings one-click-easy. Even better: You can cast your lesson to the classroom display with cast moderator, flip your Chromebook into tablet mode, and wander wirelessly about your classroom to better engage and meet your students where they're at — literally.
And as we continue to develop more AI-powered features in Google Workspace for Education, these will also be available on Chromebook Plus to help give educators time back to invest in themselves and their students, while boosting their creativity and productivity. But we'll continue to balance bold innovation with a responsible approach. So all gen AI features in our education products will only be available for users ages 18 and up, with admin controls to help manage when and how to roll them out.
Want to learn how other schools are using Chromebooks? Learn how Jefferson County Public Schools (JCPS) uses Chromebooks to streamline device management & create a unified classroom experience — teachers included.
Check out our Help Center to learn how to enable Chromebook Plus features for faculty, staff, teachers or others users 18 or older, and find all of these devices and more in our wayfinding guide and on our website.