Connect confidently with Google Meet security features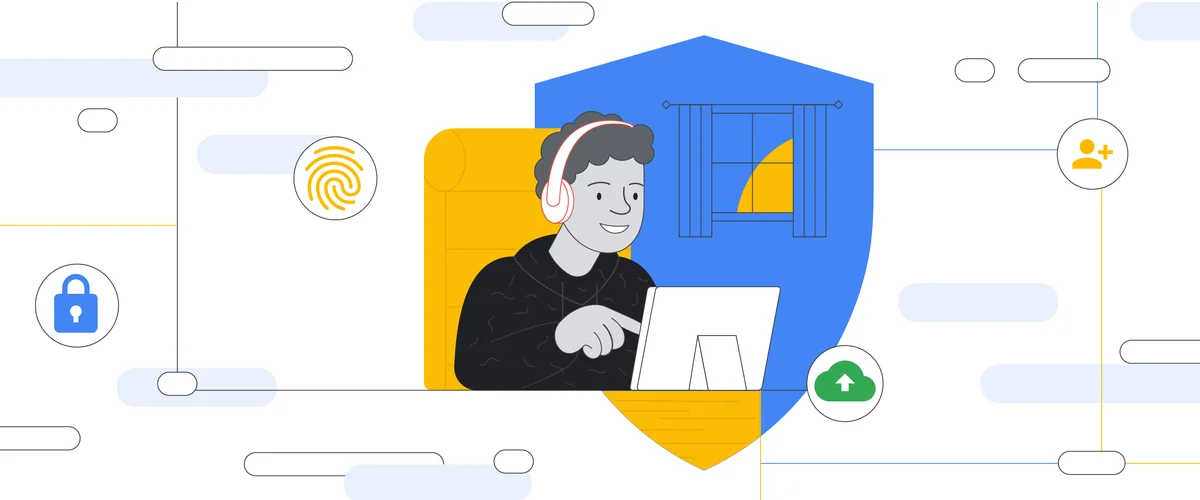 Safer Internet Day is about coming together for a better, safer internet – and we at Google for Education are committed to working with schools and families to provide a safe online learning environment. Every day, Google keeps more people safe online than anyone else in the world with products that are secure by default, private by design and put you in control. And this promise extends to all that we build for you, school leaders.
Constant online protections for education
At Google for Education, we're always looking for new ways to keep you safe. All of our products are private by design, which means they support compliance with the most rigorous data privacy standards — including FERPA, COPPA and GDPR — and are regularly audited by independent, third-party organizations. By making Google for Education products secure by default, we provide additional layers of protection, with ad-free learning experiences that help keep students safe from online threats and age-inappropriate content. And we put you in control, with a dashboard that gives you full visibility of your data and security, regular Google Security Checkups that help you maintain a secure account and additional security features in your security center to protect your school's data and devices.
Our goal is to support and protect each member of your education community so they can focus on what matters most: teaching and learning.
Google Meet offers more moderation, control and integration
With our ongoing effort to provide a safer learning environment, we've been focusing on combating a prominent security pain point for many schools today: video meetings. We're excited to share some recently announced enhanced security measures for Google Meet to help educators and students connect in a full class setting or one-on-one with fewer distractions and more privacy and security.
In-meeting moderation controls: To help educators engage with their students, we've added more ways to help moderate class meetings and eliminate unwanted intrusions or interruptions. With these new features hosts can:
Control who can use the chat and present features
Turn on or off audio and video of individuals or everyone in the main call and breakout rooms
Move participants from breakout rooms1 back to the main room
Share moderation controls with up to 25 co-hosts
Control and visibility: We know admins need more ways to protect their schools and more data and insights to drive comprehensive decision making, so we've rolled out additional admin features that allow them to:
Apply safety settings across their domain
End meetings for everyone and prevent people from rejoining
Get insights into how people are using Meet
Identify, triage and act upon any security breaches2
Google Classroom integration: We're making Meet and Classroom work even better together. The Google Meet integration with Classroom helps educators meet and work with their classes more easily and securely, allowing them to:
Access the Class Meet link from the stream to limit distribution to class members only, while making meeting links easier for teachers to manage and for students to find
Keep students in a waiting room until the teacher joins, and uninvited guests must ask to join to ensure a safer environment for class interaction
All designated co-teachers are co-hosts by default so multiple teachers can help keep the class meeting on track and secure
In addition to these newly added moderation and security features, Google Meet runs on one of the world's most advanced security infrastructures for scalability and control. Meet adheres to IETF security standards for Datagram Transport Layer Security (DTLS) and Secure Real-time Transport Protocol (SRTP). In Meet, all data is encrypted in transit by default, whether meeting on a web browser, on the Android and iOS apps, or in meeting rooms with Google meeting room hardware. Meeting IDs are 10 characters long, with 25 characters in the set, making unauthorized access by guessing the ID extremely difficult.
We look forward to sharing more about our work to keep you safer with Google, including details on our new partnership with Khan Academy to develop free, online lessons that will help teach people how to stay safe online.
We remain committed to providing industry-leading privacy and security protections built into Google for Education products, which enable students and teachers to work better together by connecting safely and securely.