Developing critical reading skills with media literacy apps on Chromebooks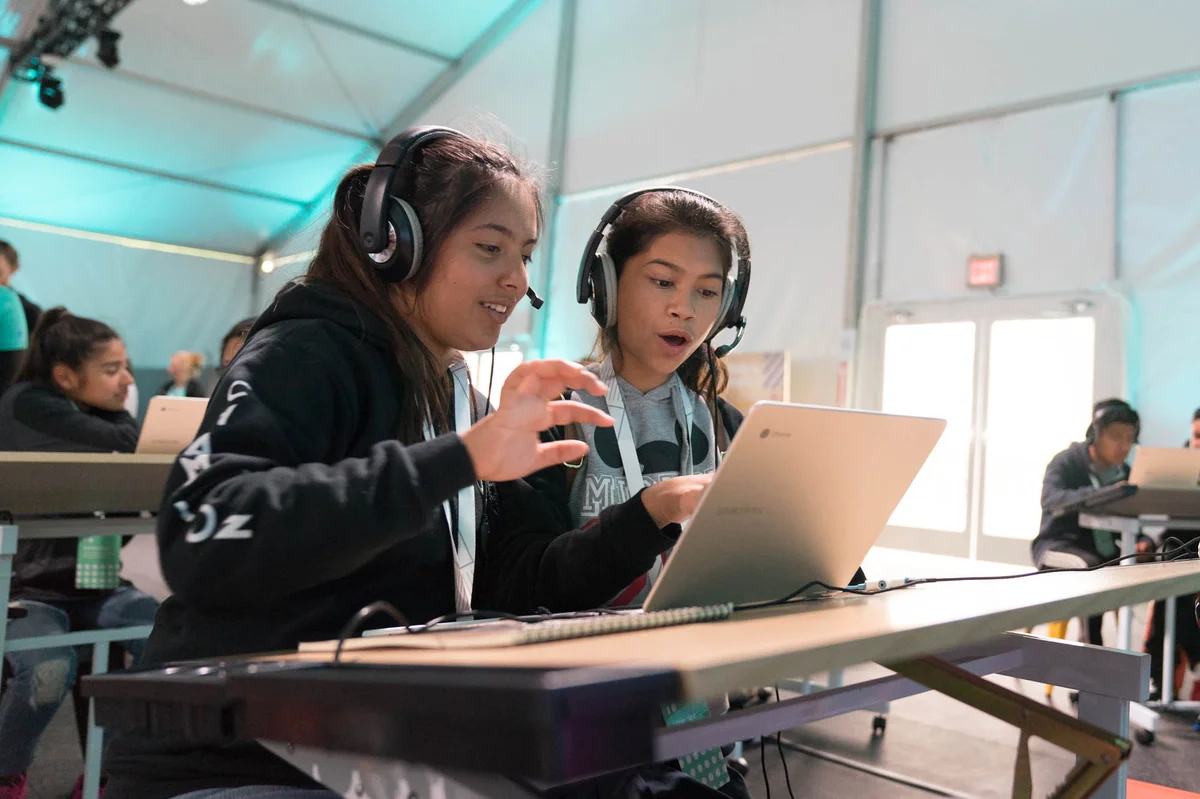 Editor's note: Over the last year, we've introduced new ways for students to develop important future skills with Chromebook tools, including active listening and creativity. Yesterday at ISTE we announced our latest bundles in this series, curated in collaboration with educators. In this post, we dive into the Media Literacy apps on Chromebooks bundle, designed to help students evaluate and think critically about the information they see online. Follow our updates on Twitter, and if you're at ISTE in San Antonio, visit us at booth #1718 to learn more and demo these tools for yourself.
Bringing current events into the classroom is a great way to engage students in what's happening around the world. With countless online news sources to choose from, it's more important than ever for students to develop media literacy skills that help them understand the difference between reliable information sources and "fake news." And media literacy skills aren't just helpful in the classroom—they're essential  future skills that help students thrive beyond the classroom and into their adult careers.
Earlier this month we announced Be Internet Awesome, a program to help kids learn how to become smart, confident explorers of the online world. One module teaches how to be Internet Alert, including how to avoid "falling for fake." Now, to help school districts provide more media literacy opportunities to students, we're offering a bundle of Media Literacy apps on Chromebooks, designed to help students evaluate and think critically about the information they see online. These apps are available at a special discounted price and may be purchased alongside Chromebooks or independently from U.S. Chromebooks resellers.

Media literacy empowers people to be critical thinkers and makers, effective communicators and active citizens.
Here's a deeper look at the apps in the Media Literacy bundle.
Scrible is a research platform enabling students to curate, annotate and collaborate on authentic online sources such as news articles and blog posts. They can highlight important passages, comment on key points and reply to one another in real time—fostering collaborative discourse, critical commentary, and mindfulness about the quality of their sources. They can later bring their researched content into the writing process using automatic citation capture, bibliographies and Google Docs and Drive integrations.

"Scrible helps students think about information critically through organizing their thoughts on the page," says Matt Menschner, social studies teacher at Kensington High School for the Creative and Performing Arts (KCAPA) in Philadelphia, PA. "It's helped foster creative and critical thinking and positive discussion around the efficacy of the information that we're going through on a daily basis."

Menschner says that during the recent school year, Scrible "acted like an icebreaker and fostered a lot more creative discussion and face-to-face conversations" between his students. He doesn't expect the benefits to fade after graduation, either—students from previous years "come back to visit and they tell me they still use Scrible now in their college classes."

Frontier, an app from eSpark Learning, teaches critical thinking about media through reading and writing lessons for students in grades three through eight. Frontier offers a library of online lessons centered on thought-provoking topics that engage all types of readers—from eager to reluctant. "It's a differentiated research, reading and writing product that allows students to have choice," says Cindy Kopp, a fifth-grade English language arts and social studies teacher at Mineola Middle School in Mineola, NY. "It enables them to think beyond the text."
Kopp says Frontier projects are "inherently something students are excited about. They become so interested in some of the projects that on their own they look to read more about them." One student, for example, became fascinated with crime-scene forensics, and his research paper was shared with a law enforcement officer in Michigan. The officer then shared a video with the class that helped further their understanding of the forensic process.

"The kids went wild over it, because now they're realizing that their writing has importance," Kopp says. "There's relevance, and they're opening a dialogue with others outside of the classroom."

Encouraging student choice in research and writing can help students connect more deeply with the core curriculum at hand. Frontier is "building out projects that align to our curriculum, which helps us supplement the social studies portion of the curriculum," says Kopp. All the while, students learn how to "seek and access information from a variety of sources, related to questions they're curious about."

To learn more about these and other educational tools, please visit g.co/educhromebookapps, check out the websites, or contact your school's Chromebook reseller. And follow @GoogleForEdu on Twitter to see all that's launching at ISTE.