With school closures, teachers can keep their lessons going remotely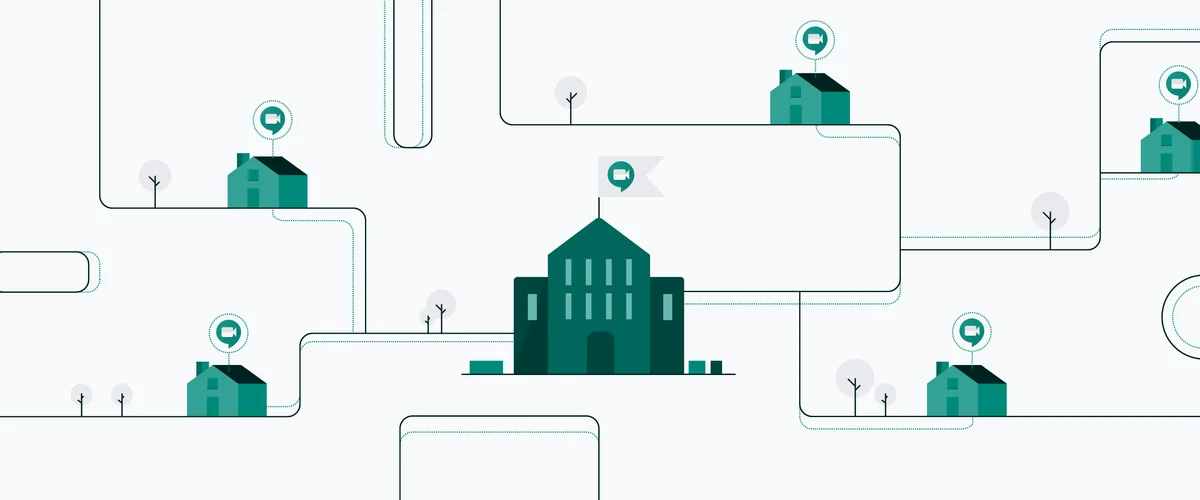 I spent more than a decade working in schools as a teacher and administrator. Whenever there was an event that caused the school to close, I found a way to ensure that students didn't lose valuable learning time. We call this "distance learning" and many teachers, whether they work in a virtual school or are faced with a unique event, are exploring how to make it work. Currently, we're facing such an event. Concerns over the transmission of COVID-19 are closing schools across the globe, and millions of students are unable to physically attend school. 
To help with this, we recently announced that advanced Hangouts Meet features are available for free to anyone who uses G Suite around the world. This means you'll be able to put up to 250 people on a Hangouts Meet call—an entire class or group of classes can join a lesson simultaneously. You'll get live-streaming for up to 100,000 viewers within your domain, so that you can do a virtual school assembly or stream a lecture. Plus, you can record meetings and save them to Google Drive. When students can't join the lesson, they'll be able to access the content later.
For educators preparing for potential school closures—or currently facing them—here are a few other ways to handle distance learning.
Keep students engaged while they're at home
Virtual learning can be isolating and disengaging for students. Sitting in front of a screen for hours watching videos may compel a student to fast forward or even skip a lesson altogether. To keep them engaged, open up virtual discussions about what they're learning. In a lesson exploring the water cycle, challenge students to pause the video and join a discussion in Google Classroom (using the Stream) about the last time they experienced a thunderstorm. You can also use comments in Google Docs and Classroom to have a two-way discussion with students as you give feedback on their work—another great strategy to engage when you can't see them in person.
Frequently assess student learning
Formative assessments help you make sure students are continuing to progress while away from school. Check for understanding during group instruction by asking a poll question in the middle of a lesson and showing the results in real time. This can also help you "take attendance" in a virtual setting. Quizzes in Google Forms offer auto-grading features, allow you to embed videos, images, and as many answer choices as you want. You can also assign graded discussions in Google Classroom, and students can demonstrate their knowledge through project-based learning assignments using Slide presentations, Docs or Sites. 
Continue to connect with Hangouts Meet
When students' routines are disrupted, many realize how much they actually miss the structure of school, and learning with their teacher. It's important to maintain that feeling of comfort and safety during a time of uncertainty.
If your students have Wi-Fi access, you can see them virtually on Hangouts Meet. You can also use this platform to create video discussion sections for students to engage with one another and support their peers who might be struggling with concepts. Turn on live captions to help students focus, and so that students who are deaf or hard of hearing can read spoken language during the call.
Scheduling is another challenge that may arise. Using Calendar Appointment Slots, students who need extra help can sign up to meet 1:1 or in small groups with you. Due to intermittent or lack of Wi-Fi access, or shifting childcare solutions, not all students may be able to join a virtual classroom at the same time. Your instruction will likely be a mixture of live video and sharing recordings of your lessons for students who couldn't make it. Thankfully, advanced features in Hangouts Meet allow you to record your lessons to share with students. 
Check in with how your students are feeling
Social Emotional Learning can continue in a distance learning setting as well. Just as you can use Hangouts Meet to "be" there for your students and maintain your classroom culture, you can provide other ways for students to share and process their emotions while away from school. Using Google Forms, create mood check-ins for students to share their emotional state on a daily basis. Within the Form, students can request a conference with the teacher if they need extra support. You can also set up a private blog for students to reflect on the experience by journaling or recording video reflections. 
Think beyond the clock
With distance learning, you don't have to worry about time constraints of the normal school day: rushing students into the classroom or hurrying to finish your lesson before the bell rings. Students can take more time on some activities and breeze through lessons that come naturally to them. Take advantage of this opportunity and design your lessons to include more "choose your own adventure" activities rather than a fixed schedule of lectures and lessons.
Explore more approaches to distance learning
As educators and administrators set up contingency plans and consider making classrooms fully virtual, we're here to help. We've seen educational leaders reaching out to one another, sharing ideas and providing support through Google Educator Groups, and other social networks, including Twitter and Facebook. Check out this webinar on distance learning strategies, find resources in the Teacher Center, and continue to share ways you support remote learners.