5 memories to celebrate Google Classroom's 5th birthday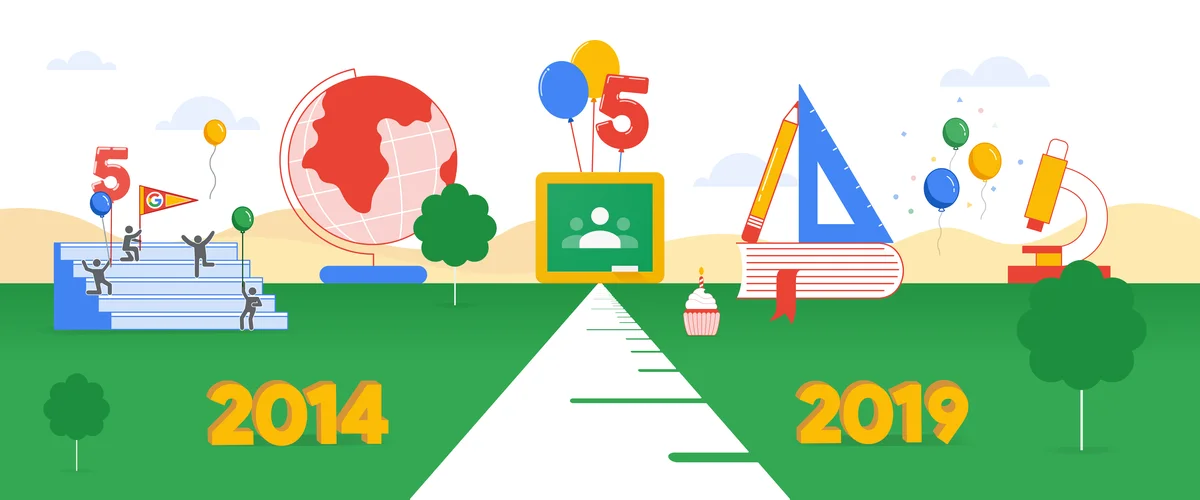 Five years ago, the world watched feats of human strength and spirit at the Olympics in Socci and the World Cup in Rio. A robot made the first-ever landing on a comet. Citizens of the internet dumped buckets of ice on their heads to raise awareness and funds for ALS research. And while millions of teachers and students headed back to school in 2014, a team of passionate engineers, former teachers and ed tech experts at Google launched a new program—Google Classroom. 
Since then, the community of educators and students using Classroom has grown to over 40 million worldwide. Thoughtful feedback from teachers has helped us build new features to meet the ever-changing needs of today's schools.
Here are five stories of how Google Classroom has evolved over the years.
1. Building a mission control center designed to save teachers time 
When talking with educators, we learned that their biggest need was a tool that allowed them to spend less time on administrative tasks and spend more time teaching. The first iteration of Google Classroom helped them create and organize assignments quickly, provide feedback efficiently, and communicate with students easily.
Classroom was launched in the fall of 2014.
2. Listening to educators and incorporating their feedback
As Google Classroom spread to more schools, we heard lots of inspiring success stories. We also listened for ways to make improvements and launched hundreds of new features based on educator feedback. And in year four, it was time for a refresh. This led to the Classwork page which organizes assignments and questions by grouping them into customizable modules and units.

Teachers needed more ways to quickly find resources in Classroom, especially when juggling multiple classes. So we changed the Stream page into a conversation hub and improved the Settings page to allow teachers to turn off notifications. We also built a way for educators to copy and reuse classwork. The result? A more streamlined way to set up and manage classes, coursework and student rosters. 
After hearing that educators were spending too much time giving actionable feedback, we built a comment bank, which gives them a place to easily save, reuse and modify common feedback. Earlier this year, Classroom was refreshed further when it was redesigned with the intuitive look and feel that's used across Google tools.  
In 2018, we added a comment bank to save and reuse commonly used feedback when grading.
3. Enhancing Classroom by integrating partner apps
We know there are lots of A+ education apps out there. It's easy to feel bogged down by all the separate logins and applications to access your favorite tools. By partnering with some of the top EdTech companies—including Classcraft, GoGuardian, Pearson and others—we've helped integrate popular education apps with Classroom. Today, these partnerships allow teachers to share information between Classroom and other tools they love, without switching platforms.

4. Better feedback with rubrics, Gradebook, and syncing grades to your SIS
Earlier this year we introduced rubrics, a tool currently in beta that helps students clearly understand how their assignments will be evaluated, while also giving educators a standardized way to grade. This feature works alongside other feedback tools to help teachers personalize instruction and improve learning.

In 2019, we introduced rubrics.
Other new developments include the ability to sync grades between a Student Information System (SIS) and Classroom, and Gradebook, a tool that keeps assignments and grades organized. Gradebook allows teachers to see a holistic view of their students' grades across assignments, and offers quick ways to grade and return work. Teachers can also choose how grades are calculated (either by weighted average or total points) and set up grade categories for easier organization. 
Earlier this year, we launched an early access beta program that allows educators to sync grades from Classroom to their school information system (SIS) of record.
5. Help students keep their ideas authentic
Originality reports in Google Docs help students balance outside inspiration with authenticity in their own work. This beta feature is designed to allow both teachers and students to compare coursework against hundreds of billions of web pages and tens of millions of books. To use originality reports with Classroom, apply to join the testing program by filling out our form. 
In 2019, we added a beta for originality reports in Google Classroom.
Bring Google to your Classroom
Ready to try some of the new features mentioned? Syncing grades with your SIS, rubrics, and originality reports are available in beta. Sign up to test these tools today at g.co/classroom/betas.
Don't have access to Google Classroom, but still want the benefits of collaborative teaching tools? Check out our new tool, Assignments.