New safety and engagement features in Google Meet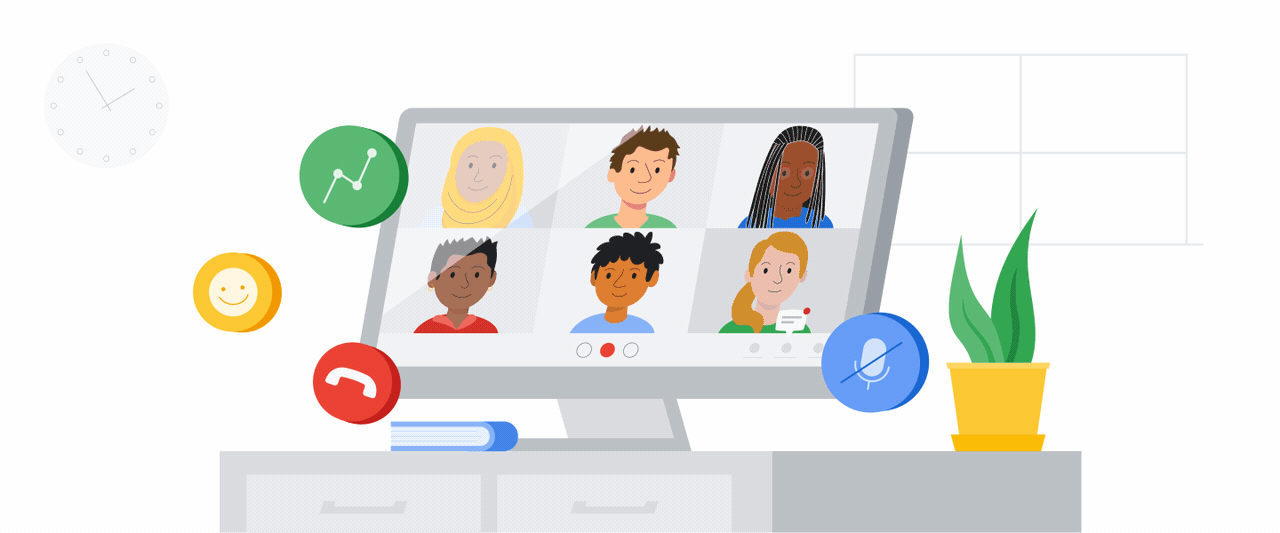 Over the past year, video conferencing became an essential tool for teaching, learning and staying connected. As part of our commitment to building products and programs to expand learning for everyone, we're bringing new features to Meet to help educators keep virtual classes secure and students engaged. 
Helping teachers keep virtual classes safe 
Our first priority with Google Meet is to make sure meetings are safe and secure. Last year we launched a number of tools to help with this, including security controls so only intended participants are let into meetings and advanced safety locks to block anonymous users and let teachers control who can chat and present within a meeting. In the coming months, we'll be adding to that list.
Teachers will soon have the option to end meetings for everyone on the call, preventing students from staying on after the teacher has left — including in breakout rooms. 
Getting everyone's attention when class is deep in discussion can be tough, so we're also giving teachers an easy way to mute all participants at once. Rolling out over the next few weeks, "mute all" will help educators keep class on track. And since sometimes it's important to teach without interruption, launching in the coming months, meeting hosts will be able to control when students can unmute themselves.
For many teachers, Google Classroom is an essential tool for managing class. Later this year, Classroom and Meet will work together even better, so every meeting created from Classroom is even safer by default. When meetings are generated from Classroom, students won't be able to join before the teacher. Meet will also know who's on the Classroom roster, so only students and teachers in the class will be able to join. And every teacher in Classroom will be a meeting host by default, so if there are multiple teachers, they'll be able to share the load of managing the class. And later this year, meetings that aren't started from Classroom will also support multiple hosts, making it easier to partner with others helping facilitate the class.
Greater visibility and control for admins 
In the coming months, we'll be launching new settings in the Admin console so school leaders can set policies for who can join their school's video calls, and whether people from their school can join video calls from other schools. This will make it easier to facilitate things like student-to-student connections across districts, professional development opportunities for educators and external speakers visiting a class. 
The Google Meet audit log is also now available in the Admin console. In the coming months, we'll be adding more information to these logs — like an external participant's email address — so admins can better understand how people are using Meet at their school. For educators with  Education Standard or Education Plus licenses, we're also making improvements to the investigation tool. Admins can now access Meet logs in the investigation tool, so they can identify, triage and take action on security and privacy issues. And later this year, admins will be able to end any meeting within their school from the investigation tool as well. 
Engagement and inclusivity in Meet
Over the past six months, we've launched features like breakout rooms, hand raising, digital whiteboards and customized backgrounds. Later this year, students will be able to more easily engage and express themselves with emoji reactions in Meet. They'll be able to pick emoji skin tones to best represent them, and react in class in a lightweight, non-disruptive way. Teachers and admins will have full control over when reactions can be used.
Because unreliable internet connections can make remote teaching and learning more challenging, we're also improving Meet to work better if you have low bandwidth. Rolling out in the coming months, this can help keep class on track when internet connections are weaker. 
We've also made significant improvements to the performance of Meet on Chromebooks. These include audio, video and reliability optimizations, better performance while multitasking and more. 
We're also making additional improvements for educators with Teaching and Learning Upgrade or Education Plus licenses. Rolling out over the next few months, educators will be able to set up breakout rooms ahead of time in Google Calendar. This will make it easier for teachers to prepare for differentiated learning, be thoughtful about group dynamics and avoid losing valuable time setting up breakout rooms during class. 
And to help students who weren't able to attend class stay up to date, later this year educators will be able to receive meeting transcripts. They'll be able to easily share transcripts with students, review what was discussed during class or maintain a record for future reference. 
Whether by expanding professional development opportunities, livestreaming events or facilitating live-translated parent-teacher conferences, Meet can help your community stay connected. And while many recent improvements to Meet are focused on making distance learning possible, we're also dedicated to making it the best tool for school communities — now, and into the future.