Helping 4-H equip students with skills they'll need for the future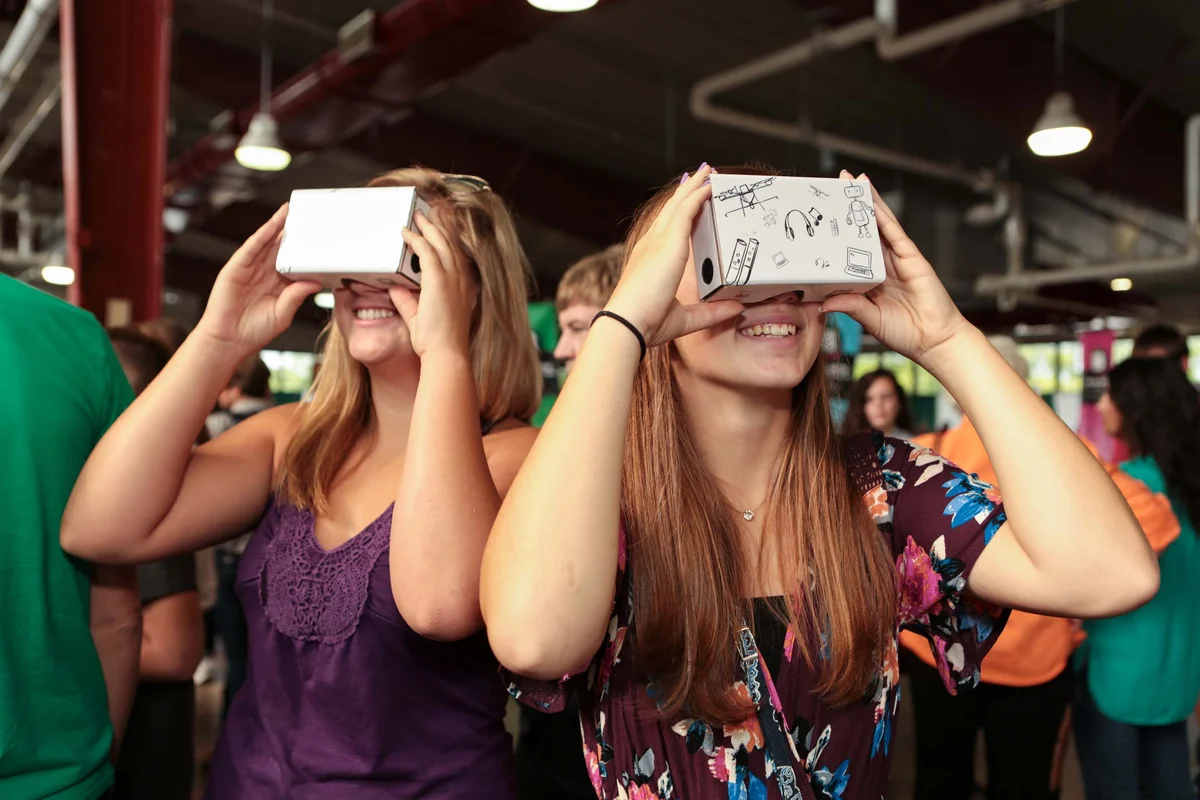 The world is changing rapidly, creating new opportunities and careers we can't yet predict. But even with a lot of unknowns, skills like collaboration, problem solving and technical know-how can be the tools students need to adapt and thrive, no matter what the future holds.
Today, at the Illinois State Fair, where hundreds of 4-H youth are exhibiting projects, we announced our support of 4-H with a $1.5 million Google.org grant to provide students around the country the opportunity to grow future skills through computer science programming like CS First and virtual field trips via Expeditions. 4-H is the United States' largest youth development organization, with more than 6 million students participating. By supporting this work, we're excited to see how more kids across the country use technology to achieve their goals and improve their communities.
4-H CEO Jennifer Sirangelo and Illinois state fair goers exploring CS First, our video-based coding activities for 4th-8th graders. 4-H club educators will receive training to help apply these coding skills to everyday problems and challenges.

Illinois 4-Her on a virtual reality Expedition to Minnesota to see how students coded an ear tag for farmers to keep track of their wandering cattle

Governor of Illinois Bruce Rauner at the Illinois State Fair
While there are thousands of 4-H'ers at any state fair this summer, you can find hundreds of 4-H alums within Google—and I had the opportunity to chat with one. Julie Eddleman grew up in Indianapolis, spent 10 years in 4-H, and is now a Senior Director at Google working with some of our largest corporate partners. I talked with Julie about her experience in 4-H and how the skills she learned there continue to help her at Google.  
Jacquelline Fuller: How were you personally involved in 4-H and what did that look like?
Julie at the Illinois State Fair Demonstration competition in 1981 showing judges how to build a terrarium
Julie Eddleman: I started going to 4-H meetings as early as two years old, tagging along with my older sisters. Through 10 years of hands-on projects, we learned anything you can imagine, from rocketry to water conservation. I was a very curious child and couldn't choose just one subject! When I think back to why I stayed in 4-H so long, I think it was because of the variety of the education styles—there was reading, workshops, hands-on projects, team events and, of course, the competitions filled with ribbons and trophies.
JF: Can you tell us what skills you developed during your time in 4-H and how they're still helping you in this chapter of your life?
JE: Where do I even start? I think I'd have to point to the skills I didn't even realize I was learning like leadership, public speaking and problem-solving. When I'm talking to students visiting Google's campus, my team at work, or even just my kids at home, I always talk about about developing these skills, and remember 4-H as being the first place I practiced them. 4-H even taught me how to write a check, pay our 4-H Club's bills and balance a checkbook at the age of 11!
JF: Let's talk more about the technical skills you learned; you mentioned rocketry and computer classes. Why do you think these are important skills for students?
JE: Coding and basic technology skills are a must for the next generation. I have five children, ages 11-31, and they all use technology every day—from video games to social media to coding puzzles. The combination of understanding tech, and working with diverse people has helped me find different ways to approach or solve a problem. These skills are critically important in any career, from agriculture to computer programming to fashion design.
Looking ahead
It's hard to imagine that there are 6 million students around the U.S. with stories similar to Julie. And regardless of where they come from, 97 percent (across urban, suburban, rural, small city communities) think computer science can be used in many kinds of jobs—from agricultural science to fashion to engineers. We're excited to support 4-H to help make sure that students across the country have more opportunities to build their technical skills, confidence and leadership.