How the Dynamic Learning Project is building teacher confidence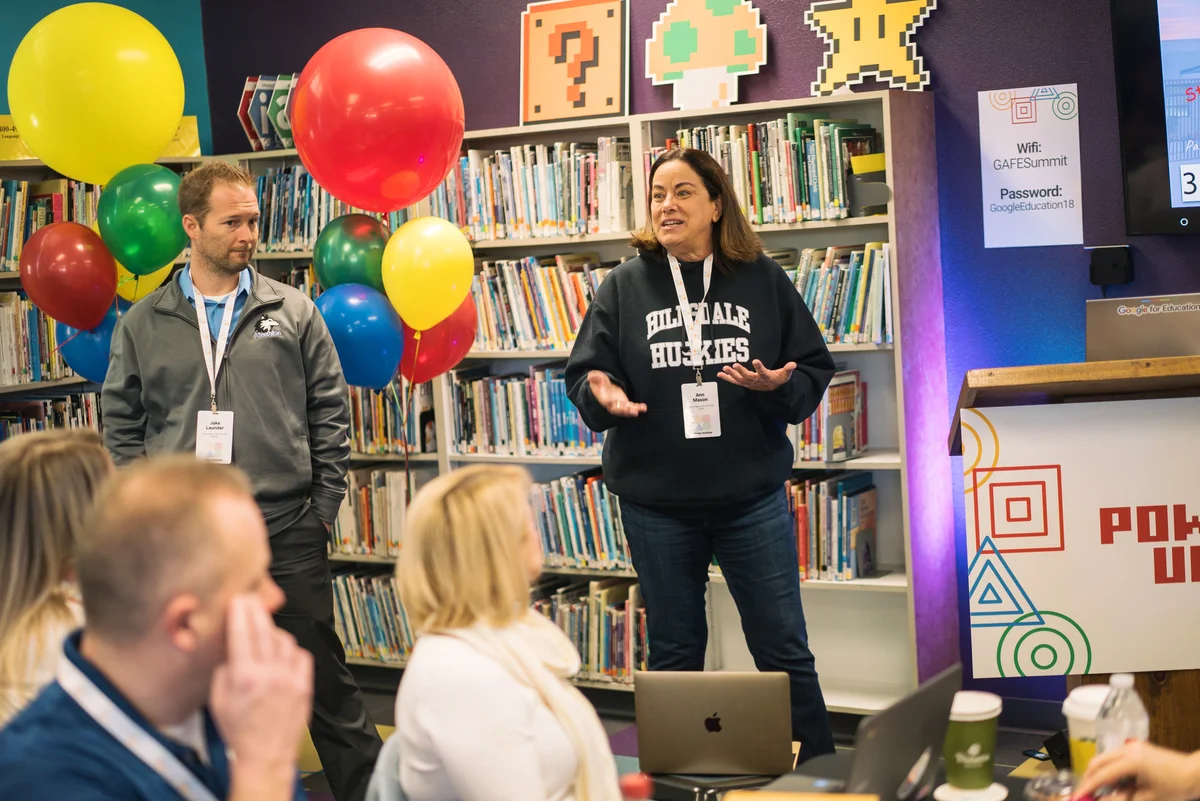 Editor's note: Last summer, we announced Google's support of the Dynamic Learning Project—a pilot program from Digital Promise that places technology coaches in 50 high-need schools across the country. Educator coaching has been shown to be effective in subjects like reading and math, but the Dynamic Learning Project is one of the first nationwide programs to apply this approach to the impactful use of technology across subjects. We checked in with one of the 50 schools participating in the program to see how things are going.
When Hillsdale Middle School principal Jacob Launder learned about the Dynamic Learning Project, he jumped at the opportunity to transform how his teachers use technology in the classroom.
Principal Launder had already invested in Hillsdale's classroom tech and had a community of educators who wanted to build their skills, but many of his teachers lacked the confidence to really make a change in their classrooms. Luckily, he had the perfect person in mind to become a coach and lead this transformation: Ann Mason, a 30-year veteran history teacher in the Cajon Valley School District.
Thanks to her participation in the Dynamic Learning Project, Ann has extensive access to tech-coaching experts, custom resources and tools to guide her support for teachers, and a community of fellow coaches to share best practices.
"The Dynamic Learning Project presented the perfect avenue to support change," Ann says. "It recognizes that every teacher is innovating at a different level, and the new coaching model allows me to meet that teacher at their level."
At the beginning of each eight-week coaching cycle, Ann meets with teachers across the school to understand their needs and how she can best support them. As the teachers implement new technology in their lessons, Ann observes their progress and provides regular feedback so they can continue to improve.
Less than a year later, Ann's in-person, relevant, and consistent technology coaching has helped Hillsdale instructors build confidence in using technology to prepare students. For example, science teacher Carol Strampfer wanted a better way to organize her seventh graders' written and digital projects so she could track their progress throughout the year. Working closely with Ann, she helped her students use Google Slides to build digital notebooks featuring images of assignments, photos of labs, and more.
"I had wanted to implement this type of system for quite some time, and being part of the Dynamic Learning Project provided the push I needed as well as the support," Carol says. "Ann helped me work out the minor glitches and supported me in incorporating my own ideas."
For Ann, the most rewarding moments take place inside the classroom, when she's helping a teacher introduce a new activity they've planned together. "If there's a tech glitch or a student asks a question that the teacher can't answer, I jump in to help them move past the bump in the lesson and on to success," she explains. "I've had numerous teachers tell me they might have given up if I wasn't in the room with them."
"The Dynamic Learning Project has given me the courage to be more adventurous in my approach to teaching," says Elizabeth Cordle, who teaches eighth-grade science. "I have the opportunity to explore new technologies in a safe, supportive way."
Ultimately, the goal of the program is to help students engage with learning, and Principal Launder has seen how the Dynamic Learning Project has been transformative for the Hillsdale community. "The positive impact on teacher creativity and problem-solving can be seen by the dynamic products our students are creating in their classes," he says. "They're being provided the opportunity to work collaboratively with their peers on engaging and creative projects."
These early results affirm that in order to truly unlock the technology's potential impact in the classroom, teachers must feel supported and confident while learning new tools. As their students turn to them for assistance, answers, and encouragement, Hillsdale teachers now have their own coach to help them thrive.
To stay updated about the Dynamic Learning Project, sign up for updates from Digital Promise.