How Sweden's Oxievång School helps teachers navigate the journey to the "learning island"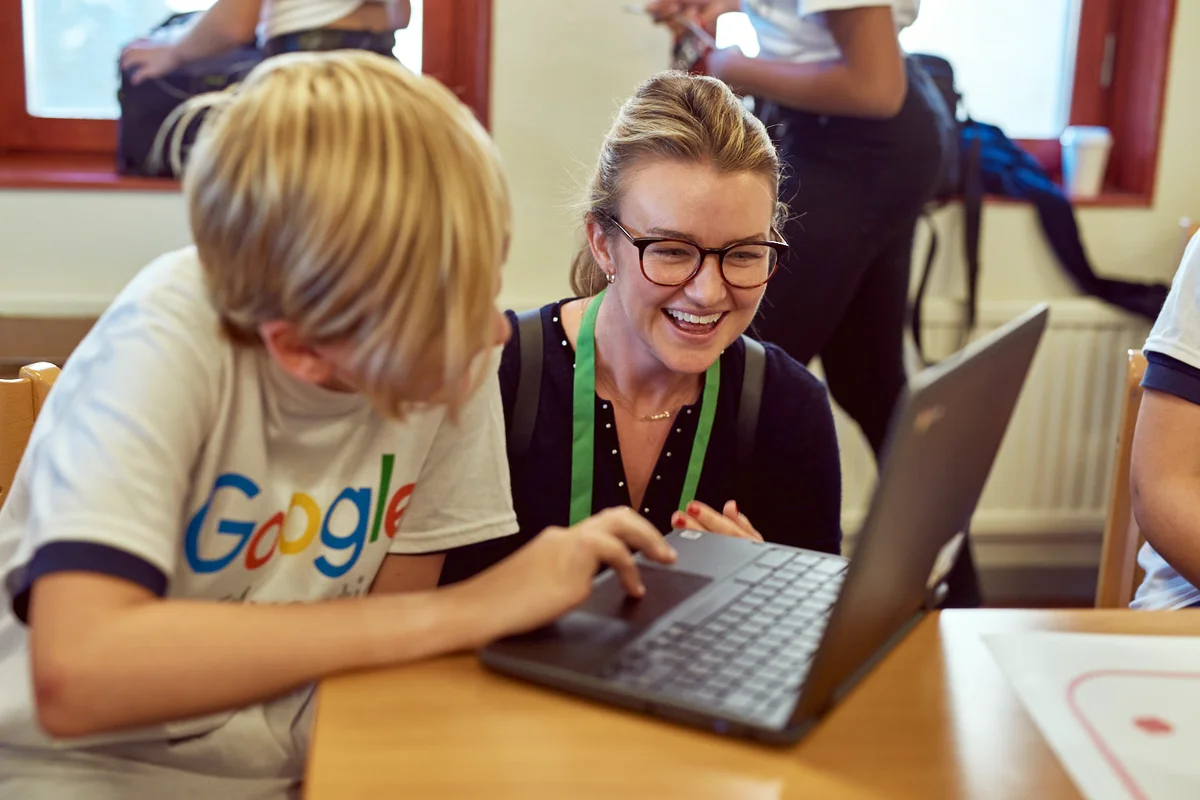 Editor's note: Google has just completed its first-ever Google for Education Study Tour, bringing nearly 100 educators from 12 countries around Europe to Lund, Sweden, to share ideas on innovating within their systems and creating an environment that embraces innovation.. One of the highlights of the two-day event was a visit to Oxievång School in Malmö, where principal Jenny Nyberg has led their adoption of technology in the classroom. Below, Jenny explains how to support teachers during a period of technology adoption.
When we're introducing new technology for our classrooms, I tell my teachers to imagine the ultimate goal as an island we all have to swim toward. Some of us are very fast swimmers, and we'll figure out how to get to the island quickly, and even get around any sharks. Some of us are slow swimmers, and may be hesitant to jump in, but the strong swimmers will show us the way (and how to get around the sharks). Eventually, we all have to jump into the water.
Bringing tech-based personalized learning into the classrooms at Oxievång School was our "island" and we've all completed the journey, which was particularly important given that our school, like the city of Malmö itself, is a mix of different people with varying needs. We have immigrant students as well as native Swedes; 40 percent of our students speak Swedish as their second language. But all students can  become strong learners when teachers discover what motivates and excites them. When we adopted G Suite for education, our "fast-swimmer" teachers showed their colleagues how they could now customize learning for each and every student.


Jenny Nyberg during school visit
As school leaders, my vice principals and I served as role models for using G Suite— not just for teaching, but for making our jobs easier too. We showed teachers how to use Google Sites to store information we needed every day, like staff policies and forms. We walked teachers through the Google Docs tools that allow them to comment on student work immediately rather than waiting to receive homework from students, and giving feedback much later. When teachers saw this in action, they understood how adopting G Suite was going to make a big difference for their teaching effectiveness and their productivity.
If you want teachers to become enthusiastic about using new technology, they need to be confident in their use of the new technology. For this, you have to give them support.  So we hired a digital learning educator who works exclusively with teachers to help them build up their technology skills. Every teacher receives a personalized development plan with a list of resources for training.
Our students have become more engaged in their coursework as teachers have become better at using Google technology to personalize learning. If students are curious about a subject, they can use their Chromebooks and G Suite tools to further explore the topic on their own. They also interact with teachers more often, even using Hangouts to meet with teachers outside of the classroom. As teachers become more confident, their enthusiasm spreads to the students.

One of the stations included students demonstrating robots they programmed with their Chromebooks
Once we give teachers basic training, we keep supporting them so that the transformation spreads throughout the school. When they need extra help with using G Suite, teachers know where to find it: they can schedule a meeting with the digital learning educator. We have team leaders across grades and subjects who help teachers' follow their development plans. Once a month, we all meet at school sessions called "skrytbyt," which roughly translates as "boost exchange." In these sessions teachers trade stories about lessons that went well and ask for advice about how to improve lessons they find challenging. Sharing knowledge is a great way to build confidence.
As leaders in education, we have to be honest with teachers and acknowledge that change isn't easy, but assure them that we're here for them. Teachers worry that students know more about technology than they do—students are the digital natives, while teachers are the digital immigrants. We constantly remind teachers that they can find inspiration in each other and in their students' knowledge, so that we all make it to the island together.