How I found a global community of educators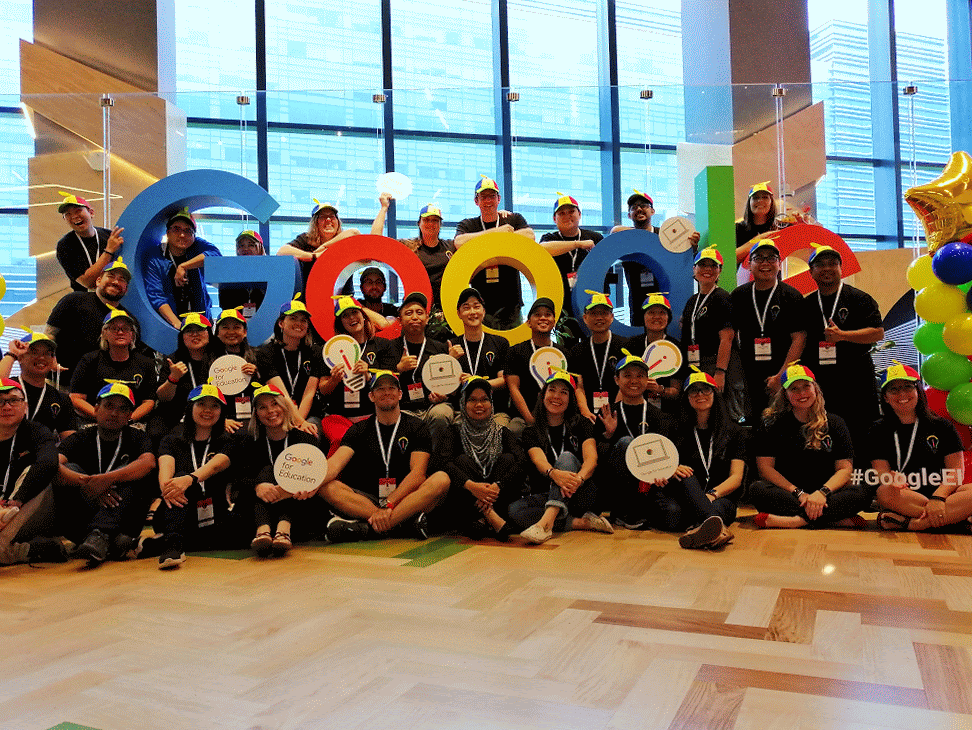 Editor's Note: Today's post is guest authored by Bonnie Chelette, an instructional coach from South Louisiana and co-founder of Global GEG.
When I became my school's first instructional technology coach—working hand-in-hand with other educators to help them achieve their teaching goals with technology—I was excited but intimidated. As a teacher, I had often helped my peers with one-off classroom technology questions, but with no formal training, I wondered if I was the right person for the job.
Thankfully, my district provided bootcamp training that helped me develop my confidence. The practical skills I gained through training addressed classroom challenges I'd faced for years and prepared me to earn my Educator Level 1 and 2 Certifications. This opened the doors for me to become a Certified Trainer, Certified Innovator, and hopefully soon—Certified Coach. Now I work with teachers across 29 schools in my district.
While every classroom is unique, many teachers share the same goals and challenges. That's why I'm so passionate about Google's professional development programs and communities, and it's why I co-founded Global GEG, a global Google Educator Group that provides programming like free bootcamp trainings to tens of thousands of educators who don't have access to them through their own districts and schools.
If you're not yet part of one of these communities, read on below to figure out which program is right for you. We would love for you to join us!
I met educators from around the world at the Innovator Academy in Singapore.

Our Global GEG ran several virtual educator bootcamps this summer.

While I miss our in-person events, I've loved meeting up with our communities virtually, too!
Professional Development & Certification Programs
Certified Educator 
If you're new to using Google tools, becoming a Google Certified Educator is a fantastic place to start. These days, teachers are especially hungry for technology support and training; this year alone, educators have earned over 100,000 Educator Level 1 and 2 certifications. While you prepare for the exams, you'll develop everyday skills—like better engaging with students in Google Meet and bringing student work online in Google Classroom—so you can confidently use technology to engage your students and manage your classes. You'll also earn certifications to celebrate your hard work. Level 1 and 2 certifications are required for the Certified Trainer, Coach, and Innovator programs.
Certified Trainer
The Certified Trainer program is for educators who want to lead and train fellow teachers on using Google tools in the classroom. Though some folks are full-time Trainers, most Trainers I've met are classroom teachers who are just passionate about empowering other teachers with classroom technology, and they lead group trainings a few times a year in their schools or districts.
Certified Coach
The Certified Coach program is designed for instructional coaches who want structured and research-based strategies that they can put into practice when working with teachers. While Trainers lead one-off group sessions on Google's tools, Coaches meet regularly 1:1 with teachers to provide personalized support as they tackle classroom challenges with technology. With 1:1 coaching, I'm able to meet each teacher at their own level, whether they are new to using technology or an old pro that is looking to level up. I've been an instructional coach for five years, and I'm still learning new things from the curriculum.
Certified Innovator
The Certified Innovator program is for educators who want to solve a problem in education in their school, community, or beyond. Any educator can apply. Just describe the challenge you want to solve, your history of innovation, and your passion for growing your impact. The program helps you launch an innovation project, providing structured mentorship, programming, and a cohort of inspiring educators who support you all along the way. 
Educator Communities
Google Educator Groups (GEGs)
Whether or not you participate in Google's professional development programs, we'd love to have you in a Google Educator Group (GEG). GEGs are educator-led groups that bring local educators together to share, collaborate, and support each other. In addition to leading Global GEG, I lead our South Louisiana GEG, which has enabled me to connect with dozens of local educators outside of my own district. There are chapters all over the world, and all GEG events are free. 
Community is everything to me, and it's important for every teacher to have the knowledge, confidence, and support they need to use technology effectively in the classroom. If you're ready to join our communities, please join us for an info session this week on all of these programs and learn more about them on Google's Teacher Center.