It takes a district to implement technology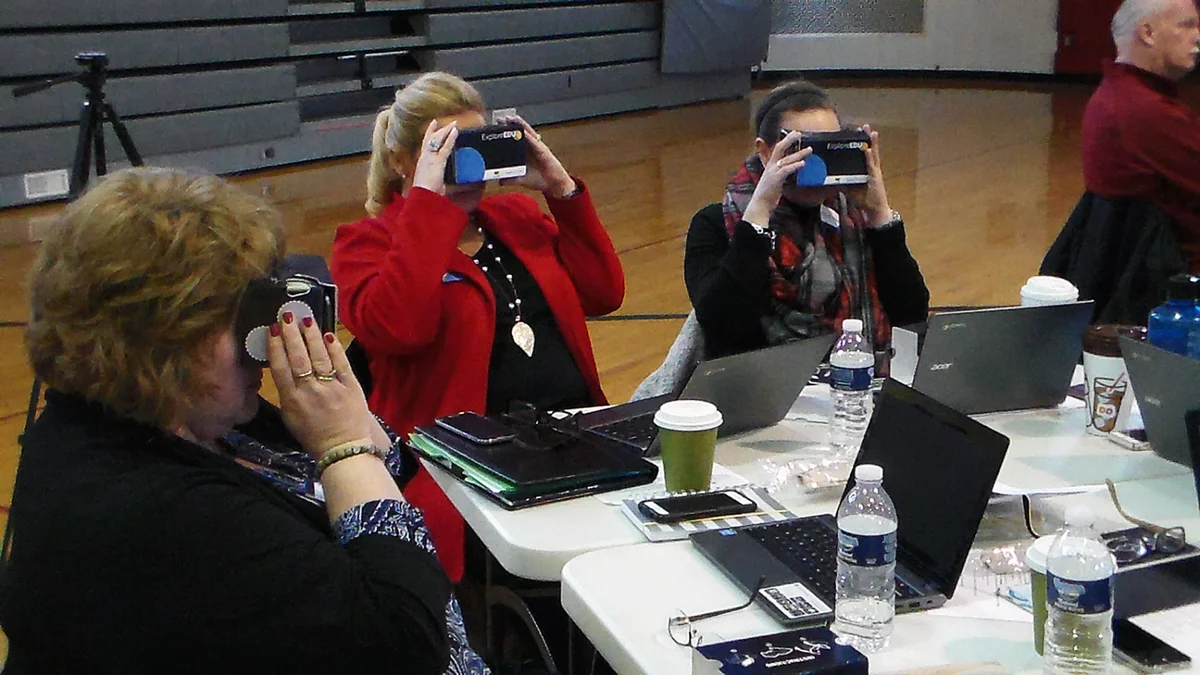 In 2013, the superintendent charged our district technology committee—comprised of board members, teachers, administrators, parents and students—to come up with a plan that would provide an equal education opportunity for all students. Beekmantown's poverty rate is the highest in Clinton County at 53%, and 30% of our students don't have access to the internet at home. Given the profile of our population, we needed an affordable and flexible technology solution that would allow us to put devices in the hands of every student inside and outside of the classroom. Chromebooks, and G Suite for Education fit our needs perfectly because they are easy to manage, simple to use, and affordable.
In our experience deploying this new technology, we had to include every group—the board, administration, faculty, and the students—in the process. Here are a few things we learned:

Students learn how to use technology responsibly prior to receiving Chromebooks
1. Engage tech-savvy teachers in a pilot
We spoke with five other districts about their technology rollouts and learned the importance of getting teachers who were heavy technology users to love the tools first, as their buy-in would be critical in getting other teachers on board. In our first phase, we hoped for five teachers to sign up for our digital classroom pilot, and got 43 instead. Once other teachers saw how helpful the tools were for their colleagues, they wanted to introduce technology to their classroom, too. In the next two phases, an additional 140 teachers signed up. The teachers who participated in the pilot were the ones who pulled everyone along and encouraged the more reluctant teachers to branch outside their comfort zones.

2. Build trust and support between the administration and faculty
The support of our board, superintendent and administration was critical in ensuring teachers felt comfortable taking risks when adopting the new technology. For instance, our principals learned how to use Google Classroom so they could show teachers how useful the tool was. Our leadership also encouraged teachers to take risks, and reassured them that failure was a positive learning experience. As a result, we saw many teachers working with their students to try new apps in the classroom such as Peardeck, EdPuzzle, and Quizlet to enhance their lessons.

Beekmantown's board getting a virtual reality demo at a board meeting
3. Get students to teach
Technology also offers students a great platform to share their expertise. Early in our technology program, students ran our IT help desk that provides on-site support and replaces parts on Chromebooks. Our students are also instructing their teachers how to use technology. When a teacher didn't know how to use Biteable, an online animation maker, he asked one of his sixth grade students to create a how-to resource, which has been shared with teachers across all grade levels and other schools. Involving students as teachers has allowed us to amplify the impact of technology in our district.

(L) Students in 5th Grade using Chromebooks in Mrs. Dickson's Classroom; (R) Since deploying Chromebooks and G Suite, Beekmantown has observed a decrease in discipline referrals (the number of times someone is referred to the administration due to disciplinary issues), an increase in Grades 3-8 assessment scores (state mandated English Language Arts and Math tests), and an increase in attendance.
When everyone plays a role in introducing new technology it generates excitement and tangible results. Since adopting this new technology, our attendance rate has increased and student achievement has improved across all grade levels and subject areas—specifically algebra, U.S. history and English language arts.

In the past, we would hear comments about why new initiatives couldn't be introduced. Now, our staff would ask why a new idea isn't possible.
Technology has shifted our district from a "can we?" to a "we can and we will" mindset.